A customized print-friendly version of this recipe is available by clicking the "Print Recipe" button on this page.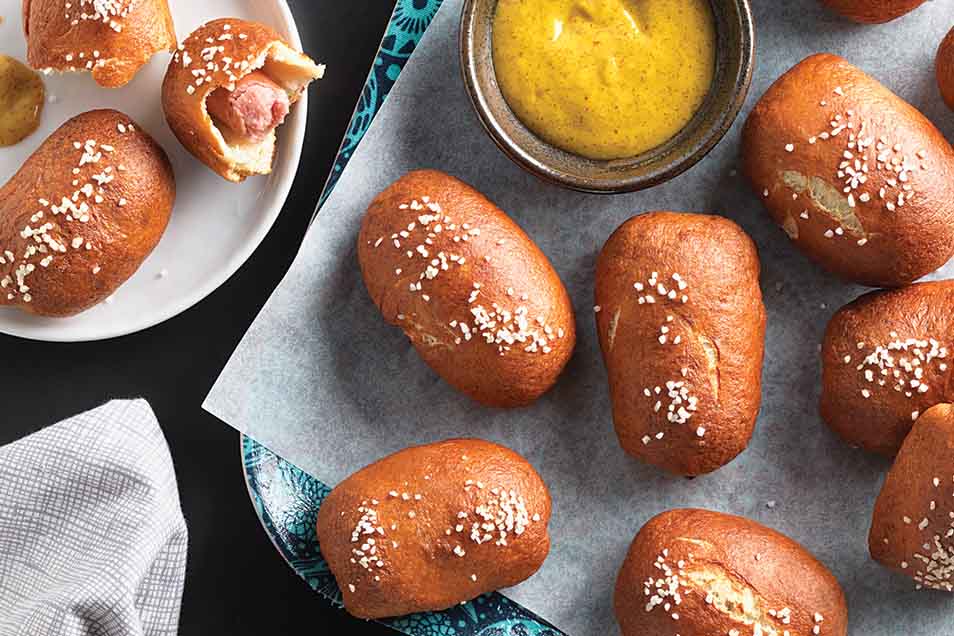 The pig/frank in a blanket is a popular crowd-pleaser that has many renditions. In this variation we've kept the traditional "pig" (the mini hotdog) and wrapped it in a chewy, salty pretzel "blanket." Your favorite mustard is our recommended dipping choice. We like adding a touch of sweet honey to a Dijon-style mustard to counteract the saltiness of the pretzels and hotdogs.
Ingredients
Dough
2 tablespoons non-diastatic malt powder, or 1 tablespoon sugar
1 tablespoon King Arthur Easy-Roll Dough Improver (optional, but helpful)
1 tablespoon soft unsalted butter
1 teaspoon salt
2 teaspoons instant yeast
1 cup water
Water bath
1 1/2 to 2 quarts water
1 tablespoon salt, optional
1/4 cup baking soda
Topping
pretzel salt, coarse sea salt, or kosher salt
Instructions
Mix and knead the dough ingredients together — by hand, mixer, or bread machine — until the dough is cohesive and fairly smooth. It should be slightly sticky; if it seems dry, sprinkle it with a tablespoon or two of water. Cover the dough and let it rest for 30 minutes.

Preheat the oven to 400°F. Lightly grease (or line with parchment) two baking sheets. If you're not using King Arthur Flour's brand, grease the parchment with vegetable oil spray to make double-sure the bites won't stick.

Prepare the water bath by combining the water, salt, and baking soda in a 10" to 12" shallow saucepan or deep skillet. The water should fill the skillet at least 1 1/4" deep; adjust the amount accordingly (no need to adjust the other ingredients).

Gently deflate the dough on a lightly greased work surface, then divide it into 24 fairly equal pieces.

Flatten each piece of dough into a rough 4" x 2 1/2" rectangle, and place a mini hotdog at the center of each rectangle. Wrap the hotdog in the pretzel dough, pinching the ends and seam with your fingers. Transfer pretzels to the prepared pans, and cover while you bring the water bath to a boil.

Drop the pretzel bites, six at a time, into the water bath. Cook for 30 seconds, then return them to the baking sheet (using a slotted spoon), and sprinkle with salt.

Bake the pretzel bites for 18 to 22 minutes, until they're a deep golden brown; be sure to rotate your pans halfway through the bake time to ensure even browning.

Remove the pretzel bites from the oven, and cool slightly before serving with your favorite mustard.

Yield: 24 pretzel bites.
Reviews
I have failed at soft pretzels on every attempt over the last decade. This recipe was the ticket. I've made it several times in the last month and have had stellar results (both with and without filling). Five stars! I live right outside of Philadelphia and these can compete with traditional Philly pretzels.
My husband's favorite meal. I usually make a cheese sauce as well as the honey mustard which makes our toddlers happy. This are a good recipe for my 3 year old to help out with patting out and rolling up the wieners. I am going to try with diastatic malt powder for the first time. I've always used sugar in the past. Can I sub diastatic malt for your recipes that call for the non-diastatic type?

We're glad to hear you've turned pretzel-making into a family affair! As far as swapping out the malt powder, non-diastatic and diastatic are not interchangeable. (The latter contains active enzymes that can boost yeast activity and starch conversion; non-diastatic helps with browning and flavor.) If you don't have non-diastatic malt powder on hand, use 1 tablespoon of sugar instead. Happy baking! Kye@KAF
I've made these twice, and neither time could I get the dough to rise. They still tasted yummy, but I'd like to get that dough to rise. Any pointers?

There could be a number of reasons for this, Elizabeth, and we'd be happy to talk them over with you if you give our Baker's Hotline a call at 855-371-BAKE. Our bakers are here seven days a week and always happy to help! Mollie@KAF
Really easy to make with minimal mess. The dough really does taste like a pretzel. I think we may have made the dough covering too thick or cooked it for too short a period of time as it was still a bit doughy / undercooked in the middle. Will definitely try making them again but with less dough/ longer oven cooking time.
Loved them so much, they tasted just nice! Made them for bf who was studying late night. He loved them so much almost gone now. I will make double batch next time. Thank you KAF and Don't hesitate to try!
I made a double batch of these and like other reviewers used Lil Smokies instead of hot dogs. Both adults and kids enjoyed these.
Made these for a cocktail party, and as one guest noted, the flavor was like being at Fenway Park! Easy, fun to make and delicious.
Made these for the Super Bowl. Super easy to make. Devoured. Had to make more the next day.
These were amazing. We used Little Smokies instead of regular mini hot dogs and everyone loved them.
I made these today for the super bowl and they were amazing! The only changes I made was that I used Lil' Smokies instead of mini hotdogs and I also left the additional (but optional) salt out of the water bath as I made a beer cheese dipping sauce and I was afraid that the pretzel bites might be too salty when dipped in the cheese sauce. We loved it!