A customized print-friendly version of this recipe is available by clicking the "Print Recipe" button on this page.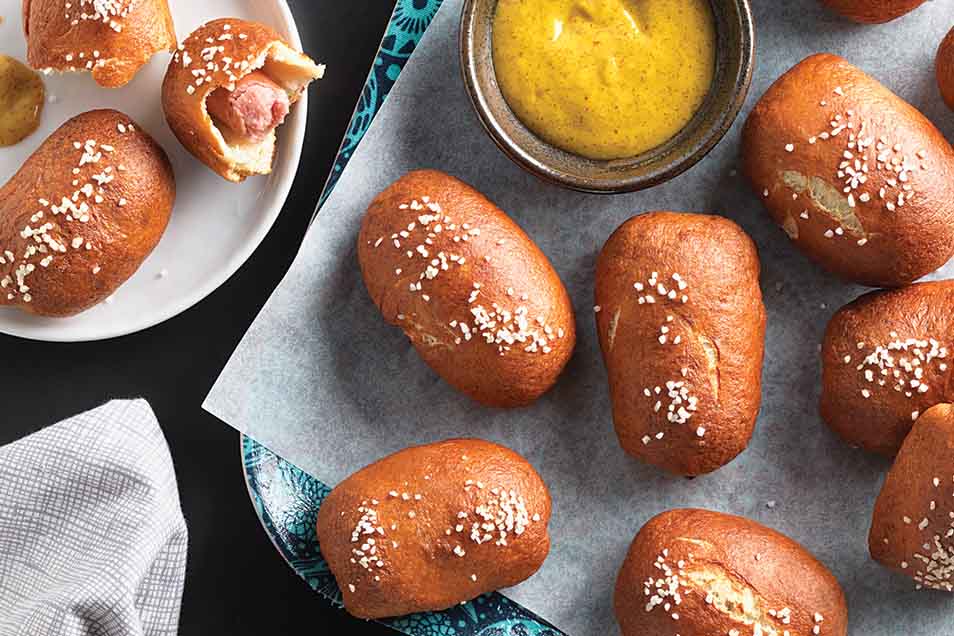 The pig/frank in a blanket is a popular crowd-pleaser that has many renditions. In this variation we've kept the traditional "pig" (the mini hotdog) and wrapped it in a chewy, salty pretzel "blanket." Your favorite mustard is our recommended dipping choice. We like adding a touch of sweet honey to a Dijon-style mustard to counteract the saltiness of the pretzels and hotdogs.
Ingredients
Water bath
1 1/2 to 2 quarts water
1 tablespoon salt, optional
1/4 cup baking soda
Topping
pretzel salt, coarse sea salt, or kosher salt
Instructions
Mix and knead the dough ingredients together — by hand, mixer, or bread machine — until the dough is cohesive and fairly smooth. It should be slightly sticky; if it seems dry, sprinkle it with a tablespoon or two of water. Cover the dough and let it rest for 30 minutes.

Preheat the oven to 400°F. Lightly grease (or line with parchment) two baking sheets. If you're not using King Arthur Flour's brand, grease the parchment with vegetable oil spray to make double-sure the bites won't stick.

Prepare the water bath by combining the water, salt, and baking soda in a 10" to 12" shallow saucepan or deep skillet. The water should fill the skillet at least 1 1/4" deep; adjust the amount accordingly (no need to adjust the other ingredients).

Gently deflate the dough on a lightly greased work surface, then divide it into 24 fairly equal pieces.

Flatten each piece of dough into a rough 4" x 2 1/2" rectangle, and place a mini hotdog at the center of each rectangle. Wrap the hotdog in the pretzel dough, pinching the ends and seam with your fingers. Transfer pretzels to the prepared pans, and cover while you bring the water bath to a boil.

Drop the pretzel bites, six at a time, into the water bath. Cook for 30 seconds, then return them to the baking sheet (using a slotted spoon), and sprinkle with salt.

Bake the pretzel bites for 18 to 22 minutes, until they're a deep golden brown; be sure to rotate your pans halfway through the bake time to ensure even browning.

Remove the pretzel bites from the oven, and cool slightly before serving with your favorite mustard.

Yield: 24 pretzel bites.