A customized print-friendly version of this recipe is available by clicking the "Print Recipe" button on this page.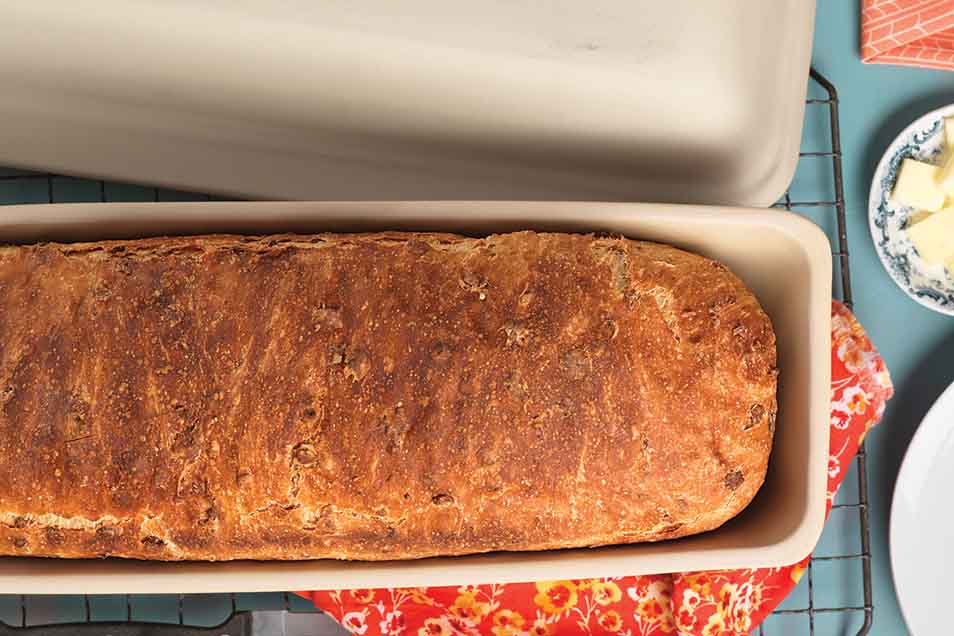 With a nubbly texture and unique, malty flavor, this bread makes delicious sandwiches, and is a great accompaniment to your favorite cheese.
Instructions
Put all of the ingredients into a large bowl. Stir, then use your hands (or a stand mixer) to mix up a sticky dough. Continue to work the dough enough to incorporate all the flour, or beat for several minutes in a stand mixer.

Cover the bowl with plastic wrap, and let it rest at room temperature for about 8 to 16 hours; overnight is fine. It'll become bubbly and rise quite a bit, before falling back; so be sure your bowl is large enough.

Turn the dough out onto a lightly floured surface. To make a single loaf, choose a 14" to 15" long covered baker; a 9" x 12" oval deep casserole dish with cover; or a 9" to 10" round bread baking crock. To make two loaves, lightly grease (or line with parchment) a large baking sheet.

Shape the dough to fit, and place it in the lightly greased pan of your choice, smooth side up. For two loaves, divide dough in half, shape each into an oval loaf, and place on the prepared baking sheet.

Cover and let rise at room temperature for about 1 hour, until dough has become puffy and fills the pan about 3/4 full.

If baking in a lidded crock or pan that directs you to place the pan in a cold oven, place the pan in the oven, set the oven temperature to 450°F, and bake the bread for 45 to 50 minutes. Remove the lid and continue to bake for another 5 to 15 minutes, until the bread is deep brown, and an instant-read thermometer inserted into the center registers about 205°F.

To bake in a pan that doesn't require starting in a cold oven, preheat the oven to 450°F, and bake for about 45 to 50 minutes, removing the lid of the pan after 30 minutes. The finished loaf will be a deep, golden brown, and its center will register about 205°F.

For two loaves on a baking sheet, bake in a preheated 450°F oven for 35 to 40 minutes, until bread is a deep, golden brown, and the center registers about 205°F.

Remove the bread from the oven, turn out onto a rack, and cool before slicing.

Yield: 1 large or 2 smaller loaves.