A customized print-friendly version of this recipe is available by clicking the "Print Recipe" button on this page.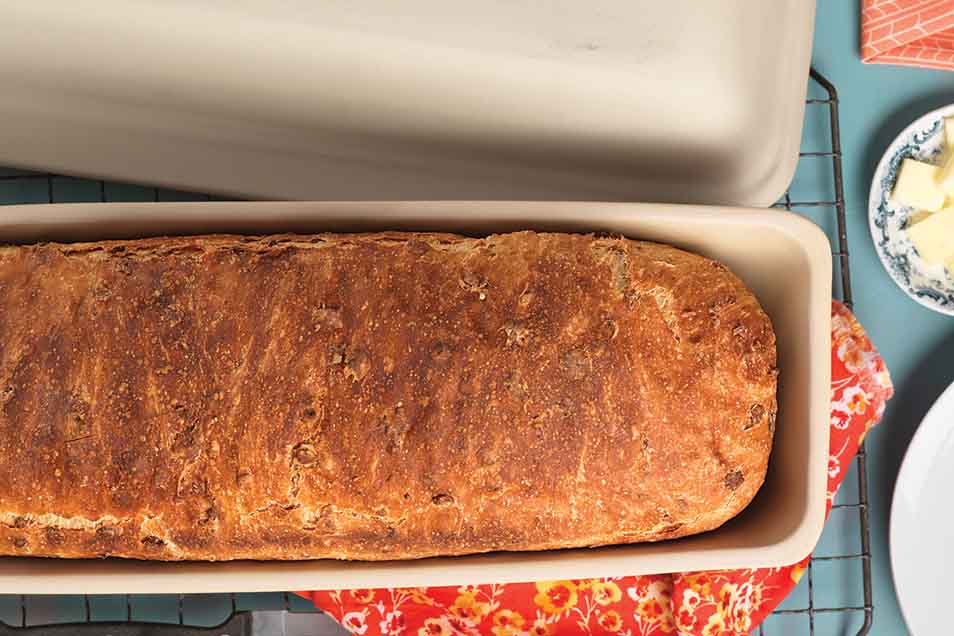 With a nubbly texture and unique, malty flavor, this bread makes delicious sandwiches, and is a great accompaniment to your favorite cheese.
Instructions
Put all of the ingredients into a large bowl. Stir, then use your hands (or a stand mixer) to mix up a sticky dough. Continue to work the dough enough to incorporate all the flour, or beat for several minutes in a stand mixer.

Cover the bowl with plastic wrap, and let it rest at room temperature for about 8 to 16 hours; overnight is fine. It'll become bubbly and rise quite a bit, before falling back; so be sure your bowl is large enough.

Turn the dough out onto a lightly floured surface. To make a single loaf, choose a 14" to 15" long covered baker; a 9" x 12" oval deep casserole dish with cover; or a 9" to 10" round bread baking crock. To make two loaves, lightly grease (or line with parchment) a large baking sheet.

Shape the dough to fit, and place it in the lightly greased pan of your choice, smooth side up. For two loaves, divide dough in half, shape each into an oval loaf, and place on the prepared baking sheet.

Cover and let rise at room temperature for about 1 hour, until dough has become puffy and fills the pan about 3/4 full.

If baking in a lidded crock or pan that directs you to place the pan in a cold oven, place the pan in the oven, set the oven temperature to 450°F, and bake the bread for 45 to 50 minutes. Remove the lid and continue to bake for another 5 to 15 minutes, until the bread is deep brown, and an instant-read thermometer inserted into the center registers about 205°F.

To bake in a pan that doesn't require starting in a cold oven, preheat the oven to 450°F, and bake for about 45 to 50 minutes, removing the lid of the pan after 30 minutes. The finished loaf will be a deep, golden brown, and its center will register about 205°F.

For two loaves on a baking sheet, bake in a preheated 450°F oven for 35 to 40 minutes, until bread is a deep, golden brown, and the center registers about 205°F.

Remove the bread from the oven, turn out onto a rack, and cool before slicing.

Yield: 1 large or 2 smaller loaves.
Reviews
My husband and I love this bread. The texture and the flavor is perfect for us. Since it is just the 2 of us, I do freeze half of it just when it is luke warm and when it is defrosted, it is prefect. I do love to knead bread but since I make bread at least once a week, it is nice to let the bread work on its own. Thank you for so many lovely recipes.
I am absolutely, completely disappointed in this recipe. I bought all of the ingredients becasue I knew my husband would love it. It has no flavor -- needs sugar and/or salt. It did not rise at all once I put it in the baker. I thought perhaps it would rise some while baking -- not a bit of further rise. Even my husband, who truly will eat nearly everything didn't like it. I started it yesterday afternoon, baked it this afternoon, so in theory it should have had plenty of time. We are at about 4500 ft, so I made the recommended altitude adjustments with no luck. I can't decide if I'm going to try it again or not.
Sorry to hear that you had trouble with the recipe Wendy. Please give our hotline a call and we'll be happy to chat about it. ~ MJ
Easy to make "No Knead" bread. Mixed it up after diner and baked it after lunch the next day. Great crust and nice moist interior. Only change was to use your 12 Grain Flour Blend. Baked it in the long covered baker and will definitely make it again.
I don't know what went wrong for the bakers for whom this bread turned out tasteless. I made it exactly as directed, let the dough sit for about 13 hours (I may try longer next time) for the first rise and baked it in KAF's long covered baker. My loaf had plenty of taste, had a great crust, and nice holy interior. I am not very good at preshaping and shaping, so just having to put it in the baker was perfect for me. This is going to be one of my standards to serve to guests.
Pretty simple to make, and a lovely texture and crust. I baked this in a Le Creuset pot, with foil under the lid for extra tightness. The times were right on for my pot and oven.
Excellent. I made this for Christmas dinner in my covered stoneware baker (I love that thing!). I let the dough sit at cool room temperature for a little over 24 hours (maybe 27 hours). The second rise took a little longer than I expected, but as I said it is cool in my house, probably 67 degrees or so. I finally put the baker in the cold oven and turned on the light to give it a little extra help. Also, I did not put the dough on a floured surface to shape, I just dumped in into the baker and used my fingers to pat it into shape, which worked well. I will definitely make again, now I just want to modify the recipe to include more whole grain.
this is a winner !!! love this bread, all the ingredients are worth the $ I had to modify the recipe a bit (I live at 7000 feet) 2Tbs. gluten 1Tbs yeast and 21/2 cup water. Also I baked it at 400 for 40min with the lid and 20 min without and it came out perfect. Love those malted wheat flakes !
This bread looked beautiful, but it had absolutley no flavor. I am tired of purchasing ingredients that do not produce results worth the expensive price and shipping costs.
I'm sorry to hear this recipe didn't meet your expectations. Please give us a call at 800-827-6836 and we'd love to discuss a way to make you happier. - kelsey
Ever since I bought Jim Lahey's "My Bread" cookbook, I've been a big fan of no-knead recipes. And this recipe for malted wheat flake bread is fantastic! I've been told this is the best bread I've made. The loaves are still moist inside after baking, and have a wonderful nutty, earthy flavor. I followed the instructions for making two loaves on a sheet pan (one to keep and one to share). I deviated slightly from the recipe by adding a tablespoon of caraway seeds to the dough. I've made the bread with and without the seeds; either way works great.
My husband and I loved the flavor of this bread! We had it with soup and it was delicious with either butter or dipped in olive oil. I was a bit concerned about the loaf as it didn't rise very well. I admittedly cut the recipe in half as I didn't want to make 2 loaves for just 2 people so I don't know if that affected the bread; our house is also rather cool at night so that might have retarded the yeast. I know my yeast is good as I use it weekly to make pizza dough. Next time I might add just a touch more water and find a warmer spot for the dough to rise.