A customized print-friendly version of this recipe is available by clicking the "Print Recipe" button on this page.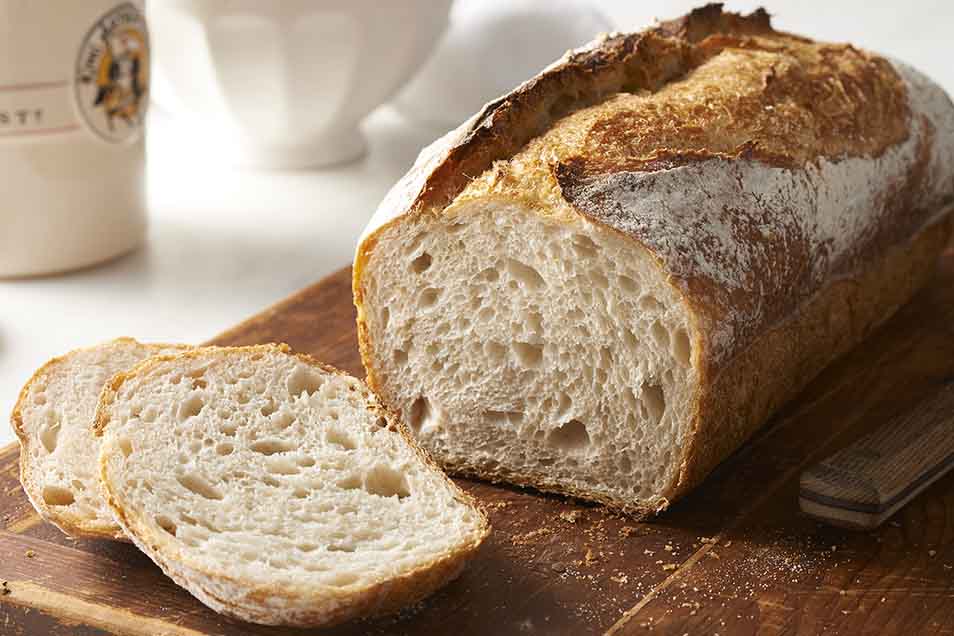 Characterized by its crusty, chewy texture, robust sourdough flavor, and rich golden color, this sourdough loaf has become a favorite in our test kitchen. It relies entirely on its starter for leavening; but with an active, bubbly starter, a little bit of patience, and minimal effort, you'll be amazed by this stunning, delicious loaf.
Instructions
Weigh your flour; you'll find its weight by toggling to ounces or grams at the top of the ingredient section above. Or measure it by gently spooning it into a cup, then sweeping off any excess.

Combine all the ingredients in a large mixing bowl, or a large (6-quart) food-safe plastic bucket.

Mix and stir everything together to make a sticky, rough dough. If you have a stand mixer, beat at medium speed with the paddle attachment for 30 to 60 seconds. If you don't have a mixer, just stir with a big spoon or dough whisk until everything is combined.

Leave the dough in the bucket or 6-quart bowl, cover it with the bucket's lid or a piece of plastic wrap, and let it rise for 1 hour.

Gently pick up the dough and fold it over on itself several times, cover it again, and let it rise for another hour.

Repeat the rising-folding process one more time (for a total of 3 hours), folding it again after the last hour. Then, place the bucket or bowl in the refrigerator, and let the dough rest for at least 8 hours (or up to 48 hours).

When you're ready to make bread, turn the dough out onto a well-floured work surface, and shape it into a rough ball. Leave the dough seam-side up, cover it, and let it rest on a floured surface for 15 minutes.

Next, shape the dough to fit the vessel in which you'll bake it: a 13" log for a long covered baker, such as our glazed long covered baker; or a large boule (round) for a round baker or Dutch oven, such as our bread baking crock. Place the shaped dough into the lightly-greased or semolina-dusted base of the baker and cover it with the lid.

Let the loaf warm to room temperature and rise; this should take about 2 1/2 to 3 hours. It won't appear to rise upwards that much, but will relax and expand.

With a rack positioned in the middle, start preheating the oven to 500°F one hour before you're ready to bake.

Just before baking, dust the loaf with a fine coat of flour and use a lame or a sharp knife to make one or several 1/2" deep slashes through its top surface. If you're baking a long loaf, one arched slash down the loaf lengthwise is nice, or if baking a round, a crosshatch or crisscross pattern works well.

Cover the baker with its lid and place it in the oven. Reduce the oven temperature to 450°F and bake the bread for 45 minutes.

Remove the cover of the baker and bake the bread for 10 to 15 minutes longer, until the bread is deep golden brown and crusty, and a digital thermometer inserted into the center of the loaf reads at least 210°F.

Remove the bread from the oven and transfer it to a rack to cool completely.

Store leftover bread in a plastic bag at room temperature for several days; freeze for longer storage.
Reviews
Great recipe - possibly the best no-knead one around. Have made it many times with great effect. Feel free to seed the top (as I do). :) I have a few questions, hoping you can help. 1. Can you double this recipe and then divide the finished dough? I'm looking to increase the efficiency of my assembly and fermentation step. 2. Can the dough be frozen as blanks at any point in the process? 3. How long is the maximum fridge fermentation you'd recommend? Thanks! Gabe

Hi there, Gabe! We're thrilled to hear that you enjoy this recipe so much! You sure can double this recipe if you'd like to get two loaves.
We don't suggest freezing raw dough as it damages the yeast cells which results in a poor rise after defrosting. We wouldn't suggest leaving this dough in the refrigerator for more than 48-hours, as the starter will lose its oomph and not give you a very good rise. We hope this helps and happy baking! Morgan@KAF
Second time baking this recipe. First time was delish, but burned on bottom. This time I used parchment paper and semolina on the paper. Did not burn but parchment stuck to bottom No biggie ....I peeled it off easy enough. Flavor was not as good as first time. texture was on gummy side. where did I go wrong Used KAF bread flour, KAF parchment paper, actually, all was from KAF. didn't want to bake any longer since was golden brown after removing cover for 10 minutes does have some big holes. used cast iron 4 qt dutch oven

Hi there, fellow baker. We're sorry to hear that you're having such trouble with this recipe, as it has been very successful for other bakers and we want this same experience for you! We'd love the chance to chat with you about this recipe and gather a few more details as we're a bit perplexed by the description of gummy but still having an open crumb structure. When you've got sa few minutes, please give our friendly Baker's Hotline folks a call at 855-371-BAKE (2253). Kindly, Morgan@KAF
Fantastic loaf. I baked it in an enamelled Dutch oven after 40 hrs in the fridge, & the result was picture perfect. I had run out of bread flour, so used all purpose. It will be interesting to see what difference there is when I make it next time (WITH the bread flour). Delicious, .. great sourdough flavour.
This has taken over my life. At least twice a week I am feeding starter and baking bread. Gonna knead an intervention soon.
Made this 1 batch into 2 smaller loaves. one baked in a corningware and another in a clay pot, both with lids on. Turned out great. Tasty and had beautiful crusts. Except the crumbs are not exceptionally large like those I'm looking for in a rustic bread. How do you exactly achieve that?

Hi Diana! Because this is a no-knead bread there isn't a super strong gluten development to rise high and give you air bubbles. Holey bread is generally made from high hydration dough such as ciabatta or baguettes, so you might prefer one of those recipes. Another thing you can try is to use bread flour here instead of all-purpose, adding an additional 2 teaspoons of water for every cup of flour. Measuring by weight will ensure there's no extra flour, which can hamper down dough, preventing a good rise. Annabelle@KAF
This is the first time I baked this bread recipe and used my Emile Henry dutch oven for baking. I refrigerated the dough for 48 hours so it turned out to be a beautiful loaf with lots of bubble holes. Next time I will use parchment on the bottom and lightly grease the sides of the bowl. Also, we like intense sourdough taste so I will add citric acid to recipe.
Currently my Dutch Oven is inverted with the loaf firmly sealed to the bottom. I'm hoping there will be sufficient steam to loosen it as it cools. But what will that do to my crust? Barely got a rise. Dusted the DO heavily with semolina before plopping the dough in. Disappointing to get so little spring. My starter was active.

Jacqueline, please give our free and friendly Baker's Hotline a call at 855-371-BAKE (2253) so we can help. Thank you, Annabelle@KAF
This has to be my best sourdough loaf so far, and I've been baking sourdough bread for years! I followed the recipe, let it rise in my brotform basket, and baked the loaf in my preheated 7-qt. Dutch oven. I will definitely make this again.
I added steel cut oats (1/4 cup) and whole wheat flour (25%) and bread was amazing! Bread flour was 451.5 gms, whole wheat 160.5 gms. Also added 1 tsp vital gluten.
Horray! After months of flops, flatties and failures, I made a beautiful loaf with this recipe. I did not use the malt powder (did not have any), and went with straight bread flower. What a confidence-builder. I did it in a loaf pan. Extra thanks for those who put tips about doing it this way in the comments section!