A customized print-friendly version of this recipe is available by clicking the "Print Recipe" button on this page.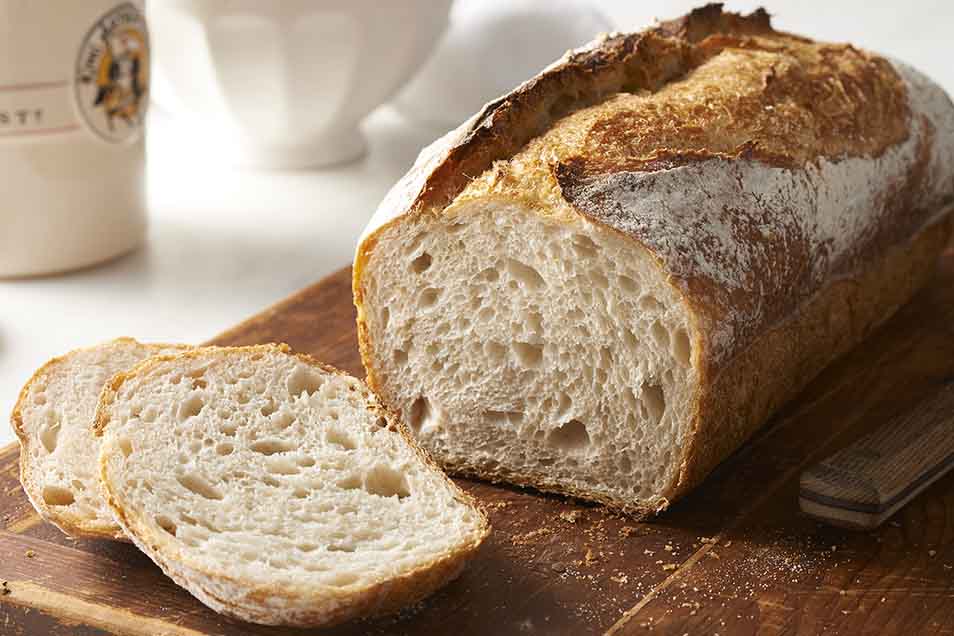 Characterized by its crusty, chewy texture, robust sourdough flavor, and rich golden color, this sourdough loaf has become a favorite in our test kitchen. It relies entirely on its starter for leavening; but with an active, bubbly starter, a little bit of patience, and minimal effort, you'll be amazed by this stunning, delicious loaf.
Instructions
Weigh your flour; you'll find its weight by toggling to ounces or grams at the top of the ingredient section above. Or measure it by gently spooning it into a cup, then sweeping off any excess.

Combine all the ingredients in a large mixing bowl, or a large (6-quart) food-safe plastic bucket.

Mix and stir everything together to make a sticky, rough dough. If you have a stand mixer, beat at medium speed with the paddle attachment for 30 to 60 seconds. If you don't have a mixer, just stir with a big spoon or dough whisk until everything is combined.

Leave the dough in the bucket or 6-quart bowl, cover it with the bucket's lid or a piece of plastic wrap, and let it rise for 1 hour.

Gently pick up the dough and fold it over on itself several times, cover it again, and let it rise for another hour.

Repeat the rising-folding process one more time (for a total of 3 hours), folding it again after the last hour. Then, place the bucket or bowl in the refrigerator, and let the dough rest for at least 8 hours (or up to 48 hours).

When you're ready to make bread, turn the dough out onto a well-floured work surface, and shape it into a rough ball. Leave the dough seam-side up, cover it, and let it rest on a floured surface for 15 minutes.

Next, shape the dough to fit the vessel in which you'll bake it: a 13" log for a long covered baker, such as our glazed long covered baker; or a large boule (round) for a round baker or Dutch oven, such as our bread baking crock. Place the shaped dough into the lightly-greased or semolina-dusted base of the baker and cover it with the lid.

Let the loaf warm to room temperature and rise; this should take about 2 1/2 to 3 hours. It won't appear to rise upwards that much, but will relax and expand.

With a rack positioned in the middle, start preheating the oven to 500°F one hour before you're ready to bake.

Just before baking, dust the loaf with a fine coat of flour and use a lame or a sharp knife to make one or several 1/2" deep slashes through its top surface. If you're baking a long loaf, one arched slash down the loaf lengthwise is nice, or if baking a round, a crosshatch or crisscross pattern works well.

Cover the baker with its lid and place it in the oven. Reduce the oven temperature to 450°F and bake the bread for 45 minutes.

Remove the cover of the baker and bake the bread for 10 to 15 minutes longer, until the bread is deep golden brown and crusty, and a digital thermometer inserted into the center of the loaf reads at least 210°F.

Remove the bread from the oven and transfer it to a rack to cool completely.

Store leftover bread in a plastic bag at room temperature for several days; freeze for longer storage.
Reviews
Just a comment on my earlier post, my parchment came from Williams-Sonoma, so I really don't think that was the problem.
This was my first-ever loaf of sourdough made from my own wild starter, and my second time using my halogen oven (apartment too small for a regular one) and by gosh it worked! I didn't have high hopes for this experimental loaf, but it's already halfway eaten! It's going to take me more practice to get the texture right, but the flavor is exactly what I hoped for. (I let it ferment for 24 hours, so it was nice and sharp.) Definitely looking forward to trying this again in a few days when I have more starter ready to go.
Just made this bread today and it was fabulous. My husband said it is "restaurant quality". I also made the error of using KAF All Purpose instead of bread flour, so I let it rise an additional hour (total 4) while the oven was heating. It rose beautifully while baking. I used the long glazed Emile Henry baker that I purchased from KA. However, having read the earlier reviews, I lined it with a piece of parchment paper, draping it over the long sides...and the parchment stuck to the bread! I'm having to slice off that gorgeous crunchy crust to get rid of the paper. Not sure what went wrong; I think next time I'll just spray the baker. Any ideas? Would definitely make it again!

Mary, we've found that lower-quality parchment will often stick to bread dough. We do sell some excellent parchment in our store, and you could probably find it at a specialty retailer near you as well. Your parchment is probably totally fine for things like cookies though, so don't feel like you have to trash it. Happy baking! Kat@KAF
This recipe turned out great! My only question is why do we need to leave the oven at 500F for an hour before baking? Is this really necessary? Will it ruin the bread if I don't do that?

That's a great question, Virginia! We preheat the oven for an hour because it takes that long for the entire oven to come to temperature evenly. The timer that says "I'm preheated!" on your oven is notoriously inaccurate, as it's only measuring one small place in your oven. Giving it more time to reheat allows the heat to bounce around inside for longer, making sure that every corner is just as hot as can be, leaving you with a more even bake. Skipping this longer pre-heat probably won't ruin your bread, but it may bake unevenly or rise less impressively. Hope that helps to clarify! Kat@KAF
This is the best bread I've ever made! Only thing I did differently was to substitute about half Irish whole meal flour. I am still wondering why you have to preheat the oven for an hour. Is that why it rose well during baking?
Great recipe, so easy to follow. I let the dough ferment in fridge for 18 hours before the final rise and it was perfect with the best oven spring I've ever gotten with a sourdough loaf. I shaped mine following a KA video for shaping dough and did the final proofing using a round banneton. Will be my go-to recipe for sourdough.
I baked this bread this afternoon. Not the best loaf I've ever made, but, my sourdough starter (KA) had been in the freezer for several years and I got it out and started feeding it last weekend. From the look of my starter after I used it for this bread it needed one more feeding so I will try this again after this loaf is gone and see if I have better luck. I'll update this after another try.
Easier to make than my traditional sourdough recipe and the result is awesome. Looks great, excellent texture and wonderful flavor. I used a cast iron Dutch oven and followed the recipe precisely.
Wonderful flavor and beautiful crust & loaf. The only problem I had was I used a cast iron Dutch oven and the bottom burned even though I put it in the middle of the oven and used parchment paper on the bottom. Is there anything that can be done to prevent the burning. I've had it happen on other bread as well.

Hi there, Catherine! We're happy to hear that you enjoyed this recipe, but are sorry to hear about the bottom of your loaf. It sounds like your Dutch oven might be a little too close to the element of the oven. It is best to put the pot as close to the center of the oven as you can. We hope this helps and happy baking! Morgan@KAF
Was delicious! I put a little olive oil in bottom of dutch oven, it burned the bottom of bread. How do you get the high ridge on crust? used to get but not lately, tried diff shaping techniques but doesn't make a diff Joann

Hi Joann! We'd like to help and need some additional details to do so. Please give our free and friendly Baker's Hotline a call at 855-371-BAKE (2253). Kindly, Annabelle@KAF