A customized print-friendly version of this recipe is available by clicking the "Print Recipe" button on this page.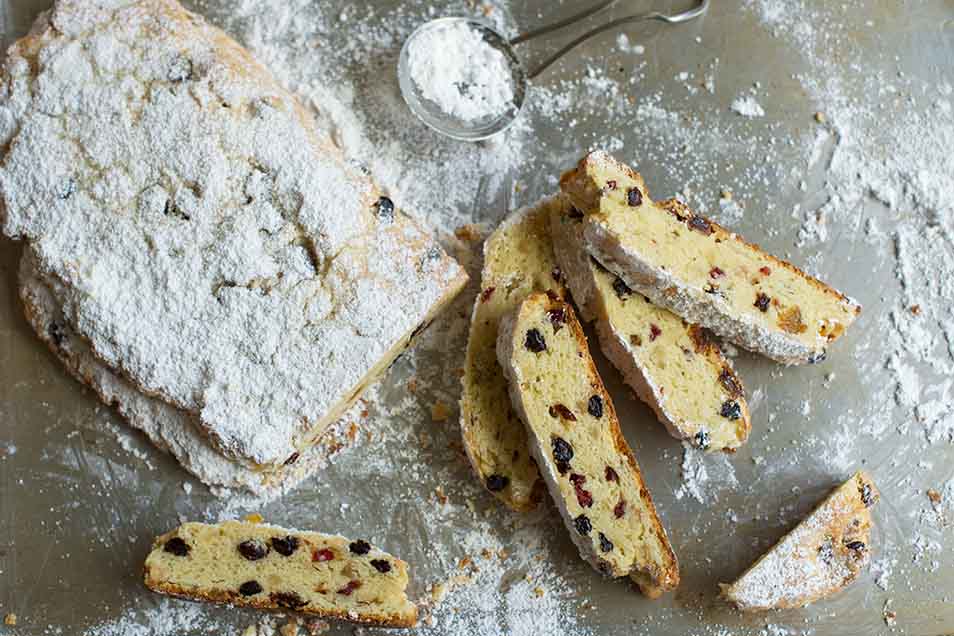 This baking powder version of a classic yeasted holiday favorite (a.k.a. The I-Don't-Have-Time-To-Make-Stollen Stollen) is quick, easy, and absolutely delicious. The recipe combines dried fruits and toasted almonds in a tender, buttery dough, with a blizzard-like coating of confectioners' sugar. Even better it makes two loaves: one to enjoy, one to wrap and give away.
Ingredients
Dough
2 1/4 cups King Arthur Unbleached All-Purpose Flour
1/2 cup granulated sugar
1 1/2 teaspoons baking powder
1/2 teaspoon salt*
8 tablespoons (1/2 cup) cold butter
1 cup ricotta cheese, part-skim milk type
1 large egg
1 teaspoon vanilla extract
1 1/2 teaspoons Buttery Sweet Dough Flavor, optional but good
1/4 teaspoon lemon oil or 1/4 teaspoon Fiori di Sicilia
1 cup Baker's Fruit Blend; or 1/2 cup golden raisins + 1/2 cup of your favorite dried fruits, chopped to 1/2" pieces if necessary
1/3 cup slivered almonds, toasted and cooled
*Reduce the salt to 1/4 teaspoon if you use salted butter.
Instructions
Preheat your oven to 325°F. Lightly grease a baking sheet, or line it with parchment.

Whisk together the flour, sugar, baking powder, and salt in a mixing bowl.

Cut the cold butter into small chunks, then blend it into the flour mixture to form uneven crumbs.

In a separate bowl, mix together the cheese, egg, vanilla, and flavors.

Toss the fruit and almonds with the flour mixture until evenly distributed. Then combine the wet and dry ingredients, mixing until most of the flour is moistened.

Turn the dough out onto a lightly floured work surface, and knead it two or three times, until it holds together. Divide it in half.

Roll each piece of dough into an 8" x 7" oval about 1/2" thick.

Fold each piece of dough roughly in half, leaving the edge of the top half about 1/2" short of the edge of the bottom half. Should you fold the long way, or the short way? The long way will give you a longer, narrower stollen, with shorter slices; folding the short way will give you a wider, fatter stollen, with longer slices.

Use the edge of your hand to press the dough to seal about 1" in back of the open edge; this will make the traditional stollen shape. It's also the familiar Parker House roll shape, if you've ever made them.

Place the shaped stollen on the prepared baking sheet.

Bake the stollen until they're very lightly browned around the edges, about 40 minutes. A cake tester inserted into the center should come out clean.

Remove the stollen from the oven, and transfer to a rack. Brush them each with 2 to 3 tablespoons melted butter. Sprinkle heavily with confectioners' or non-melting white sugar.

Allow the stollen to cool, then brush with butter again, and sprinkle with sugar again. Wrap in plastic wrap until ready to serve. Plastic-wrapped stollen will keep well for 2 weeks or so at room temperature.
Nutrition Information
Serving Size

71g

Servings Per Batch

16
Amount Per Serving:
Calories

260

Calories from Fat

110

Total Fat

13g

Saturated Fat

7g

Trans Fat

0g

Cholesterol

45mg
Sodium

150mg

Total Carbohydrate

33g

Dietary Fiber

1g

Sugars

17g

Protein

5g
* The nutrition information provided for this recipe is determined by the ESHA Genesis R&D software program. Substituting any ingredients may change the posted nutrition information.
Tips from our bakers
Unlike standard stollen, this version doesn't keep for weeks on end. However, it was fresh as fresh could be a week after we made it; and still good 2 weeks out. By the end of the third week, it was starting to get that dry, stollen-type texture you might be used to... so we'd say enjoying it within 2 to 2 1/2 weeks after baking would give you your optimal stollen experience.
A number of readers have asked for a substitute for ricotta cheese. You won't get as smooth-looking a result using the following substitutions, but the stollen will still be very tasty. Reduce the butter to 2 ounces (1/4 cup). Work 3 ounces cream cheese and the butter into the flour as directed. Mix the egg and vanilla with a generous 1/3 cup milk (instead of with ricotta). Proceed as directed in the recipe.
Reviews
I love stollen but it's been years since I ate any. Can this be made gluten free? What changes do I need to make?

We have great news, Gloria! We have a recipe that's specifically developed to be gluten-free. Enter "Gluten-Free Stollen," in the search box at the top of this page to view the recipe. It's going to be just as delicious as you remember. Enjoy! Kye@KAF
Ok... So, in essence, a phenomenal cake! WOW! However, I did not follow all of the instructions to the 'T' because (a) I messed up one ingredient and (2) had to improvise substitutes. I wanted to 'get rid of' some unbleached bread flour that was taking a lot of room in my kitchen... So... My mistake was that I used salted butter instead of regular butter. For those that find salt just enhances the flavors of other ingredients, it should not be a problem. At least, not to me. I found this out after I added the salt the recipe called for and took the only butter I had from the fridge. Because I did not have that 'fiori di Sicilia' or whatever that was... I figured it was probably something citrus, so I added the fresh zest of one lemon and one orange because I had those already handy. I did not have the dried fruits and almonds, so instead I used 1 1/3 cups of this mix: Lidl Alesto Mix of nuts, almonds, sultanas, and cranberries. Oh! I was lazy... I had a tub of full fat ricotta cheese (250 grams), and added that without bothering to check whether it was close to one cup - I 'had to' clean my refrigerator! It was delicious! I was somewhat surprised that the cake came out somewhat yellow - I was expecting it to be a tad bid whiter, like the stollens I am used to from Germany. This recipe was very easy to make and am adding it to my list of favorites.
Does the Stollen freeze well? I need to bake for a large gathering and would like to be able to make this portion of the event ahead of time.

Jean, stollen freezes well if you don't roll it in sugar right after baking. Let the stollen cool completely, then wrap well and freeze for up to one month. When you're ready to serve, let it thaw at room temperature and then brush with melted butter and roll generously in powdered sugar. Happy baking! Kye@KAF
super easy, always lovely I don't do the sugar butter topping
Working on by 5th batch now. This is a family favorite and everyone wants at least 2 . I usually make one with raisins and dried cranberries (both soaked in rum). Second version is with almond paste or marzipan in center. I also use lemon zest and butter emulsion baking flavor with vanilla and almond extract. Also, use food processor to process eggs, ricotta, soft butter , fruit cake mix (1TBSP) slivered almonds and flavors. Process all together then pour into dry and combine. Next batch will have raisins with almond paste (no cranberries) Everyone can find one they like. Enjoy and be sure to wrap in plastic when cool to let flavor develop overnight.
I helped my daughter make this for a school project. It was a simple recipe. The stolen turned out delicious and made a pretty Christmas bread. I added dried cranberries and raisins, but left out the almonds. We only had to use the powdered sugar one time. Once it cooled, we added a sprig of plastic holly with berries on the platter beside the stolen. It looks lovely!
This is a delicious stollen, and the directions are perfect. Instead of the lemon oil (I didn't have any), I doubled the vanilla and added 1/2 tsp. of cardamom. Thank you for a fabulous recipe that I will be making again.
This recipe looks delicious, and I would like to try it. A couple reviews mention using almond paste, but I don't see that ingredient mentioned in the recipe. (I may just be overlooking it.) Would you please clarify this for me? Thank you!

We can see how that could be confusing, Jocelyn, so thanks for asking. It looks like a number of reviewers have experimented with this traditional twist, adding a thin layer of almond paste to the center of the dough before folding. You can see this technique in action in our recipe for "Christmas Stollen". Mollie@KAF
i didn't make this recipe in time for Christmas but did make it before New Year's. I debated and debated whether to make the yeasted version or this one. This one won because I had ricotta cheese on hand and KAF fruitcake fruit. It was quick and easy to make and I was pleased with the results. I thought one coat of powdered sugar was enough. I took part of one loaf to a meeting where it got rave reviews and a whole loaf to my son's house for New Year's Eve. I was first introduced to Stollen years ago by a German lady who made hers with baking powder and dried fruit. She gave me her recipe but it was not as easy as this and didn't taste as good.
I usually don't like stollen; too dry and those gummy fruit bits are not my favorite. This was moist and tender. I made it all almond as my family likes almond. I soaked the raisins in a Tbsp of Amaretto, increased the almonds to 1/2 cup, used almond extract instead of vanilla and added the almond paste before folding over as many previous reviews had suggested. It required about a 1/2 cup more flour, perhaps because of the extra moisture from the Amaretto. The dough was sticky but easy to spread either by rolling pin (first one) or by hand (second one). This was a hit for Christmas dessert and my husband can't get enough of it.