A customized print-friendly version of this recipe is available by clicking the "Print Recipe" button on this page.
Peter Reinhart's Super Sprout Bread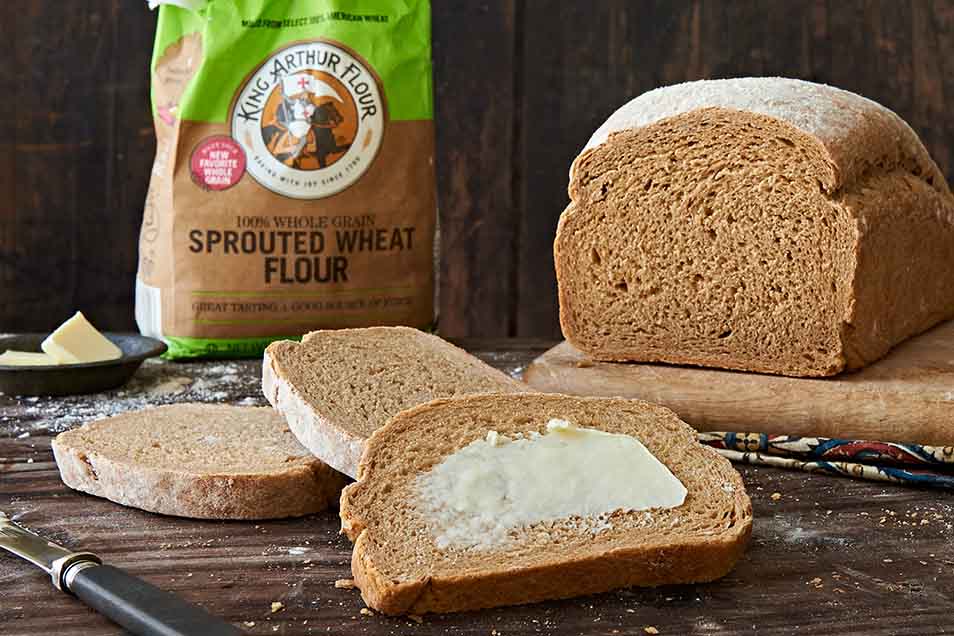 Chock full of easy-access nutrition, pair this bread with your favorite jam, and you have an ideal choice for healthy breakfast toast.
Ingredients
4 1/4 cups (16 ounces) sprouted wheat flour
1 teaspoon salt
1 1/2 cups lukewarm water*
1 1/2 teaspoons instant yeast
*You'll need to use 1 to 2 tablespoons less water in summer and 1 to 2 tablespoons more water in winter.
Instructions
Mix and knead together all of the ingredients — by hand, mixer, or bread machine — until the dough is cohesive. If you're using a stand mixer, knead at low speed for 6 to 8 minutes.

Transfer the dough to a lightly greased bowl, cover the bowl, and allow the dough to rise until puffy though not necessarily doubled in bulk, about 60 to 90 minutes, depending on the warmth of your kitchen and how you've kneaded the dough; dough kneaded by machine will rise faster and higher than dough kneaded by hand.

Lightly grease an 8 1/2" x 4 1/2" loaf pan.

Shape the dough into an 8" log and place the log in the prepared pan.

Cover the pan loosely with greased plastic wrap, and allow the bread to rise for about 60 minutes, or until it's crowned about 3/4" above the edge of the pan.

Bake the bread in a preheated 375°F oven for 35 to 40 minutes. Its interior will register 190°F on an instant-read thermometer when it's done. Remove the bread from the oven, turn it out of the pan, and cool it on a rack completely before slicing.

Yield: 1 loaf, 16 slices.
Tips from our bakers
Our thanks to Peter Reinhart for this recipe. Peter is the author of Artisan Breads Everyday, and Peter Reinhart's Whole Grain Breads; he's also the host of pizzaquest.com. Contact Peter at peter@pizzaquest.com.
For a touch of sweetness, add 2 tablespoons (7/8 ounce) brown sugar.
For a softer crust, run a pat of butter over the surface of the bread when it comes out of the oven. Alternatively, you may enhance the richness of the dough by adding 2 tablespoons (1 ounce) of butter or oil (7/8 ounce).
Reviews
I'm excited to try this recipe because of my diet limitations. How would the directions change if I didn't use instant yeast, just dried yeast, or would this recipe not work with regular yeast?

Great question, EC. Instant Yeast and Active Dry Yeast are always interchangeable, Active Dry Yeast just works a bit slower. Happy baking! Annabelle@KAF
This recipe was wonderful. I put it in my breadmaker on the dough cycle. Then I put it in a bread pan that I rarely use because it is so big. It rose over the top and was wonderful. Soft crust and easy to cut. I used almond milk too.
I wish the tips would have been right under the ingredients. Bread looks great, nice texture. Although lacking in flavor. I'm sure it would have been much better with additions.

Thanks for sharing your suggestion with us, Don. Know that you're aware of the possible additions, we hope you'll consider giving this recipe a second bake! Mollie@KAF
i used sprouted spelt flour and followed the recipe exactly. It turned out perfect. It is now my favourite bread! (I have a loaf baking in the oven as I type!)
I love this bread! Easy to make, whole grain, delicious. Baked it many times. Does this only work with sprouted wheat flour? Anybody tried it with any other specialty flour? Thanks!

We're happy to hear this recipe has earned a place in your baker's heart of hearts, Monica. Generally speaking, sprouted wheat flour functions similarly to whole wheat, so you could give it a try with our Whole Wheat or White Whole wheat as well. If you choose to incorporate other whole grains, you'll want to be mindful of their protein content and the ways they might affect your final product. Spelt flour, for example, might be a nice addition to this recipe, but we wouldn't use it for 100% of the flour, maybe more like 25-50%. A small amount of kamut, amaranth or barley flour might also be interesting. We haven't given any of these subs a try ourselves, so just know that you'd be in experimental territory. Best of luck and happy baking! Mollie@KAF
Has anyone attempted this in a bread machine yet? I have made it several times and just got a new bread machine. Someone previously asked how to adapt the recipe to a machine, but as of I believe 6/4 no one has experimented beyond using the bread machine to knead the dough. Thanks!

Jane, we still haven't experimented with making this recipe in the bread machine from start to finish, but you're certainly welcome to give it a try if you're up for an experiment. If you do, we'd recommend using the whole wheat setting and checking the consistency of your dough during kneading, feeling free to add a bit more water or flour as needed. Mollie@KAF
Best bread ever! I changed a few things: I used a combination of sprouted spelt/kamut/wheat, ground flax and ground chia seeds and a couple of tablespoons of poppy seeds. I also upped the yeast to 2 1/4 tspns, lowered the honey to 2 Tbspns and the salt to 3/4 tspn. I've been looking for a no oil, sprouted grain recipe and I think I've found it, it also toasts really well. Delicious and you can slice it thin.
Great bread! I love Peter Reinhart!
I have made this recipe a number of times. I am a Chef and baker at a Bed and Breakfast, We do almost everything from scratch. Our guests go crazy over this bread, I also make the you baguette,Whole wheat and white breads. Thank you for all the added information
Amazing bread! I added two TBSP of maple syrup, but otherwise followed the recipe. Came out wonderfully. Good first rise after 60 minutes with hand-kneading. Looking forward to having this as a go-to weekly sliced bread.