A customized print-friendly version of this recipe is available by clicking the "Print Recipe" button on this page.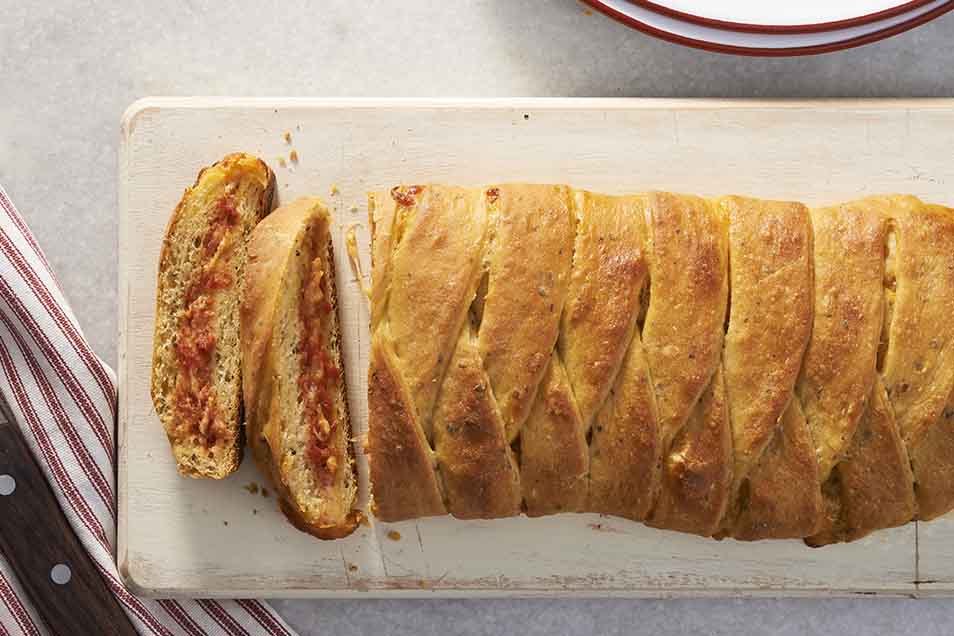 Somewhere between a stromboli and a calzone, this braid is the latest way to get your pizza fix. The flavor-packed dough envelops a hot, cheesy, saucy filling, which can be enhanced with any of your favorite pre-cooked pizza toppings.
Ingredients
Filling
1/3 cup pizza sauce, homemade or store-bought
1 cup grated mozzarella or pizza cheese blend
about 1 cup of your favorite pre-cooked, thinly sliced pizza toppings
Instructions
Weigh out your flour; you'll find its weight by toggling to "ounces" at the top of the ingredient section above. Or measure it by gently spooning it into a cup, then sweeping off any excess. Combine all the dough ingredients, starting with the lesser amount of flour, and mix and knead the dough — by hand, mixer, or bread machine — until it's smooth, shiny, and elastic, adding more flour or water if necessary.

Place the dough in a lightly greased bowl and cover the bowl. Allow the dough to rise for 1 to 2 hours, until it's puffy.

Gently deflate the dough, and roll it out into a 10" x 15" rectangle. Rolling on parchment paper makes moving the bread to the baking sheet much, much easier.

Lightly press two lines down the dough lengthwise, to divide it into 3 equal sections.

Leaving 3/4" of dough bare at each end, spread the pizza sauce down the center section of the dough, and top with the cheese and pepperoni.

Fold the end over the filling at each end of the dough.

To form the braid, cut 1" crosswise strips down the length of the outside sections, making sure you have the same number of strips down each side. Beginning on the left, lift the top dough strip and gently bring it across the filling diagonally. Repeat on the other side with the top dough strip, so that the two strips crisscross each other.

Continue down the entire braid, alternating strips to form the loaf.

Transfer the braid to a large baking sheet, cover it, and allow it to rise for 45 to 60 minutes, or until it's quite puffy.

Towards the end of the rising time, preheat the oven to 350°F.

Bake the braid for 25 to 30 minutes, or until it's golden brown.

Remove the braid from the oven, and allow it to cool on the pan slightly before cutting and serving hot or warm.

Store any leftovers, well-wrapped, in the refrigerator for 3 to 5 days. Reheat in a 350°F for 5 to 15 minutes, until the cheese is melted again.