A customized print-friendly version of this recipe is available by clicking the "Print Recipe" button on this page.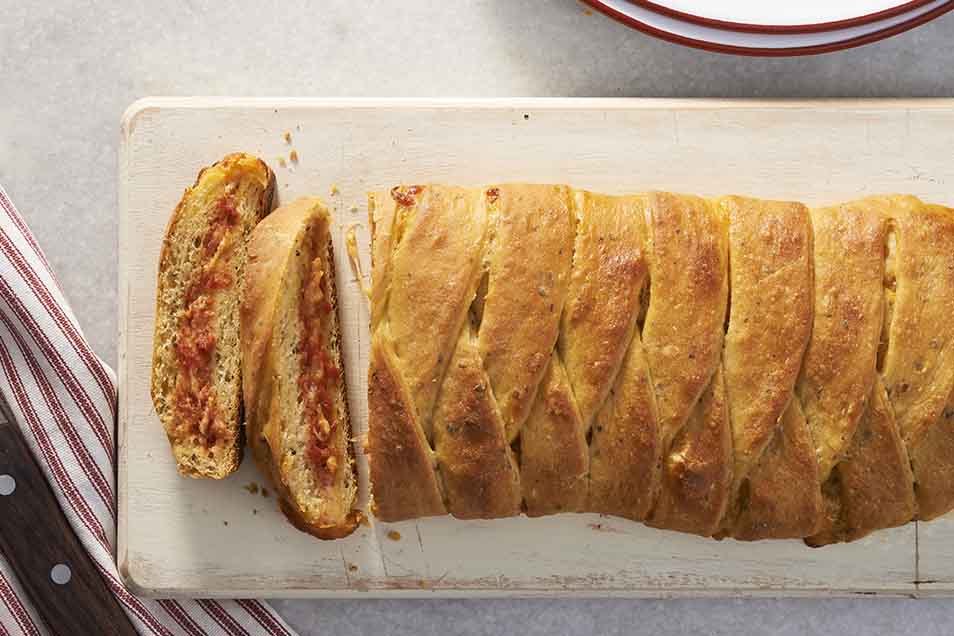 Somewhere between a stromboli and a calzone, this braid is the latest way to get your pizza fix. The flavor-packed dough envelops a hot, cheesy, saucy filling, which can be enhanced with any of your favorite pre-cooked pizza toppings.
Ingredients
Filling
1/3 cup pizza sauce, homemade or store-bought
1 cup grated mozzarella or pizza cheese blend
about 1 cup of your favorite pre-cooked, thinly sliced pizza toppings
Instructions
Weigh out your flour; you'll find its weight by toggling to "ounces" at the top of the ingredient section above. Or measure it by gently spooning it into a cup, then sweeping off any excess. Combine all the dough ingredients, starting with the lesser amount of flour, and mix and knead the dough — by hand, mixer, or bread machine — until it's smooth, shiny, and elastic, adding more flour or water if necessary.

Place the dough in a lightly greased bowl and cover the bowl. Allow the dough to rise for 1 to 2 hours, until it's puffy.

Gently deflate the dough, and roll it out into a 10" x 15" rectangle. Rolling on parchment paper makes moving the bread to the baking sheet much, much easier.

Lightly press two lines down the dough lengthwise, to divide it into 3 equal sections.

Leaving 3/4" of dough bare at each end, spread the pizza sauce down the center section of the dough, and top with the cheese and pepperoni.

Fold the end over the filling at each end of the dough.

To form the braid, cut 1" crosswise strips down the length of the outside sections, making sure you have the same number of strips down each side. Beginning on the left, lift the top dough strip and gently bring it across the filling diagonally. Repeat on the other side with the top dough strip, so that the two strips crisscross each other.

Continue down the entire braid, alternating strips to form the loaf.

Transfer the braid to a large baking sheet, cover it, and allow it to rise for 45 to 60 minutes, or until it's quite puffy.

Towards the end of the rising time, preheat the oven to 350°F.

Bake the braid for 25 to 30 minutes, or until it's golden brown.

Remove the braid from the oven, and allow it to cool on the pan slightly before cutting and serving hot or warm.

Store any leftovers, well-wrapped, in the refrigerator for 3 to 5 days. Reheat in a 350°F for 5 to 15 minutes, until the cheese is melted again.
Reviews
Another well thought out recipe from KA. I used grated parm in the dough. Easy to make. I did you an egg-white wash before baking. Delish.
My first time trying a braided loaf and was amazed by how nicely it turned out! It's worth taking a moment to watch the video on technique. I'm planning to try it out with different fillings: I have some spicy enchilada sauce that I think would go nicely with cheddar in the middle!
This was delicious and I will make it again. I omitted the cheddar powder, used King Arthur Bread Flour, and added an egg wash (1 T. cold water mixed with 1 egg white) just before baking to make it shiny. I loved it.
We love this recipe! I've never had to experiment with reheating leftovers because the teenagers always demolish it immediately. Glad to see you updated the amount of flour though, it really needed it. Also suggest you post a video of how to create the 'braid' effect. I stumbled my way through the first few attempts before I figured it out. (The mistakes were delicious, so it's OK) Question for KAF - what's the best way to make this ahead of time and bring it somewhere? Can I make it all the way through and then freeze? If I make it a day or two ahead, will it keep well in the fridge or will it get soggy? Thanks!

We do indeed have a video to demonstrate this braiding technique. Check out the "Learn" section of our website and browse the baking skills video. There's one about how to make a filled braid. (We'll see if we can make this easier by linking it right in the Baker's Tips on this page here.)

The braid can be stored in the fridge for 3-5 days, well-wrapped. If you reheat it before serving, it'll be practically just as tasty as when it first came out of the oven. If you'd like to make it further ahead than this, you can prepare the braid through the final rise (when the braid is shaped and filled) and then freeze. Let the braid thaw in the fridge overnight on a baking sheet, covered with plastic. The next day, let it come to room temperature and then bake as directed. Happy baking! Kye@KAF
The end results were very good, but I'd argue that this recipe is a little off. It's at 86% hydration, and you're also adding oil which makes dough more slack. Made as indicated (using metric weights) it's more nearly a batter than a dough. It's way too wet to be kneaded. I ended up having to add somewhere between 1/4 and 1/3 of a cup of additional flour. Once I did that, it was great. It's still a very, very tender crumb because of the milk and oil. The braiding process is very easy, and the finished product looks very impressive. Absolutely roll your dough out on a piece of parchment and then put the parchment and dough in a half pan. There wouldn't be any way to move the unbaked, braided dough otherwise.

Thanks for sharing your thoughts with us about this dough, Andrew. We had our bakers take another look at this recipe to see if we could tweak it to make the dough more workable. It's true that the dough should be soft, which ensures a tender texture. However, it should feel sturdy enough to handle and shape the dough. To help achieve this happy middle ground, we've increased the upper amount of flour to 7 1/4 ounces (1 2/3 cup), and also added a note about adding more flour if necessary to bring the dough together. (Also note that the cheese powder, albeit minimally, will absorb a small amount of water in the dough.) We hope this helps, and happy baking! Kye@KAF
This was the perfect Super Bowl food. In the dough, I used oregano, basil, and parsley, as well as a few red pepper flakes for a subtle kick. In addition to the cheese and sauce in the middle, I added mini pepperoni slices and thin slices sweet mini peppers. It tasted delicious warm from the oven, especially dipped in a little extra pizza sauce! My only tip is this: Don't forget to roll this out on parchment paper! I nearly had a snafu. Thanks for another great recipe, King Arthur Flour.
Delicious! Great recipe and easy to make. I used 6-1/4 oz. KA APF but still needed to add almost 1/2 cup more to make a good dough. I used grated parmesan instead of the cheese powder and oregano instead of the pizza flavoring. I did use the pizza dough enhancer and added grated parmesan to the filling. I used pureed tomato sauce for the pizza sauce - my new favorite way. I doctored the leftover sauce with oregano and garlic powder and used as a dip - very good! Will make again - thanks for the recipe!
So easy to make, I used chorizo and cooked minced mushrooms and green peppers for the filling. I did not have cheese powder so I added grated Parmesan to the dough. This was awesome and will become a weekend regular in our house
I weighed the flour as suggested, but ended up adding 1/4 cup more to make a soft, workable dough. I did not have pizza flavoring, but used a combination of basil, garlic, and oregano as a substitute and the dough had a nice flavor. Preparation was simple. I think it was important to measure the tomato sauce to keep the pastry from getting soggy. I used pepperoni and mozzarella cheese, but eyeballed both. Retrospectively, I probably should have weighed out the cheese and added more than I did (I will next time). The end product was quite good. The dough is soft, not crusty. Very good right out of the oven and reheated as directly two days later. A nice party,
I baked this bread about 3 weeks ago and wrote a review TWICE -- but the reviews seem to be getting crossed and lost in the wires. I try again. This was a huge success, lots of fun to make. I filled the "braid" with my own homemade easy fresh tomato sauce and dotted it with bottled quartered artichoke hearts before folding and "braiding." Brushed it with olive oil and sprinkled it with poppy seed before popping it into the oven. Result: it looked, smelled and tasted wonderful. Another KAF five out of five! Thanks!

We're sorry you've had trouble getting your review posted, Dorothy, but we're glad it's here now and what's even more important: your Pizza Braid was just a success! Kye@KAF