A customized print-friendly version of this recipe is available by clicking the "Print Recipe" button on this page.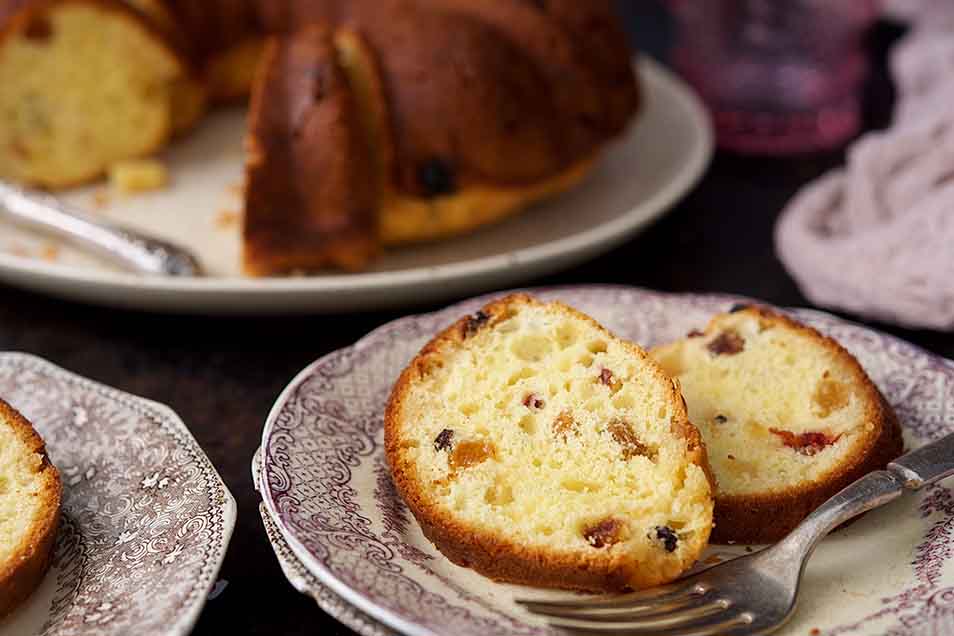 Many different versions of this rich bread, laced with rum syrup and drizzled with icing, are served at Easter in Polish households. It's such a tradition, and so well-loved, that there are probably as many babka recipes as there are Polish bakers! This particular recipe was inspired by one in our 1990 200th Anniversary Cookbook, which includes a wealth of recipes and information from cultures around the world. You'll notice that, despite being made with yeast, it's an easy batter bread; "no-knead" isn't as new a concept as you might think.
Ingredients
Babka
1/2 cup lukewarm milk
3 large eggs, at room temperature
heaping 1/2 teaspoon salt
1/4 cup granulated sugar
1/4 cup (4 tablespoons) softened butter
2 teaspoons instant yeast
1/4 cup currants or raisins (golden raisins preferred)
1/4 cup candied mixed fruit or candied mixed peel; or mixed dried fruit, chopped
Rum syrup
1/2 cup granulated sugar
1/4 cup water*
1 to 2 tablespoons rum*
*Or substitute apple juice for the water and rum.
Icing (optional)
1 cup confectioners' sugar
pinch of salt
2 tablespoons milk; or a combination of milk and rum or apple juice
Instructions
Place everything except the fruit in a mixing bowl, and beat at medium speed until cohesive. Increase your mixer's speed to high, and beat for 2 minutes.

Add the fruit, beating gently just to combine.

Cover the bowl, and let the dough/thick batter rest/rise for 60 minutes; it won't appear to do too much.

Scoop the batter into a greased 10-cup Bundt pan. Cover the pan, and let the dough rest/rise for 30 minutes, while you preheat your oven to 350°F.

Bake the babka for 35 to 40 minutes, until an instant-read thermometer inserted into the center of the loaf reads at least 190°F.

While the babka is baking, prepare the rum syrup. Combine all of the syrup ingredients in a small saucepan set over medium heat. Bring the mixture to a boil, and boil, swirling the liquid in the pan, until the sugar dissolves. Remove from the heat.

Remove the babka from the oven. Poke it all over gently with a toothpick or fork, and slowly pour the syrup over the babka's surface.

When the syrup is fully absorbed (about 20 minutes or so), carefully loosen the babka's edges, and turn it out of the pan onto a rack.

If you choose to use the icing: Mix all of the ingredients together, stirring until smooth. Drizzle over completely cool babka.
Nutrition Information
Serving Size

84g

Servings Per Batch

12
Amount Per Serving:
Calories

240

Calories from Fat

50

Total Fat

6g

Saturated Fat

3g

Trans Fat

0g

Cholesterol

60mg
Sodium

125mg

Total Carbohydrate

43g

Dietary Fiber

1g

Sugars

26g

Protein

5g
* The nutrition information provided for this recipe is determined by the ESHA Genesis R&D software program. Substituting any ingredients may change the posted nutrition information.
Tips from our bakers
Don't have a Bundt pan? Bake the bread in an 8 1/2" x 4 1/2" loaf pan, instead.
Reviews
I was very disappointed that my babka did not rise. I checked the expiration date and the yeast was current. I even mixed it with the warm milk instead of mixing it all in together, as the recipe stated. I thought the yeast had to "bubble" to prove that it was working. Can someone shed some light on this? I am not a frequent bread maker. Thanks!

Jeanne, this recipe calls for instant yeast, which is designed to be added directly into dough. If you're concerned that your yeast is dead, you can test some of it in warm water, but there's no need to activate it before baking. As far as the failure to rise goes, the most common cause is too much flour in the dough, which is not uncommon for folks who measure using volume rather than weight. If you think this might be what happened to your dough, we'd suggest either using a kitchen scale if you have one available, or clicking on the Recipe Success Guide" at the top of this recipe for specific guidelines (and even a video) on how to make sure you're not getting too much flour in your cup. We hope this helps! Kat@KAF
Very easy to make and tastes very good. I've never had Babka so not sure what to expect. I read the comments and made the spot get first. I also started testing the temperature after 20 minutes - my oven runs cold so set it for 360°. It actually didn't register 190° until 35 minutes. The top was getting too brown so I covered with foil. But then the bottom got too dark as well. I baked it in an KAF 8 x 4 loaf pan with parchment in the bottom.
I made this last Easter and it was so delicious! Glad this popped up today to remind me! Thanks KAF
I know I rated this a few weeks ago, but I just must share with you the following: I asked for help in cleaning the bundt pans. You suggested a little brush gadget you have. My fingers ran, not walked, to your products site, and I ordered the brush at once. It arrived a few days ago. This afternoon I made another Polish babka -- with a few tweaks: I soaked the fruits in a tablespoon of Gran Manier for about 5 minutes while I put together the rest of the babka. Then I followed orders except that I made the glaze with Gran Manier instead of rum. I also made only 1/2 a recipe of icing - just 1/2 cup powder sugar, 1 tbs milk and 1/4 tsp vanilla. Perfect amount. After drizzling the icing over the babka, I decorated each flute with 1/4 candied red cherry, and dusted the whole shebang with confectionary sugar. True babka aficionados may object, but I, never having seen an authentic babka in Poland, think the cake looks gorgeous and smells wonderful. I haven't tasted it yet because I am bringing it to my daughter tomorrow. Oh, and BTW, the cleaning brush worked like a charm. You guys are a baker's dream come true! THANKS!
Gluten Free Babka? As I am now out of necessity gluten free but still Polish-American , I needed a GF Babka for wicone. I phoned the King Arthur hotline for some advice and spoke with Dave . We decided that I could try a substitution with the Measure for Measure GF flour for this recipe. The results were rather good for a first time try; dryish, but good enough that my family didn't recognize it as gluten free . I used 2 cups of GF Measure for Measure flour. As previous reviewers have noted the dough does not fill the pan so I checked the temperature early ,after 30 minutes, and it was already over 200 degrees. I believe that this contributed to the dryness. Next time I will check the temperature after 22- 25 minutes. Also, I had increased the amount of golden raisins and mixed fruit to 1/2 cup each but next time will Increase to 3/4 cups each. Dzikuj , Dave.

Thanks for sharing your baking experience with us, Fran. While we wouldn't normally recommend using Measure for Measure in a yeasted recipe, we're glad to hear the results ultimately turned out to be satisfying for you and your family. For truly excellent results, we recommend sticking with non-yeasted recipes when baking with Measure for Measure, or using a designed-to-be-gluten-free recipe when baking with yeast. We hope you continue to explore in the kitchen and perfect the recipes you decide to take on. Happy GF baking! Kye@KAF
Very disappointed with this 'babka'. Thought I would try it along with my grandmother's tried and true babka recipe - I thought it was a bit heavy - I did add extra golden raisins and my yeast was just fine - everything else I baked that day came out perfect - maybe I'm just 'old country ' when it comes to babka.
This bread came out PERFECT!!!! It was such an easy recipe. I used a mixture of golden raisins, currants, candied orange peel and citron. I took it's temperature after 25 minutes and it read 195, so I pulled it from the oven. I used dark rum in the syrup and the icing and most important, I followed the recipe to the tee. Hands down a winner. I will definitely make this again.
This is not an authentic Babka but a good "wanna be". It was easy and quick (unlike the kneading and rising of the original that takes me half a day.). I omitted the candied fruit and the soak. I read the reviews and am glad I checked in 25 minutes of baking. It came out perfectly. Next time I will add more raisins and double it as this recipe fills half a Bundt pan.
I made this recipe yesterday. It was a rousing success. Since I made it for a non alcoholic family, and I didn't have apple juice, I used orange juice in the dough, and a mixture of orange and diet cranberry juice for the glaze. I made the icing with vanilla, but the next time I'll make only half the suggested amount. It was too much. I followed your suggestion to paint the bundt pan with melted butter, and then coat it with flour, I allowed the Babka to cool for about 20 minutes after dousing it with the orange-cranberry glaze, and the Babka slipped out perfectly with only a minimum of loosening with a knife. Before giving it away, I dusted the iced Babka with sifted confectioners sugar. Result: I got highest compliments on both the presentation and flavor. Thanks so much KAF.
So easy to make. Made it for Easter, so... tempting to try it; but staying strong. Smells wonderful.