A customized print-friendly version of this recipe is available by clicking the "Print Recipe" button on this page.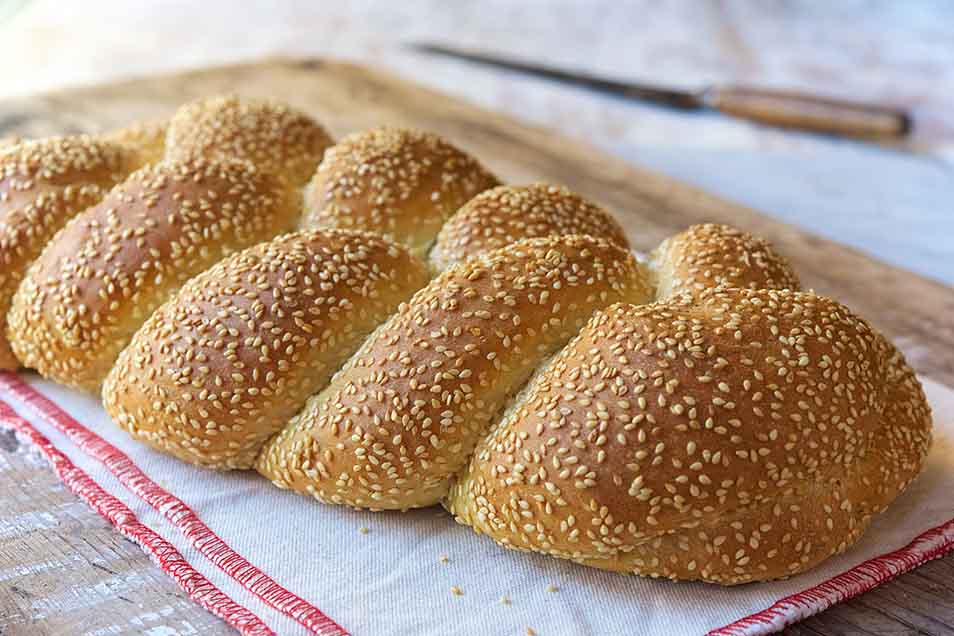 "Scali bread" is a fixture of Boston-area bakeries and supermarkets. The shiny, mahogany-brown braid is heavily coated with sesame seeds, giving it nutty flavor and a lovely appearance. Serve it with your pasta, or slice it for sandwiches; though as every Boston-area Italian knows, Scali is good with EVERYTHING.
Ingredients
Starter
1/3 to 1/2 cup cool water, enough to make a stiff ball of dough
pinch of instant yeast
Topping
1 large egg white beaten with 1 tablespoon cold water
1/2 cup sesame seeds
Instructions
To make the starter: Mix the starter ingredients together, cover, and let rest at room temperature overnight. Note: This is a dry, stiff starter. If it's too dry to come together, it may be that you measure your flour differently than we do here at King Arthur, or that you're in a particularly dry climate. Dribble in sufficient water to make the dough come together, and proceed with the recipe as directed.

To make the dough: Combine the starter with the remaining dough ingredients, and mix and knead — by hand, mixer, or bread machine set on the dough cycle — to make a soft, smooth dough.

Place the dough in a lightly greased bowl or large (8-cup) measure; cover, and let it rise for about 90 minutes, till it's just about doubled in bulk.

To make one large loaf: Gently deflate the dough, and divide it into three equal pieces. Shape each piece into a rough log, and let the logs rest, uncovered, for about 10 minutes. This gives the gluten in the dough a chance to relax, which in turn will make the logs easier to roll.

Working on a lightly greased surface, roll each log into a rope about 24" long. Brush each rope with the egg white/water, and sprinkle heavily with the sesame seeds, rolling the ropes gently in the seeds to pick up as many as possible.

Grab one end of each rope, and squeeze the ends together firmly. Braid the ropes, tucking the ends under to make a neat braided loaf.

To make rolls: Follow the directions above, but divide the dough into six pieces, rather than three. Roll each piece into a thin rope about 28" long. Take three of the ropes, and coat with seeds and braid as directed above. Repeat with the remaining three ropes. The resulting loaves will be about 18" long.

Cut each braid into six 3" rolls. Squeeze the cut ends together to seal, and tuck them under.

Place the loaf on a large, parchment-lined (or lightly greased) baking sheet. Or space the rolls on a baking sheet. Cover the loaf or rolls with lightly greased plastic wrap, and allow to rise till very puffy, about 90 minutes. Towards the end of the rising time, preheat the oven to 425°F.

Bake the loaf for about 25 to 35 minutes, till it's a deep golden brown. The rolls will need to bake for about 25 minutes. Remove from the oven, and cool on a rack.
Tips from our bakers
For instructions for a long, thin loaf or a dozen rolls, see our blog.
Reviews
It was a disaster. the starter turn out to be very liquid with a yellow color, and the dough never rise as much and I teh braid turn out to be very flat

Hi there, Odile. We're sorry to hear that this well-loved recipe didn't do the trick for you. We wonder if a different brand of flour was used? Our flour has a higher protein content than other brands available, which makes it absorb more liquid. The off-color of the starter is very odd, we're not sure what caused that to happen. If we can help troubleshoot or pick out a recipe that better fits your tastes, please give our Baker's Hotline a call at 855-371-BAKE (2253) or email us at customercare(at)kingarthurflour(dot)com . Kindly, Morgan@KAF
This is a great Italian Bread recipe, but it makes such a large loaf. Can I make 1 or 2 smaller loaves and freeze the ones my hubby and I won't eat right away. He's not much of a bread eater and we don't eat it every day. But I can't finish most of one huge loaf!!
I have made this recipe several times and have taken it in to work. This went so fast. However, I watch my sodium intake closely for health reasons. While this is not a lot of salt, I really can taste it. Can I cut back on the salt? If so, how much? Not sure if it is there just for flavor or maintain dough structure.

Since salt is such an important ingredient in yeast breads, not only to add flavor but to aid in rising and browning as well, it can be difficult to lower the salt without compromising the final loaf. You should be able to lower the salt to just a teaspoon, but any more than that and things move into the experimental realm, without a clear idea of how to finished loaf will turn out. Annabelle@KAF
Came out perfect. Love the nutty taste of sesame seeds.
I wish we could share photos here because my bread came out amazingly beautiful! I have to say, it did make a very l-o-n-g loaf, wondering if I stretched it out too much? Still beautiful and delicious. My only suggestion for others would be to sure to give it plenty of time to rise the second time - I only gave mine about 40 min, which still worked but longer would have been better so it would become even puffier. I used SAF Instant Yeast for the starter, and Red Star Platinum Yeast for the main recipe, it rose perfectly. Also, be sure to use parchment paper as suggested to prevent sticking...Thank You KAF and Happy Baking!!

Mike, the final loaf should be about 18" long. There's nothing wrong with it being longer and thinner if that's the way you like it; just know that thinner loaves may bake more quickly than the 18" version. Happy baking! Kye@KAF
From Boston. Born in Eastie back in the late 60s to early 70s. I kind of grew up on this bread. This recipe is amazing. It was a hit. I did have one question... what's the total weight of the loaf you get from this, typically? Thanks for sharing this. I used my sourdough in the recipe instead of IDY.

This recipe makes a loaf that's about 1 1/2 lbs. The exact weight can vary depending on how much water is used in the starter and how many seeds are used. Happy baking! Kye@KAF
I have made this bread twice with great results! The first time as one loaf (for the nicoise salad sandwich recipe) and the second time I followed the directions for making rolls, but made them larger (I got 8 total). They worked amazing has hamburger buns and sandwich rolls!
Made this recipe as written except substituted bread flour as that was all I had. Made an AWESOME tasting, very pretty loaf. I only have SAF Gold yeast in my kitchen and use it for everything. Rose beautifully and stayed soft for days. This is big loaf, and since it is only my husband and myself, it takes us about 3 days to eat a loaf.
Question: The recipe says to make the starter and let it sit out over night. Right now it's about 11am and I am doing some morning baking (scones etc) and wanted to make the starter for tomorrow. Will making it now and letting it sit until tomorrow morning be too long? Should I make the starter tonight instead? How many hours is "overnight"?

Great question! When we suggest letting something rest "overnight", we're aiming for somewhere between 8-16 hours. While there's more flexibility in a recipe like this that also calls for adding commercial yeast to the dough, rather than letting a starter sit out for 24 hours, we'd probably refrigerate it to slow down the process. Mollie@KAF
Bread tastes great, I have made recipe three times now. I have used saf insta yeast and still not getting a really good rise out of it. After baking the bread I only getting inch and half rise maybe little less.

Peter, there are a number of reasons why dough might not rise as high as expected even if the yeast is fresh. How the flour was measured, the kind of flour used, how the dough was kneaded and for long, how the dough was shaped, the temperature of the rising environment, and the kind of pan used are all examples of factors that can influence how much your dough rises. Consider giving our Baker's Hotline a call at 855-371-BAKE(2253) so we can talk about which of these may be inhibiting your rise. Kye@KAF