A customized print-friendly version of this recipe is available by clicking the "Print Recipe" button on this page.
St. Pat's Pistachio Cookies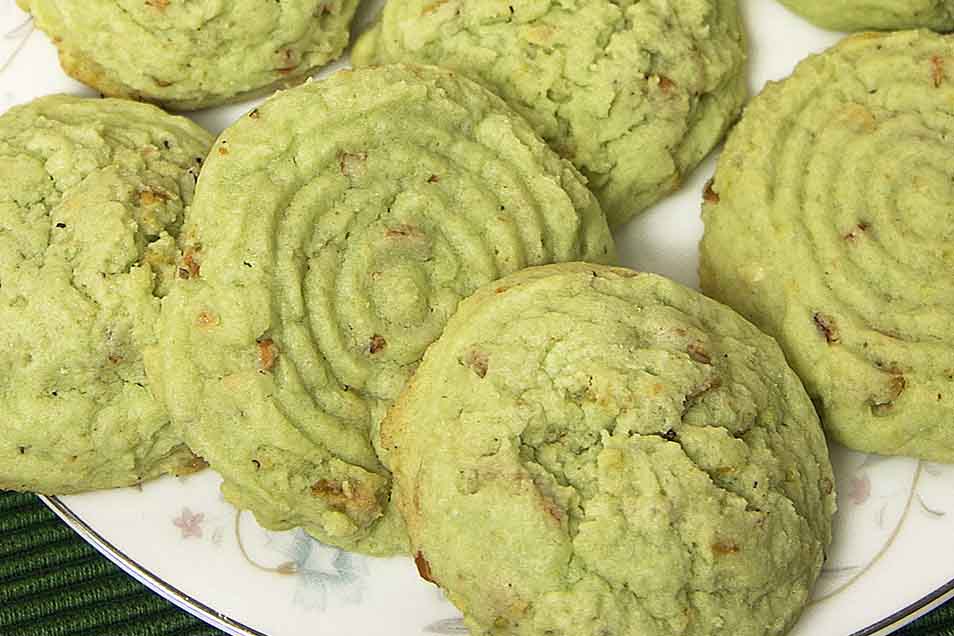 Green energy, green business practices... everything's going green these days! Luckily, most people don't eat green food, unless it's from the garden. Christmas cookies may offer a hint of green occasionally, but the real taste temptations are green pistachio cookies, the ideal St. Patrick's Day treat.
Ingredients
1/2 cup (8 tablespoons) butter
1/2 cup granulated sugar
1/4 cup vegetable oil
1/4 cup water
1 large egg
2 packages (3.4-oz. each) pistachio instant pudding mix, Jell-O brand preferred (See "tips", below.)
1/8 teaspoon pistachio flavor or 1 teaspoon vanilla extract
1/2 teaspoon salt
1 teaspoon baking powder
1/2 to 2/3 cup chopped pistachios
Instructions
Preheat the oven to 350°F. Lightly grease (or line with parchment) two baking sheets.

Beat the butter, sugar, and vegetable oil in a bowl until combined, then add water and egg, beating until smooth. The mixture will look curdled at first, but will become creamy as you beat.

Add the pudding mix, pistachio flavor, salt, and baking powder, beating until smooth; the mixture will turn a lovely pastel green.

Stir in the flour and nuts.

Drop the dough by the tablespoonful — (a tablespoon cookie scoop works well here) —onto the prepared baking sheets, leaving about 2" between cookies.

Flatten the cookies, if desired, using a fork, the flat bottom of a drinking glass, or the end of the pusher from your food processor. If you don't flatten the cookies, they'll bake up in softly flattened mounds; they're lovely either way.

Bake the cookies for 15 minutes, until they're starting to brown on the bottom. Remove them from the oven, and cool right on the pans.

Store, well -covered, for up to 5 days. Freeze for up to a month.
Tips from our bakers
Jell-O gives the best color. Your cookies won't be nearly as green if you use a store brand.
Reviews
I love pistachios! I've been searching for a great pistachio cookie recipe for a long time. This recipe is it. It'll be my go to pistachio recipe.
This is one of our family's favorite cookies. I make them for St. Patrick's Day as well as at Christmas time. They are always asked for. At Christmas I dip half the cookie in dark chocolate to give it a festive look. Can't beat the good flavor!
No comments on these in 2 years? These are so easy and good! I'm making them for St. Paddy's day for probably the 10th time.
Several years ago I had made these cookies using both the pistachio flavor and pistachios, and they were good but nothing special; however, after reading the reviews, I substituted chopped sliced almonds for the pistachios, and 3/4 tsp vanilla extract and 1/4 tsp almond extract for the pistachio flavor. I used a #40 scoop and pressed them down with a cookie stamp that was dipped in green sanding sugar, baked for 14 minutes, and they were perfect. They taste great. I definitely recommend using the almond substitutions.
If you save the pistachios aside you can pipe this dough or even use a cookie press (shamrock shape for St. Pat's, tree shape for Christmas...etc). Before baking, sprinkle with the finely chopped pistachios. For Christmas, I pipe the dough with a large star tip and press half a maraschino cherry in the center, then bake. Dust with 10X after cooling.
The best pistachio taste - I often substitute ground pistachios for a small amount of the flour. Have to make at least a double batch each year at Christmas! They also freeze well.
Love these cookies. Not overly sweet. Just perfect. Easy to make.
I've made these for St. Pat's Day every year since I saw them in the Baking Sheet. I can't find my old Baking Sheet anymore so I'm glad this is on the website. My family and coworkers really enjoy them.
I really, really wanted to love these cookies. Pistachios are one of my favorite nuts, and who doesn't love cookies, so it seemed like an amazing idea. Unfortunately, the cookies had a strange mouth-feel -- almost clingy -- and a chemical, processed taste to them. I think this is entirely due to the instant pudding ingredient. Sorry, KAF, you missed the mark on this one, and I'm going to keep looking for another recipe that only uses real pistachios (or real pistachio paste) and skips the dubious chemical-wonder ingredients.
These are great cookies! I used a few drops of almond extract along with half the vanilla, cut the sugar back slightly, and added finely chopped slivered almonds (1/2 C) for the nuts. I mixed the batter in my Kitchen Aid, rolled into walnut size balls and pressed firmly with a celtic cross cookie stamp until they were about 1/4". I baked until just set, about 14 minutes, when the bottoms were just slightly beginning to color. They held the imprint very well. Don't bake too long or they get rather hard. Each recipe made 3 dozen for me. I am making 360 for a Church Reception as everyone who did the taste test loved them!