A customized print-friendly version of this recipe is available by clicking the "Print Recipe" button on this page.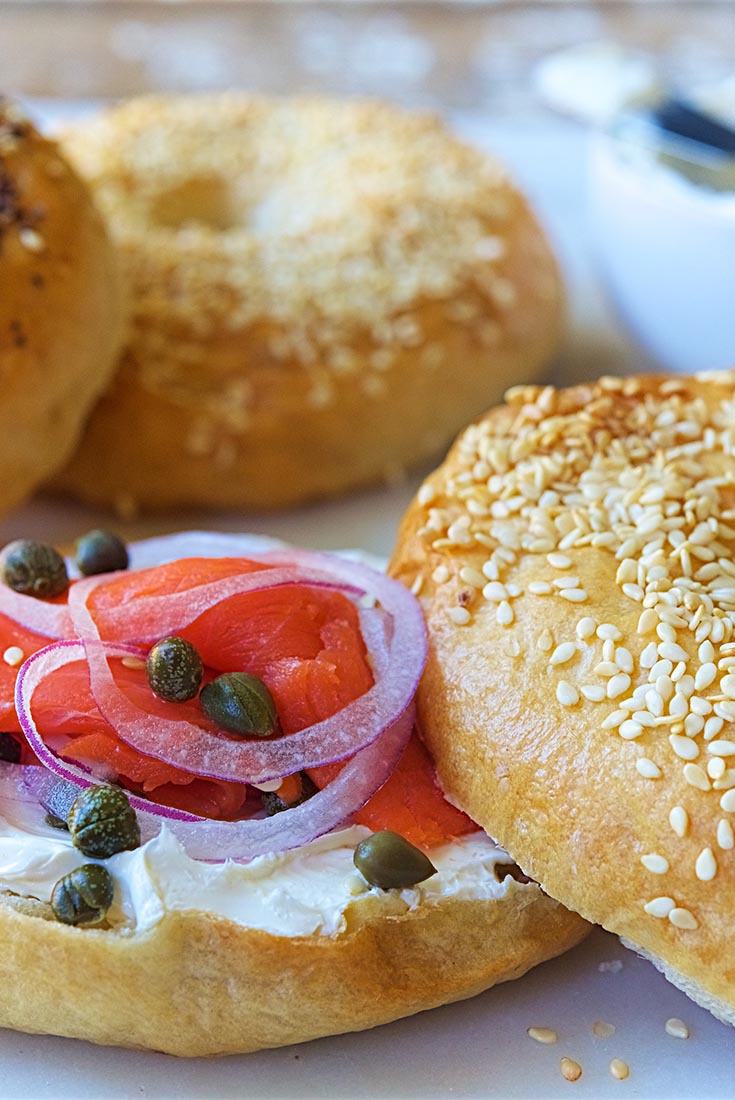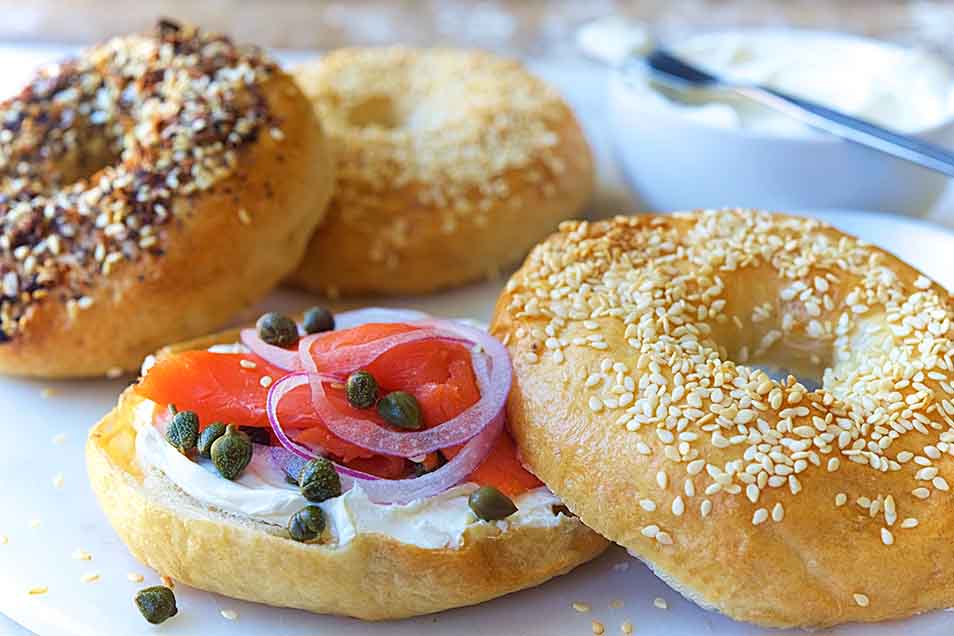 These days, every supermarket, country store, and corner deli seems to have a ready supply of top-flight bagels, as do shops that are devoted exclusively to bagels, their accompanying spreads, and bagel sandwiches with all sorts of interesting fillings. So, with all kinds of good bagels available just about wherever you turn, why make your own? First, so you know what's in 'em; who wants azodicarbonmide in their pumpernickel bagel? Second, so you can customize them to your taste, as in pesto bagels with sun-dried tomatoes and pine nuts; and third, it's easy and fun! If you can make bread dough, you can easily make bagels. These are a great treat to make with the young baker in your life.
Ingredients
Water bath
2 quarts water
2 tablespoons non-diastatic malt powder or brown sugar or barley malt syrup
1 tablespoon granulated sugar
Instructions
Combine all of the dough ingredients and knead vigorously for 10 minutes (if you're using an electric mixer) or up to 15 minutes (if you're kneading by hand). Since we're using a high-protein bread flour here, it takes a bit more effort and time to develop the gluten. The dough will be quite stiff; if you're using a mixer it will "thwap" the sides of the bowl, and hold its shape (without spreading at all) when you stop the mixer.

Place the dough in a lightly greased bowl, and set it aside to rise until it's noticeably puffy though not necessarily doubled in bulk, 1 to 1 1/2 hours.

Lightly grease two baking sheets, or line them with parchment and grease the parchment. Transfer the dough to a work surface, and divide it into eight pieces (for large bagels), or 12 pieces (for standard-size bagels).

Working with one piece at a time, roll it into a smooth, round ball. Place the balls on one of the prepared baking sheets. Cover the balls with plastic wrap, and let them rest for 30 minutes. They'll puff up very slightly.

While the dough is resting, prepare the water bath by heating the water, malt, and sugar to a very gentle boil in a large, wide-diameter pan. Preheat your oven to 425°F.

Use your index finger to poke a hole through the center of each ball, then twirl the dough on your finger to stretch the hole until it's about 1 1/2" to 2" in diameter. Place six bagels on each of the baking sheets.

Transfer the bagels, four at a time if possible, to the simmering water. Increase the heat under the pan to bring the water back up to a gently simmering boil, if necessary. Cook the bagels for 2 minutes, flip them over, and cook 1 minute more. Using a skimmer or strainer, remove the bagels from the water and place them back on the baking sheet. Repeat with the remaining bagels.

Bake the bagels for 20 to 25 minutes, or until they're as deep brown as you like, turning them over about 15 minutes into the baking time (this will help them remain tall and round). Remove the bagels from the oven, and cool completely on a rack.
Nutrition Information
Serving Size

108g

Servings Per Batch

8
Amount Per Serving:
Calories

230

Calories from Fat

10

Total Fat

1g

Saturated Fat

0g

Trans Fat

0g

Cholesterol

0mg
Sodium

590mg

Total Carbohydrate

46g

Dietary Fiber

2g

Sugars

1g

Protein

9g
* The nutrition information provided for this recipe is determined by the ESHA Genesis R&D software program. Substituting any ingredients may change the posted nutrition information.
Tips from our bakers
Variations: To make sesame seed or poppy seed (or other seed) bagels, brush each bagel, just before baking, with a glaze made of 1 egg white beaten until frothy with 1 tablespoon of water. Glaze each bagel, and sprinkle heavily with seeds.
To make onion-topped bagels, bake bagels for 20 to 22 minutes (or until they're almost as brown as you like), and remove the pan from the oven, keeping the oven turned on. Working with one bagel at a time, glaze as instructed above, and sprinkle with minced, dried onion. Return the bagels to the oven for no more than 2 minutes (the onions will burn if the bagels are left in longer than that).
Want to make cinnamon-raisin bagels? Knead about 2/3 cup of raisins into the dough toward the end of the kneading process. Just before you're done kneading, sprinkle your work surface heavily with cinnamon-sugar, and give the dough a few more turns; it'll pick up the cinnamon-sugar in irregular swirls. Divide the dough into pieces, form each piece into a ball, and roll each ball in additional cinnamon-sugar. Proceed to let rest and shape as directed above.
Reviews
Hi. What do i do if my dough turned out too wet? My first attempt sadly was not a success. Im planning to increase the amount of flour for my next attempt or lessen the water. Would that help?

Hi fellow baker. Summer means humidity, so lowering water will be your best bet. Feel free to check out our blog article Winter to Summer Yeast Baking for some helpful tips and tricks to make your dough more manageable. Since recipes are based around the amount of flour, it's best to alter the liquid instead, as changing the amount of flour would require you to change all of the other ingredients to keep the ratios right. Annabelle@KAF
Have made this twice with various add-ins and it has turned out great both times! Dough comes together easily by hand. I let it proof overnight in the fridge for the second rise so I could bake them fresh in the morning. Well received by coworkers. Recipe is time-consuming but straightforward. Bagels are very chewy, as promised - I might try the water bagels recipe next time to see how those turn out! Question: any tips on getting a really smooth exterior? Thanks!

Your bagels will have a smooth exterior if the dough is properly hydrated, kneaded, and shaped. To achieve the right hydration, add additional flour or water to the dough as needed until it feels soft, is slightly tacky, and looks smooth after kneading. When shaping each bagel, use your hands to roll the dough into a smooth ball against your work surface, then create the hole in the center. You can add a bit of dusting flour to the work surface or wipe it down with a slightly damp towel depending on it you need more or less traction. When the dough is smooth, the final bagel will be smooth too. We hope this helps and good luck! Kye@KAF
Great recipe! I added some shredded cheddar cheese. Came out great. Another winning recipe!
This is a good recipe, except for one thing: Add a teaspoon of baking soda to the water bath. It does wonders for the surface of the bagel. I tried it both ways, and the one with the baking soda was better.
My husband just made these and they are delicious. He made a few plain and the rest were everything style with garlic, onion, poppy and sesame seeds. The bagel has just the right amount of chewiness. He has successfully made bagels several times before, but this has been the best batch yet.
I'm not great with breads so I have no idea where to really start with this. I think I needed far more in depth instructions because my bagels keep coming out crunchy on the outside and gummy in the middle. I feel like the oven is too hot to bake them all the way through without burning the exterior. I need tips on how to perfect the dough and get them to bake completely.

We'd love to help turn you into a bagel master, Sarah! We have a full article on our blog called "Bagels for babies," and it walks through our most basic bagel recipe step-by-step with pictures to help guide you along the way. We recommend taking a look at this tutorial to see if it helps, and then give our Baker's Hotline a call at 855-371-BAKE(2253) if you have further questions. We're here to help. You can do this! Kye@KAF
And Incredibly good bagel recipe especially if you really don't know how to make them. Simple enough for anyone to understand and really be pretty hard to mess up unless you weren't paying attention.
These turned out pretty well and super SUPER easy. I made plain, cheese, and sesame seed bagels. Most of them turned out well, but a couple deflated after removing them from the waterbath-- I suspect I did not leave them in quite long enough.
It was really good. It was really chewy.
It was very good. They were fun but time consuming to make.