A customized print-friendly version of this recipe is available by clicking the "Print Recipe" button on this page.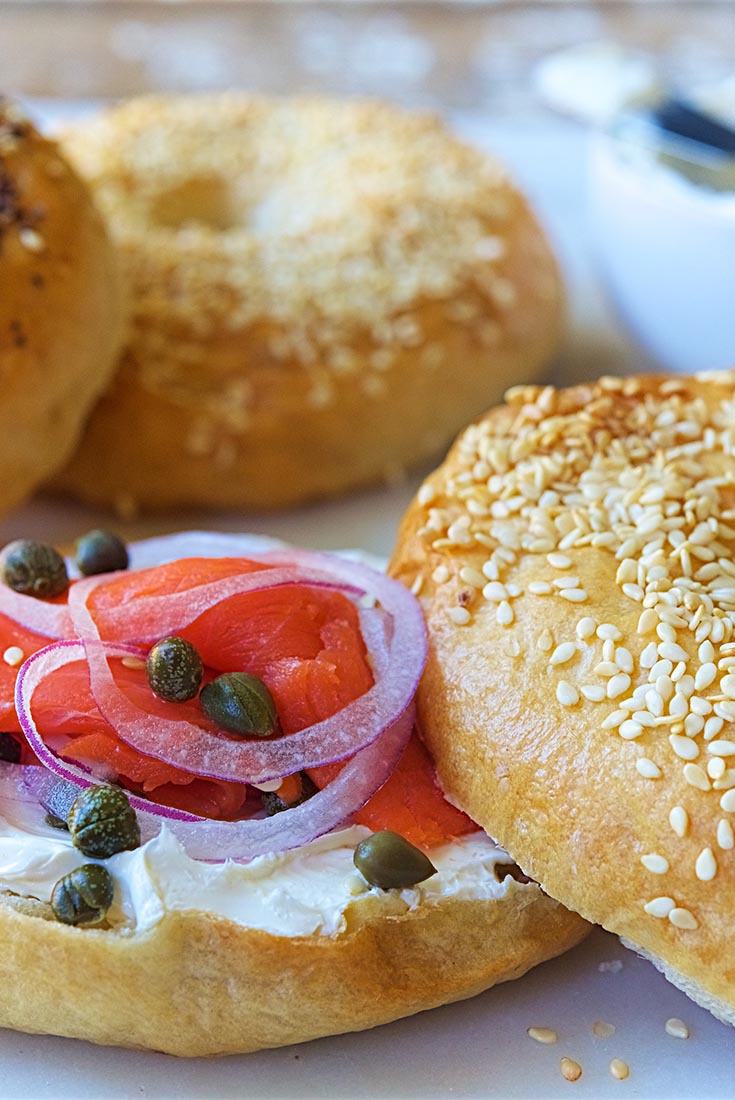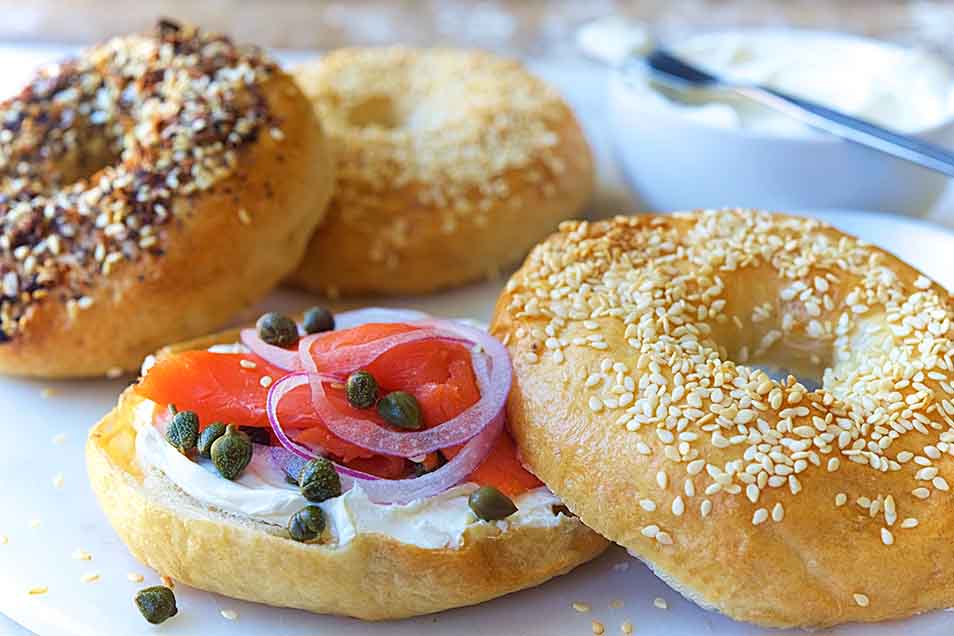 These days, every supermarket, country store, and corner deli seems to have a ready supply of top-flight bagels, as do shops that are devoted exclusively to bagels, their accompanying spreads, and bagel sandwiches with all sorts of interesting fillings. So, with all kinds of good bagels available just about wherever you turn, why make your own? First, so you know what's in 'em; who wants azodicarbonmide in their pumpernickel bagel? Second, so you can customize them to your taste, as in pesto bagels with sun-dried tomatoes and pine nuts; and third, it's easy and fun! If you can make bread dough, you can easily make bagels. These are a great treat to make with the young baker in your life.
Ingredients
Water bath
2 quarts water
2 tablespoons non-diastatic malt powder or brown sugar or barley malt syrup
1 tablespoon granulated sugar
Instructions
Combine all of the dough ingredients and knead vigorously for 10 minutes (if you're using an electric mixer) or up to 15 minutes (if you're kneading by hand). Since we're using a high-protein bread flour here, it takes a bit more effort and time to develop the gluten. The dough will be quite stiff; if you're using a mixer it will "thwap" the sides of the bowl, and hold its shape (without spreading at all) when you stop the mixer.

Place the dough in a lightly greased bowl, and set it aside to rise until it's noticeably puffy though not necessarily doubled in bulk, 1 to 1 1/2 hours.

Lightly grease two baking sheets, or line them with parchment and grease the parchment. Transfer the dough to a work surface, and divide it into eight pieces (for large bagels), or 12 pieces (for standard-size bagels).

Working with one piece at a time, roll it into a smooth, round ball. Place the balls on one of the prepared baking sheets. Cover the balls with plastic wrap, and let them rest for 30 minutes. They'll puff up very slightly.

While the dough is resting, prepare the water bath by heating the water, malt, and sugar to a very gentle boil in a large, wide-diameter pan. Preheat your oven to 425°F.

Use your index finger to poke a hole through the center of each ball, then twirl the dough on your finger to stretch the hole until it's about 1 1/2" to 2" in diameter. Place six bagels on each of the baking sheets.

Transfer the bagels, four at a time if possible, to the simmering water. Increase the heat under the pan to bring the water back up to a gently simmering boil, if necessary. Cook the bagels for 2 minutes, flip them over, and cook 1 minute more. Using a skimmer or strainer, remove the bagels from the water and place them back on the baking sheet. Repeat with the remaining bagels.

Bake the bagels for 20 to 25 minutes, or until they're as deep brown as you like, turning them over about 15 minutes into the baking time (this will help them remain tall and round). Remove the bagels from the oven, and cool completely on a rack.
Nutrition Information
Serving Size

108g

Servings Per Batch

8
Amount Per Serving:
Calories

230

Calories from Fat

10

Total Fat

1g

Saturated Fat

0g

Trans Fat

0g

Cholesterol

0mg
Sodium

590mg

Total Carbohydrate

46g

Dietary Fiber

2g

Sugars

1g

Protein

9g
* The nutrition information provided for this recipe is determined by the ESHA Genesis R&D software program. Substituting any ingredients may change the posted nutrition information.
Tips from our bakers
Variations: To make sesame seed or poppy seed (or other seed) bagels, brush each bagel, just before baking, with a glaze made of 1 egg white beaten until frothy with 1 tablespoon of water. Glaze each bagel, and sprinkle heavily with seeds.
To make onion-topped bagels, bake bagels for 20 to 22 minutes (or until they're almost as brown as you like), and remove the pan from the oven, keeping the oven turned on. Working with one bagel at a time, glaze as instructed above, and sprinkle with minced, dried onion. Return the bagels to the oven for no more than 2 minutes (the onions will burn if the bagels are left in longer than that).
Want to make cinnamon-raisin bagels? Knead about 2/3 cup of raisins into the dough toward the end of the kneading process. Just before you're done kneading, sprinkle your work surface heavily with cinnamon-sugar, and give the dough a few more turns; it'll pick up the cinnamon-sugar in irregular swirls. Divide the dough into pieces, form each piece into a ball, and roll each ball in additional cinnamon-sugar. Proceed to let rest and shape as directed above.
Reviews
These were SO good! I added "everything but the bagel" seasoning from Trader Joe's while the bagels were still wet (as opposed to an egg wash) and it worked perfectly. I did have to use active dry yeast instead of instant, but I dissolved it in the warm water before adding the other dough ingredients. The only thing that was disappointing to me was I felt like the bagels were a little thin (not very thin, but not quiet as puffy as in the photo). I'm not sure where I went wrong, but would love suggestions as to what I can do to fix it! No matter what, I'll keep making these!

Congrats on your bagel success, Sarah! The flatter shape of your bagels may have had something to do with the way you shaped them - the larger the hole, the larger but flatter the bagel generally is. Next time you might try stretching the hole a little less in order to attain a puffier bagel. You could also try boiling the bagels for less time (more like 30 seconds per side) before baking, which would set the crusts less and keep the yeast alive enough to offer some oven spring as well. Happy experimenting! Mollie@KAF
I've been making breads for a long time but for some reason bagels have always intimidated me. About a month ago my husband was going to order bagels from a popular chain and I said "WAIT, let me try making them". I quickly came to this site as every KAF recipe I've tried in the past came out perfect, so a few hours later I had my first batch of bagels. The process was fun! Not scary, not difficult, plain fun! The bagels turned out amazing! Chewy and crispy, flavored beautifully and beautifully golden. The first batch I made was plain, and even plain, they tasted so good with cream cheese. The second and third time I used an "everything but the bagel" seasoning I bought from Trader Joe's on some as well as dehydrated onions on others, and there's no difference to the store bought stuff, they taste professionally made, actually they taste better! Everyone loves them and I can't believe I was scared to make these in the past.
I decided to give this recipe a try instead of using my go to recipe from thirty years ago. What a joy this entire process was and the resulting product is perfect. I grew up in an area that had the best delis, bakeries and restaurants. The bagels I remembered were crisp and chewy with a certain flavor I'd been missing until now. I followed this recipe exactly as written with one exception. I added two teaspoons of baking soda to the water bath and boy did that bring those memories flooding back. The size and shape along with the crust are identical to those I remembered. The bagels reached their ideal color and doneness in 20 minutes. The proof is in the tasting and these are not only delicious but the easiest bagel recipe ever. I'll make these often to go with our homemade lox. Yummy.
Really nice chewy bagels. Better tasting than store bought. I think next time I will try to add sesame seeds or dried onions to the crust.
I was using KAF bread flour. Started out good and followed recipe to the letter (at least I think) but while the taste is pretty good the look wasn't as nice. The didn't really deflate but the outside texture was far from smooth. As I made 12, I wanted to try different boiling times to see what happened. The long boil had the best texture on mine. All came out with roughly the same outside texture. They were a little bubbly/rough. I will of course try them again but wanted to see if there was any idea of what happened to perhaps help me know what to watch for. Thanks!

A few bubbles on the surface is the mark of a well-made bagel, Nik. As for the rough surface, you might want to try holding back the last 1/4 to 1/2 cup of flour. This will make a softer dough that's more likely to smooth out as you work with it. You can also try using a lightly greased work surface when dividing and shaping the dough. This will keep the dough from sticking and help with even shaping. Lastly, try using the technique shown in our "How to shape dinner rolls" video in the Learn section of our website. It shows a quick technique to help tighten the surface of rolls (or bagels), which produces a smooth top. (You can then go on to create the center hole.) We hope this helps, and keep practicing! Kye@KAF
This was the easiest and quickest recipe. I used my KitchenAid mixer on speed 2 for 10 minutes. Perfect dough as per this recipe ingredients. I had no problem sticking as I used parchment paper, then sprinkled it with fine cornmeal. The gentle hole punch deflated many but they popped up again in the water bath and had a nice oven spring. I used 2 wooden chop sticks to turn the bagels and remove them (through the hole). This minimized handling and they kept their shape. Waiting to taste now! They look great!
Not a review but a question: I've made this recipe twice and baked even longer than the time listed but the bagels are still raw in the middle. What am I doing wrong? Thanks!

Thanks for giving this recipe two tries, Jeanne. It's puzzling that your bagels are "still raw in the middle after baking, as they partially cook while boiling. Any chance you were skipping this step? If you made larger than standard sized bagels, they would take longer to bake, as they also would if your oven happens to be running a bit cool. If it would be helpful to troubleshoot more directly, please give our friendly Baker's Hotline a call at 855-371-BAKE. We'd be happy to chat! Mollie@KAF
I've never made bagels before but on a day off because of hurricane Irma I was bored and decided to give this a try. Oh my goodness, they are sooooo good! And the recipe was really easy. Thank you for this; I'm excited to try new flavors next time.
YES! Bagel-making, for me, has been hit or miss. One time they turn out okay, next time not so much. I wish I could attach a picture so you could see how beautiful these turned out! After some trial and error, I tweaked the recipe. I used KAF High-Gluten Flour, brown sugar in both the dough and the water bath, and made the dough in my Zoji bread machine. Issues in the past for me were bagels going flat after baking. I cut the resting time for the eight dough balls to 20 minutes instead of 30, and put them in the boiling water bath for 35 seconds on each side, instead of over 2 minutes total. We are above 1,000 ft and the weather was cool and dry today, so that might make a difference.
I made these bagels this morning for a brunch. My friends said they were the best they'd ever had. I am writing this because I used all purpose flour and though my instincts told me this might not work, they were fantastic. If you like a chewy NYC style bagel, I'd say this is the recipe for you. Four were sesame and four were a combination of onion, garlic, salt and pepper. Very good!