A customized print-friendly version of this recipe is available by clicking the "Print Recipe" button on this page.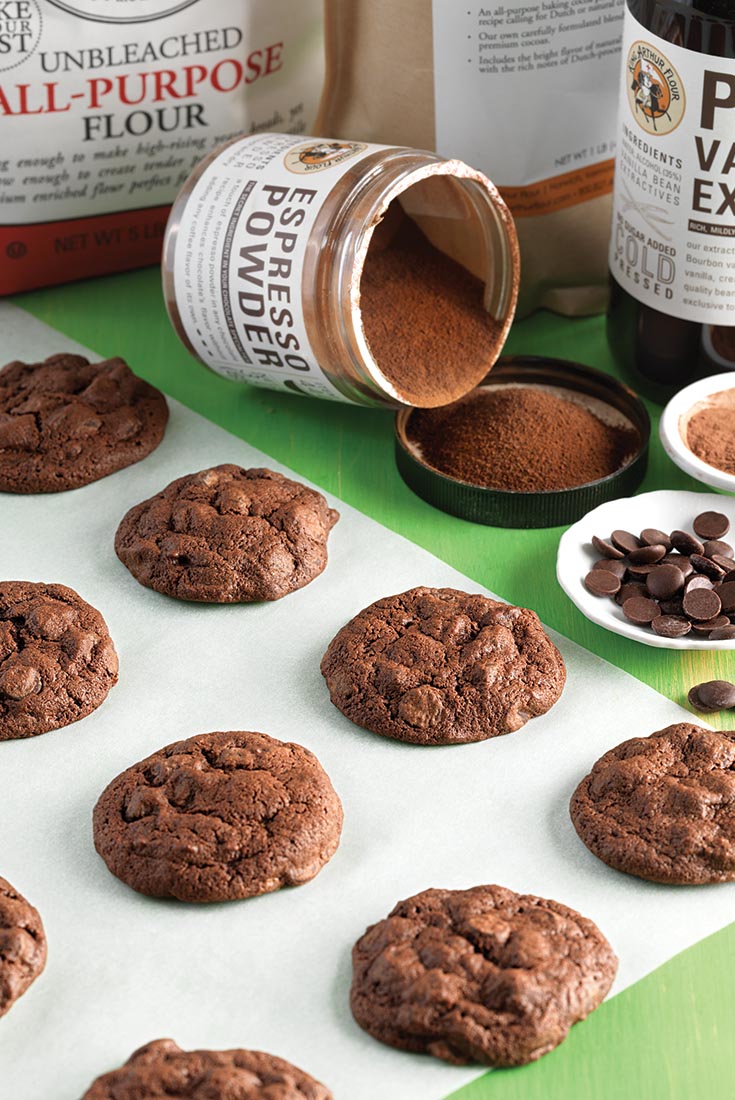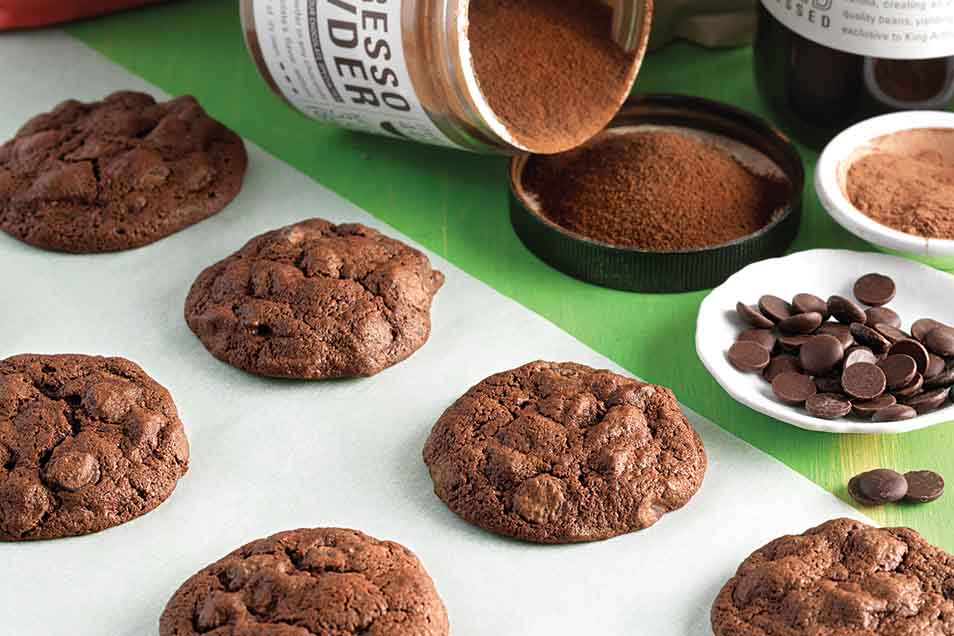 This variation on our Basic Drop Cookies, suggested by a reader, yields medium-soft cookies with great chocolate flavor. For just plain chocolate, bake without add-ins; but chocolate chips, nuts, and dried fruit (cranberries, diced apricots, cherries) are all deliciously complementary.
Instructions
Preheat the oven to 375°F. Lightly grease two baking sheets, or line with parchment.

Beat together the butter, sugars, cocoa powder, salt, baking soda, baking powder, and vanilla until well blended.

Add the egg, beating until smooth. Scrape the sides of the bowl, and beat again until smooth. If you're going to add chips, nuts, or dried fruit, beat in the 2 tablespoons milk; if you're going to bake plain cookies without add-ins, omit the milk.

Add the flour and espresso powder, mixing to combine.

Stir in the chips, nuts, etc., if you're using them.

Drop the cookies by the traditional "tablespoonful" (actually about 4 measuring teaspoons) onto the prepared baking sheets, spacing them about 2" apart. A tablespoon cookie scoop works well here.

Bake the cookies for 12 to 14 minutes, until they've lost their shiny appearance and look like they're set. Remove them from the oven, and cool right on the pans; or transfer to a rack to cool.

Yield: 1 1/2 to 2 1/2 dozen cookies, depending on add-ins.
Tips from our bakers
For smaller (2 1/2") cookies, drop the dough by the heaping teaspoonful onto the baking sheet. Bake the cookies for 9 to 10 minutes, until they appear set. Yield: about 4 dozen cookies.
Reviews
I made this with semisweet chocolate chips and shaved almonds. I must've dropped too much in each ball of dough, as I only got eight and they were huge! Tasted like my brownies, which also have semisweet chips and almonds in them. But drier, as my brownies are gooey. I don't think this will be my favorite chocolate cookie recipe, so I'll keep looking. Any suggestions?
Exactly as delicious as I had hoped, and better! I added a 1/4 tsp espresso powder and 1 cup mini chips, and they satisfied that chocolate craving for now, see the next one in 10 minutes!
Just made these followed the recipe and they turned out absolutely wonderful.
Delicious! Doubled the batch and added a bag of white chocolate chips and half a bag of semi-sweet chips. Plenty of cookies for family and co-workers!
I love baking with King Arthur. So, I added the *optional* 2 cups of add-ins of oatmeal, unsweetened coconut and walnuts, and then keep looking at them wondering why they weren't spreading like everyone else's, just staying round little balls. I overcooked them in the process, and had to throw them out, but not without tasting and noticing that they were the perfect amount of chocolatey. Next batch, I will only add one cup of stuff.
These cookies were absolutely delicious and received rave reviews! I baked this recipe for Valentine's Day and added 1 1/4 cups of chocolate chips and 3/4 of dried Montmorency cherries. This was a perfect balance of the richness of chocolate with the tartness of the cherries. I also added the optional espresso powder, which enhances the depth of the chocolate flavor. I had no trouble with them burning at 375 degrees as reviewers commented on and followed the directions as written.
Awesome! Watch your bottoms, I burned my first batch. I put second batch at top of oven and set temp 325 perfect...12 mins. Soooo good!
As I am a vegan, I substituted vegan margarine and one egg made with Bob's Red Mill Egg Replacer for the butter and egg. While my cookies may not taste quite as good as they would if made with the original ingredients, they are still downright delicious. I was surprised that they didn't flatten as they cooled and they are just the right balance of crisp and chewy. The ultimate vegan chocolate cookie!
Whipped these up last night for today's garden club meeting. I needed something fast and easy and this recipe fit the bill. While not a pretty cookie, like the Vanilla Polka Dot cookies I am also putting on the tray, Quality Control can definitely report they hit it out of the park when it comes to chocolaty goodness! I wasn't going to do the add in chips but said why not and then, to bite into one and have those lovely chips adding to the experience, I'm so glad I did.
Good lord, these cookies are trouble - as in, SO easy to make and SO delicious. I mixed in all the chocolate chips (milk, semisweet, and dark) as my add-ins, which made the most delectable, chocolate-y cookie ever. I'm always worried about overcooking chocolate cookies since you can't rely on the 'golden-brown edges', but the tip about the cookies looking less shiny was perfect, so these came out perfectly chewy and not crisp. It's a really good thing I doubled this recipe - I took these to work and everyone gave rave reviews.