A customized print-friendly version of this recipe is available by clicking the "Print Recipe" button on this page.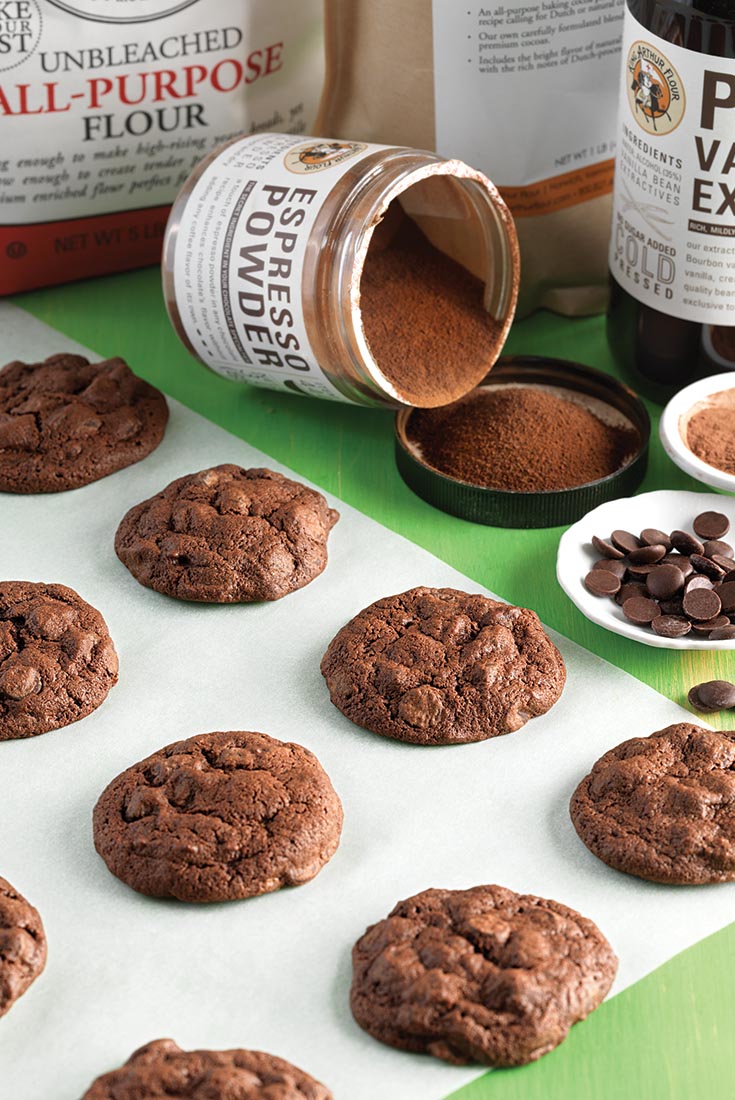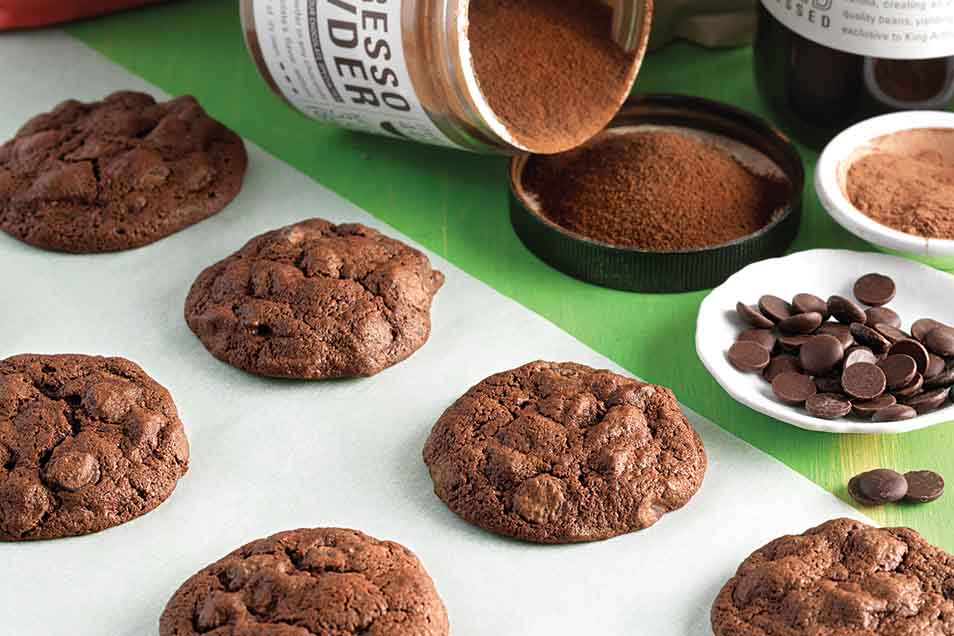 This variation on our Basic Drop Cookies, suggested by a reader, yields medium-soft cookies with great chocolate flavor. For just plain chocolate, bake without add-ins; but chocolate chips, nuts, and dried fruit (cranberries, diced apricots, cherries) are all deliciously complementary.
Instructions
Preheat the oven to 375°F. Lightly grease two baking sheets, or line with parchment.

Beat together the butter, sugars, cocoa powder, salt, baking soda, baking powder, and vanilla until well blended.

Add the egg, beating until smooth. Scrape the sides of the bowl, and beat again until smooth. If you're going to add chips, nuts, or dried fruit, beat in the 2 tablespoons milk; if you're going to bake plain cookies without add-ins, omit the milk.

Add the flour and espresso powder, mixing to combine.

Stir in the chips, nuts, etc., if you're using them.

Drop the cookies by the traditional "tablespoonful" (actually about 4 measuring teaspoons) onto the prepared baking sheets, spacing them about 2" apart. A tablespoon cookie scoop works well here.

Bake the cookies for 12 to 14 minutes, until they've lost their shiny appearance and look like they're set. Remove them from the oven, and cool right on the pans; or transfer to a rack to cool.

Yield: 1 1/2 to 2 1/2 dozen cookies, depending on add-ins.
Tips from our bakers
For smaller (2 1/2") cookies, drop the dough by the heaping teaspoonful onto the baking sheet. Bake the cookies for 9 to 10 minutes, until they appear set. Yield: about 4 dozen cookies.
Reviews
Baked a double batch, exact to recipe. Added M&M baking pieces. Scooped and chilled the batter. They became ice cream sandwich cookies. Perfect!!
I am not a fan of chocolate chocolate chip cookiesuntil now! Made these with Bensdorp Dutch Process cocoa, a cup of semi-sweet chocolate chips and a cup of dried tart cherries. My oh my! It's a Black Forest delight in every bite! Easy and deliciousit doesn't get any better. You can be sure I will be doubling the recipe next time.
These are so good. I used instant coffee instead of espresso powder since it's what I had on hand. I had a few bags of chips that only had a small amount left so these got white chocolate, butterscotch and dark chocolate chips. My boyfriend ate a whole dozen in one day then he finished them the next. Definately making again. Also I was iffy on not refrigerating the dough before baking but they turned out just fine!
I just made these again to take to work tomorrow for our Cinco de Mayo potluck. Instead of Espresso powder, I used 3/8 tsp of cayenne pepper. Now I hope my husband and I don't eat them all tonight. They're delicious!
I tried this, following the recipe exactly, and they were WONDERFUL. So now I'm gong to experiment for Cinco de Mayo, and instead of the espresso powder, I'm going to substitute cayenne pepper and cinnamon for Chococlate Chili cookies. I'll post how those turned out this Friday.
I made these according to the recipe and added chopped peanuts. I baked them using a Silpat pad for 14 minutes. Delicious!!
I made this with semisweet chocolate chips and shaved almonds. I must've dropped too much in each ball of dough, as I only got eight and they were huge! Tasted like my brownies, which also have semisweet chips and almonds in them. But drier, as my brownies are gooey. I don't think this will be my favorite chocolate cookie recipe, so I'll keep looking. Any suggestions?
Exactly as delicious as I had hoped, and better! I added a 1/4 tsp espresso powder and 1 cup mini chips, and they satisfied that chocolate craving for now, see the next one in 10 minutes!
Just made these followed the recipe and they turned out absolutely wonderful.
Delicious! Doubled the batch and added a bag of white chocolate chips and half a bag of semi-sweet chips. Plenty of cookies for family and co-workers!