A customized print-friendly version of this recipe is available by clicking the "Print Recipe" button on this page.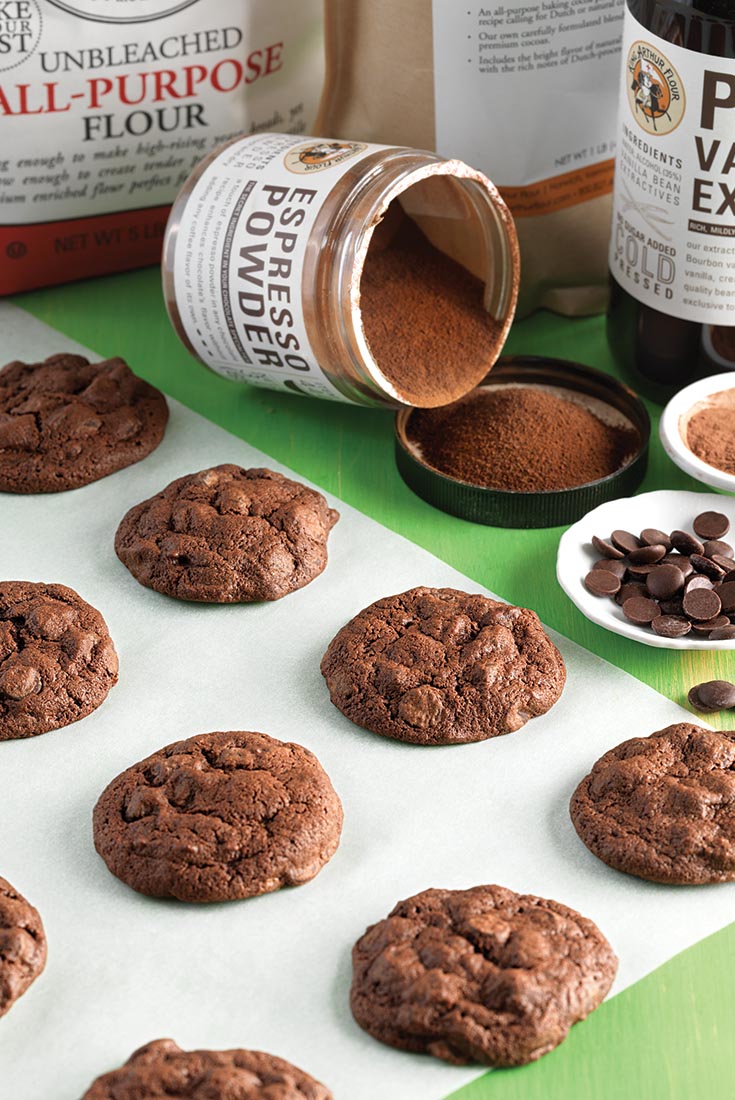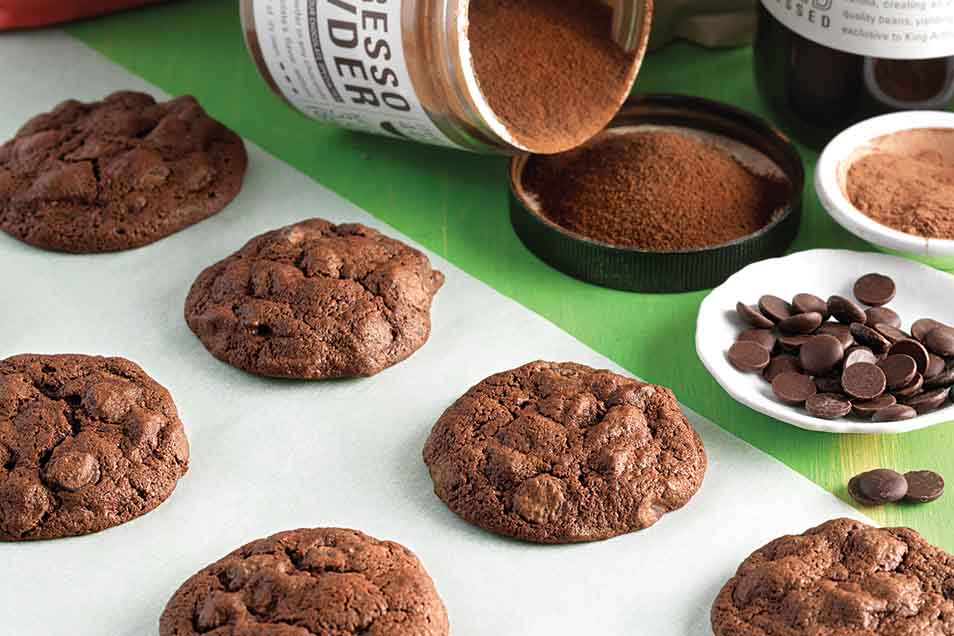 This variation on our Basic Drop Cookies, suggested by a reader, yields medium-soft cookies with great chocolate flavor. For just plain chocolate, bake without add-ins; but chocolate chips, nuts, and dried fruit (cranberries, diced apricots, cherries) are all deliciously complementary.
Instructions
Preheat the oven to 375°F. Lightly grease two baking sheets, or line with parchment.

Beat together the butter, sugars, cocoa powder, salt, baking soda, baking powder, and vanilla until well blended.

Add the egg, beating until smooth. Scrape the sides of the bowl, and beat again until smooth. If you're going to add chips, nuts, or dried fruit, beat in the 2 tablespoons milk; if you're going to bake plain cookies without add-ins, omit the milk.

Add the flour and espresso powder, mixing to combine.

Stir in the chips, nuts, etc., if you're using them.

Drop the cookies by the traditional "tablespoonful" (actually about 4 measuring teaspoons) onto the prepared baking sheets, spacing them about 2" apart. A tablespoon cookie scoop works well here.

Bake the cookies for 12 to 14 minutes, until they've lost their shiny appearance and look like they're set. Remove them from the oven, and cool right on the pans; or transfer to a rack to cool.

Yield: 1 1/2 to 2 1/2 dozen cookies, depending on add-ins.
Tips from our bakers
For smaller (2 1/2") cookies, drop the dough by the heaping teaspoonful onto the baking sheet. Bake the cookies for 9 to 10 minutes, until they appear set. Yield: about 4 dozen cookies.
Reviews
Good lord, these cookies are trouble - as in, SO easy to make and SO delicious. I mixed in all the chocolate chips (milk, semisweet, and dark) as my add-ins, which made the most delectable, chocolate-y cookie ever. I'm always worried about overcooking chocolate cookies since you can't rely on the 'golden-brown edges', but the tip about the cookies looking less shiny was perfect, so these came out perfectly chewy and not crisp. It's a really good thing I doubled this recipe - I took these to work and everyone gave rave reviews.
Great recipe! Easy to make and delicious. Next time I will use a mixture of chocolate chips vs one type.
These are great and easy to make. I added chopped up, soaked, dry tart cherries and walnuts, but many other additions would be great too.
These came out great. I was worried the cookies would flatten out the instant they got warm in the oven because the dough was so soft. It turned out it was not an issue. They were very chocolately the day of. The taste got a little less chocolatey and more sweet in the following days. I was happy with both.
First time to try this recipe - delish & easy. We were trying to replicate Kripalu's OMG chocolate cherry chunk, so I used 1 c Guittard semi-sweet + 3/4 cup dried cherries for the add-ins. We were out of granulated sugar so I used only brown for slightly less than the total sugar required; also used QAF gluten free flour mix. As noted these are moist and lightly "cakey", not crisp or chewy. We will make them again & will also keep looking for a recipe that is more crispy/chewy. Suggestions appreciated!!
Fabulous. I made a double recipe, adding the milk. I baked a test cookie and the chocolate was so perfect -- rich and delicious without being too sweet, so I decided against adding nuts and raisins as planned. I used a 2 tablespoon scoop resulting in 55 - 2-1/4 inch cookies.
I made these with my son, and they turned out very well! Crispy and chewy, with a nice flavor. We did not have cocoa powder, so we substituted premium hot chocolate mix. I added a tad bit more salt, too.
Didn't have the espresso powder but did have a packet of Via so in it went along with pecan pieces and mini choc chips. Could definitely taste the coffee (with an extra little crunch perhaps). Love these -- lots of chocolate flavor and not too sweet.
I made these cookies in a pinch while family was staying with us and one of the teen boys was in constant need of baked goods. From here on out this will be my go to "quick" treat recipe because of the ingredients and simplicity. As the dough formed I could tell I would need to drop the temp to 350 due to its consistency. I added in BarkThin (Dark chocolate, almonds and sea salt) from Costco and rolled them in powdered sugar! Great cookies.