A customized print-friendly version of this recipe is available by clicking the "Print Recipe" button on this page.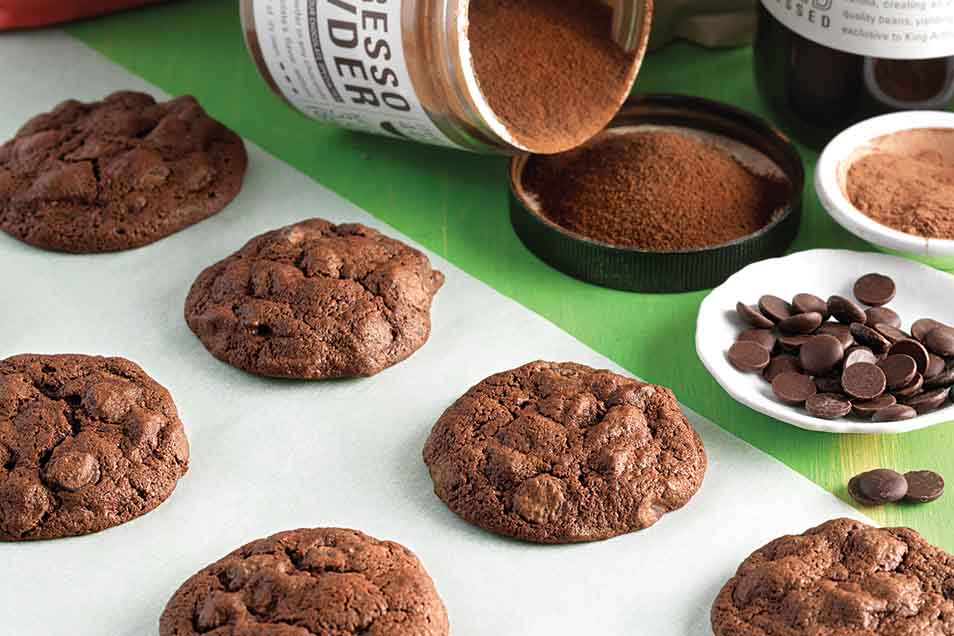 This variation on our Basic Drop Cookies, suggested by a reader, yields medium-soft cookies with great chocolate flavor. For just plain chocolate, bake without add-ins; but chocolate chips, nuts, and dried fruit (cranberries, diced apricots, cherries) are all deliciously complementary.
Instructions
Preheat the oven to 375°F. Lightly grease two baking sheets, or line with parchment.

Beat together the butter, sugars, cocoa powder, salt, baking soda, baking powder, and vanilla until well blended.

Add the egg, beating until smooth. Scrape the sides of the bowl, and beat again until smooth. If you're going to add chips, nuts, or dried fruit, beat in the 2 tablespoons milk; if you're going to bake plain cookies without add-ins, omit the milk.

Add the flour and espresso powder, mixing to combine.

Stir in the chips, nuts, etc., if you're using them.

Drop the cookies by the traditional "tablespoonful" (actually about 4 measuring teaspoons) onto the prepared baking sheets, spacing them about 2" apart. A tablespoon cookie scoop works well here.

Bake the cookies for 12 to 14 minutes, until they've lost their shiny appearance and look like they're set. Remove them from the oven, and cool right on the pans; or transfer to a rack to cool.

Yield: 1 1/2 to 2 1/2 dozen cookies, depending on add-ins.
Tips from our bakers
For smaller (2 1/2") cookies, drop the dough by the heaping teaspoonful onto the baking sheet. Bake the cookies for 9 to 10 minutes, until they appear set. Yield: about 4 dozen cookies.
Reviews
Used 3 kinds of chocolate chips; 63%, 60% and semi-sweet, plus dried Blueberries & cherry mix. After the first batch reduced the oven to 350, 375 seems too hot for my oven. They didn't burn but they were on the way to a burnt taste. Other batches, cooked at 350 for 12 minutes then let on the try to cool about 5-10 minutes. Tried freezing some shaped dough for later. I used a small cookie scoop and have 87 cookies that are about a 2-3 bite cookie.
I love this cookie recipe! I added a combination of chocolate and mint chips and WOW! They came out great!! My son-in-law asked for another batch!! This will always be my go to chocolate cookie with or without the add ins!!
I made these cookies today (double batch) as I just got another two boxes of Dutch Cocoa while abroad and wanted to use it up. As noted by the many reviews these cookies are easy but also very good. I divided the batch in half and added in some mix-ins. One batch I added walnuts and semi-sweet chocolate chips and these cookies were deelish. The second batch I added walnuts and white chocolate chips as I thought they would look nice. I found that the cookies with the white chocolate cookies were far too sweet for me. Maybe the kids will love them though. I am going to try other mix-ins over the weekend like toffee bits and rolling in powdered sugar as suggested by another reviewer. QUESTION - I was putting all of my ingredients away while the cookies were baking and realized that I forgot to add in the vanilla I don't think it altered the taste much but it may have altered the texture??? Anyone know.

Kathleen, we love how creative you're getting with your mix-ins! At just a teaspoon, the vanilla in this recipe is really just to add depth of flavor and shouldn't affect the texture much. Luckily, this is a great recipe with or without the extra flavor boost. Happy baking! Kat@KAF
I baked these as directed, with the espresso powder. I'd never used that before and looked forward to the deeper chocolate flavor it promised. I intended to use these cookies with a peppermint white chocolate glaze -- no mix-ins. The texture of the cookie was chewy on day one, tough a few days later. The flavor was definitely mocha, not a deeper chocolate, and didn't work well with a peppermint flavor. (I'm not fond of peppermint mocha coffees from a major chain, either.) I won't bake these again.
These turned out sooooooo good!! I usually read a recipe and bake by feel after that (minus the soda and power) and these turned out sooooo brownie like it was awesome! Made the whole batch and they were gone within minutes among 4 people!! Definitely will make again, but next time with peanut butter chips!
This tasted really good, and yielded crumbly cookies. I added more cocoa powder, and reduced the amount of sugar. Will definitely make these again!
"Add this to the list of winners" was the comment I received about this recipe! I made a double batch last night for a potluck (3 families) and brought home an empty plate. :) For the granulated sugar, I used 50/50 coconut sugar/gran. sugar. For the mix-ins, I used dried cranberries. Even my daughter was took a bite and said "you added raisins?!?" proceeded to eat about 5 cookies! ha I baked them [on kaf parchment-lined pan] for only 10 minutes, let them cool on pan for another 10 minutes. Note: when I took them from the oven, I did not slap the pan onto the counter (which deflates the cookies and prevents over-baking). Instead I set the pan down gently so they maintained their shape and continued to 'bake' as they cooled. This yielded a nicely-shaped cookie that was not flimsy or gooey, but thin-ish and soft and uniformly baked. YESSSSSS!
These were perfect! I was looking for a recipe with Dutch processed chocolate and I found just the one. I used salted butter, omitted extra flour, added the milk, 1 cup of semi sweet choc chips & 1 cup of mint chocolate. I will be stocking my freezer with these and mix up the kinds of chips & nuts. Thank you!!
Very nice texture. The cookies stayed soft but firm. I used Hershey Special Dark chips which provided an excellent balance with the cookie flavor (definitely add the espresso!), keeping the cookies from being too sweet. This is a chocolate lover's delight.
These cookies were such a success! They were like the edges of brownies in every bite! Will definitely make again!