A customized print-friendly version of this recipe is available by clicking the "Print Recipe" button on this page.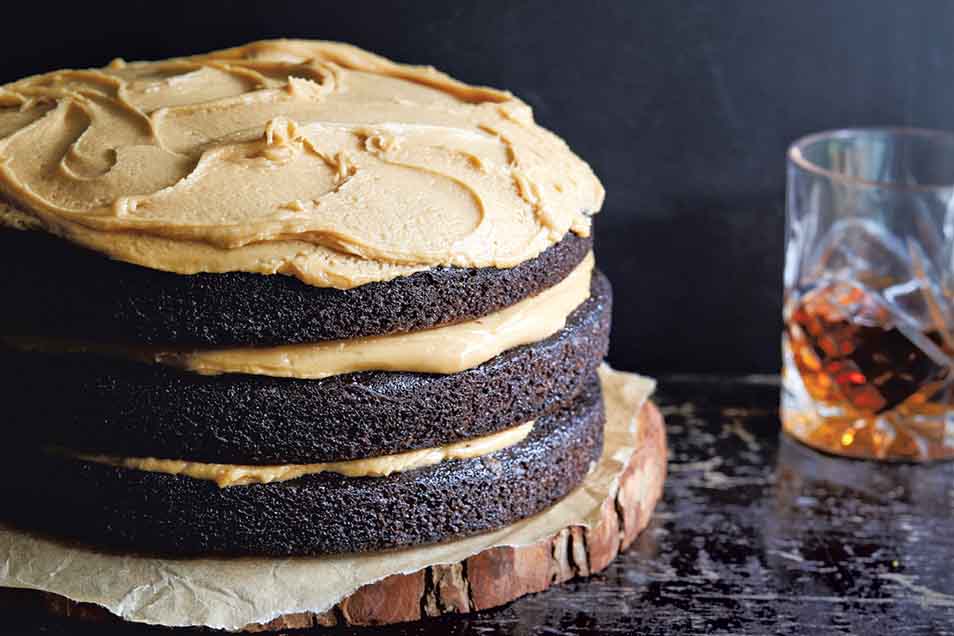 This extra-tall cake is super-impressive at birthday parties. If you've known and loved our Cake Pan Cake for years, this is a three-layer version of that old favorite. An easy peanut butter frosting completes this towering treat.
Ingredients
Frosting
1 cup creamy peanut butter
1 tablespoon vanilla extract
4 1/2 cups confectioners' sugar, sifted
1/2 cup + 2 tablespoons almond milk
Instructions
Preheat the oven to 350°F. Grease and flour (or line with parchment paper) three 9" cake pans.

To make the cake: In a large bowl, stir together the flour, sugar, cocoa, salt and baking soda.

In a separate bowl, beat together the vanilla extract, almond extract, vinegar, vegetable oil, and water.

Add the liquid ingredients to the dry ingredients, beating until well combined.

Divide the batter among the pans.

Bake the cakes for 35 to 40 minutes, or until a toothpick inserted into the center of one comes out clean.

Remove the cakes from the oven, and cool completely before frosting. If desired, the unfrosted cake layers can be tightly wrapped and frozen for up to 3 months, then thawed and decorated.

To make the frosting: Put the peanut butter and vanilla into a large mixing bowl and mix at low speed. With the mixer running Add 1 cup of confectioners' sugar followed by 2 tablespoons of almond milk, stopping to scrape the bowl from time to time. Continue adding and alternating 1 cup of confectioners' sugar with 2 tablespoons of almond milk until you have used up all of both ingredients. The frosting's consistency should be on the stiff side, a little stiffer than the peanut butter by itself.

To assemble the cake: Trim off any domes on the layers. Place one layer on a serving plate trimmed side down. Peel off the parchment, and spread with 1 cup of the frosting, spreading to the edge but not covering the sides. Repeat with the remaining two layers.

Store cake at room temperature, covered, for several days.
Nutrition Information
Serving Size

1/20th of cake, 151g

Servings Per Batch

20
Amount Per Serving:
Calories

500

Calories from Fat

162

Total Fat

18g

Saturated Fat

3g

Trans Fat

0g

Cholesterol

0mg
Sodium

410mg

Total Carbohydrate

80g

Dietary Fiber

2g

Sugars

56g

Protein

6g
* The nutrition information provided for this recipe is determined by the ESHA Genesis R&D software program. Substituting any ingredients may change the posted nutrition information.
Tips from our bakers
Need some decorating inspiration or a quick refresher on decorating a cake smoothly? We've compiled dozens of tips in our cake and cupcakes guide.
Reviews
This recipe didn't work out for me. I was excited to make for a dessert pot luck at work because there are a few people that don't eat eggs. The cake itself was fine, but the frosting gave me a lot of trouble. I used everything in grams, and it seems like a lot of powdered sugar making it very sweet. I didn't have almond milk, but used a volume for volume of 2% milk, so I'm not sure if that's the problem. I also make my own peanut butter from wok fried peanuts with a touch of honey. The peanut butter is very good, but I wonder if homemade is thinner than store bought, so that could be another source. Besides being very sweet, the frosting seemed like it was very dense and not very well set. I frosted the layers, and it looked great for about 10 minutes or so, but was worried about the frosting so I refrigerated right away. Then the frosting slowly started pulling down the cake and actually pulled the top layer into 3 pieces. It kept collapsing and the 2nd layer split in two. I let it chill another hour or so and tried to remove and reconstruct the cake layer by layer. I've ended up with something I can bring, but it looks very messy now as the rebuilt cake has lots of chocolate flecks in the frosting, and you can see that the lower layers are not one solid piece. I'd like to give it another try, but I wish the frosting could be less sweet and it would be nice to know if there are adjustments for homemade/all natural peanut butter.

Mike, that sounds very frustrating! Homemade peanut butter has a tendency to separate more than store-bought, due to a higher oil to water ratio and the lack of additional emulsifiers. While your instincts to put the cake in the fridge would have helped if the frosting were melting, it won't help at all with oil separating from its emulsion. If using home-made peanut butter in this frosting in the future, we'd suggest adding more liquid to the frosting. It will probably take some experimentation to get it exactly right, as we've only tried it with store-bought peanut butter here in our test kitchen, but if it's something you plan to make multiple times, it's definitely worth the effort. Happy baking! Kat@KAF
I used this excellent recipe for a birthday party. My minor changes were to use raspberry vinegar, spread seedless raspberry jam between the layers, substitute a chocolate icing, and decorate the top with fresh raspberries. Everyone loved it! If I hadn't baked the cake myself, I would have had a hard time believing that it was vegan. Thanks, King Arthur.
The cake was great! Had a slightly reddish color. Super moist and great crumbheld together perfectly when sliced. I followed the recipe exactly, except I wrapped and froze it for two days before icing it. I also followed the recipe for the frosting, but it was a dud turned out weirdly stringy and heavy, not fluffy. So I used a plain buttercream and it was delicious.

We're so glad you enjoyed this cake, Ging! We're sorry to hear that the frosting didn't do the trick for you. If we can help troubleshoot, please give our Baker's Hotline a call at 855-371-BAKE (2253). Kindly, Annabelle@KAF
I was a bit nervous making this cake as the recipe did not call for any eggs and I thought the amount of water added to it would be a bit too much. I am so happy I trusted KAF's recipe. It came out chocolately, moist, and with a light airy crumb. I did add a little espresso powder to it to enhance the chocolate flavor. The almond flavor was a bit more than I was expecting. The next time I make it I may only use half the amount of almond extract.
Excellent dessert. Very moist cake and easy to make, I had almost everything already in my pantry. This cake is very large so it's a good dessert for large family functions, which vegans and non-vegans alike will love!! I made it with one 8" pan and two 9" pans and it turned out fine! Also, I substituted coconut extract for almond extract and you can't even taste it. The peanut butter frosting was wonderful, I had to add two extra tablespoons of almond milk but other than that I followed the recipe exactly. Don't fret about the amount of liquid that goes into the cake, it is perfect. It tastes like the Hostess product Funny Bones, only fresher!
Your recipe for the peanut butter frosting calls for 1/2 cup plus 2 tablespoons of almond milk, but you only discuss using the two tablespoons when making the frosting; what happens to the other 1/2 cup???

Hi Sue, let's see if we can clarify. The confectioner's sugar should be added, 1 cup at a time, followed by 2 tablespoons of almond milk. That whole process of 1 cup of sugar then 2 tablespoons of milk repeats until you've used up all the sugar and the full amount of milk. As directed, you should scrape down the sides of the bowl between additions and end up with a relatively stiff frosting. We hope that helps! Kye@KAF
Like other bakers, I used almond butter instead of peanut butter (allergy issues). I also used raspberry jam between two layers and decorated the cake with raspberries, as I felt it would be too "heavy" otherwise. Even with all that thought, it was too heavy at three layers. If I make it again, I would scale it down to two. My frosting wouldn't have been enough for 3 layers either. I deeply appreciate KA offering vegan recipes, and it's wonderful to have the thoughts of other bakers.
Used Almond Butter instead of peanut butter... needed to tighten frosting up more (too loose). Same could happen for all-natural peanut butter, I think. I added shredded unsweet coconut and almond flour to fix. Worked well. Went a little too far so I don't have precise amounts to share... It is probably nut butter dependent anyway. I estimate that 2oz of each was about right in my case.
I'm been baking for over 30 years and have gone through my share of favorite chocolate cake recipes. I've even won best in show at my county fair with my chocolate sourdough recipe (adapted from King Arthur Flour!). This cake, which I recently made for my vegan brother-in-law, is easily one of the best chocolate cakes I've ever made. I recommend it without reservation, even for non-vegans.
This is a very easy, moist cake that also happens to be vegan. This is the cake I made my vegan husband for his birthday and not only did he love it but the rest of the family (non-vegans) also loved it. There is a lot of liquid in the recipe (including vinegar, which you don't taste) so the batter is much thinner than a typical cake batter. The recipe makes a lot of cake, so I've scaled it to 2/3 to make a two layer cake (note to KAF - you may want to post a two layer version). I'd like to bake the scaled down version in a 9 x 13 rectangular pan but I'm not sure how long to bake it for - can you advise?
Typical baking time for a 9 x 13 pan is 28-30 minutes.