A customized print-friendly version of this recipe is available by clicking the "Print Recipe" button on this page.
No-Knead Everything Bread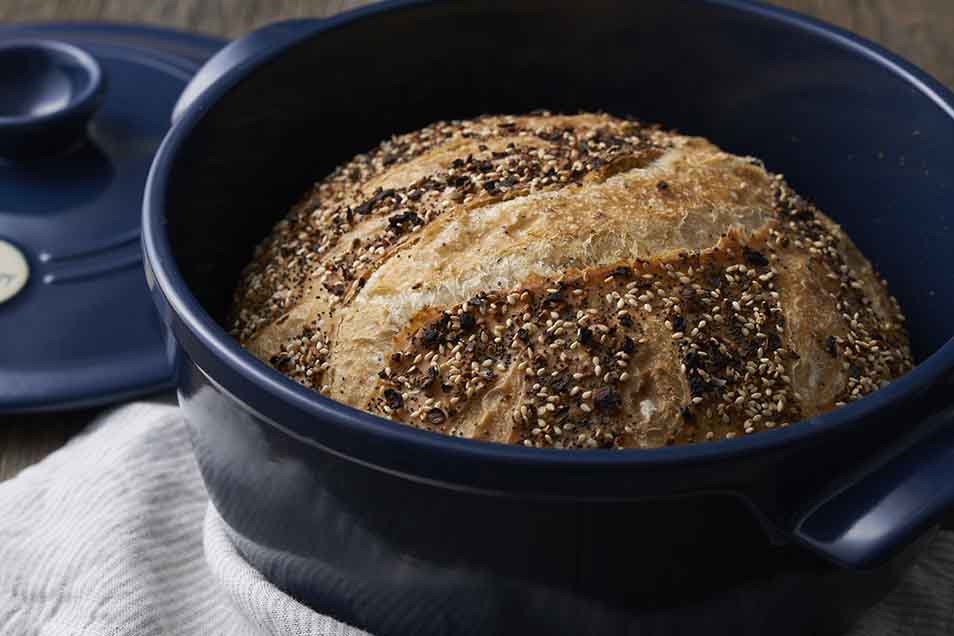 An overnight rest develops this bread's flavor, and strengthens its gluten-it effectively "kneads" itself!
Instructions
Mix the dough ingredients in a large bowl to make a sticky dough. Or beat in a stand mixer for 3 minutes.

Cover with plastic wrap, and let rest at room temperature overnight, or for at least 8 hours; the dough will become bubbly and rise quite a bit, so make sure it's in a large bowl.

Turn the dough onto a lightly floured surface, and form it into a log or round loaf to fit your 14" to 15" long lidded stoneware baker, or 9" to 10" round lidded baking crock. Our bread baking crock and bread pot are both good choices.

Place the dough in the lightly greased pan, smooth-side up.

Cover and let rise at room temperature for about 2 hours, until a slight indentation remains when you poke it with your finger.

Just before baking, spritz or brush the dough with water and sprinkle with about 1 tablespoon Everything topping over the dough. Make several 1/2" deep slashes in a decorative pattern to allow the bread to expand.

Place the bread in a cold oven, and set the temperature to 450°F.

Bake the bread for 50 minutes, then remove the lid and continue to bake for another 5 to 10 minutes, until it's deep brown in color, and an instant-read thermometer inserted into the center registers about 205°F.

Remove the bread from the oven, turn it onto a rack, and cool before slicing.
Reviews
This bread is awesome! My husband and I dived into it as soon as it was cool enough. Hard to believe that a recipe so simple could come out so professional. I will make this again and again. Thanks for the great recipe!
This was an interesting bread to bake. I wish I had read the other reviews before doing so myself. As with others, I got a very wet dough after the overnight rise. There was no shaping to be done with it! I wish I had taken it directly from the rising bucket into my dutch oven. And cutting it with a lame seemed pointless, as the cuts were difficult to make and immediately closed. But in any case, got little additional rise in the oven. Nevertheless, the flavor was great! The everything topping was a wonderful touch. I like garlic and appreciated how much it came through. The bread itself had a great crisp crust and was very moist with a rather open structure. Very enjoyable eating.
I love the cold start baking directions. It really works, and it is so much safer when heavy cast iron is involved. I've made this twice. I used KAF Artisan Bread Topping in in lieu of the Everthing. I measured by weight resulting in a fairly runny dough that refused to be shaped into a loaf. I basically poured and scraped the dough into my oval baker. I brushed with lots of water and baked as directed. It came out fabulous both times, but my slash marks all but disappeared. I plan to add a little more flour next time at the outset rather than trying to mix in more during shaping. Makes the best toast ever!
This just looks so good! I was wondering about a couple of things ,....can this bread be baked in a cast iron skillet, and where can I find the recipe for the "everything" topping? Looking forward to making this soon.

We're happy to help, Renee. You're welcome to try baking this bread in a cast iron skillet if you have one that's large enough. (A 9" or 10" would be ideal.) Simply follow the baking instructions provided here, extending the baking time by about 3-5 minutes to account for the extra time the skillet may need to heat through fully.

While we don't have an exact recipe for Everything Bagel Topping, the ingredients are poppy and sesame seeds, dried onion, garlic, and salt. Feel free to play with the ratios until you find a balance that's just right for your taste buds. Alternatively, you can order this product through the "Shop" section of our website. Happy baking! Kye@KAF
I was so concerned about adding too much flour that I must have been skimpy. Followed the directions and after an overnight rise is was so sticky and soft that I basically poured it into the greased pan. I have never cooked anything from a cold oven but trusted KA and it worked great. Took off the top after 50 minutes and browned for another five minutes. It came out onto the cooling rack perfectly. I couldn't wait long before slicing a big wedge and enjoying it was butter. It was perfect. A very forgiving recipe. I'll be making this again and again.
I made this bread today. It is delicious. I liked the cold start very much. I used sesame seeds in place of everything mix.
Since it is only my wife and me per KAF chat we halved the recipe ingredients using grams to measure the ingredients, Baked it in a cast iron frying pan with a lid. It can out perfect! excellent crispy crust with a light and airy inside.Since moving to Florida I have unable to found what I call a pinwheel loaf of bread to make authentic Italian hot dogs with peppers, onions, and potatoes. You simply cut the loaf in half create a pocket and stuff all the goodies in side add mustard, sauerkraut and whatever else you want. The bread did not fall apart or start getting soggy, It was perfect!
has anyone tried to just bake this bread in the oven in a regular bread pan?

This recipe is too large to fit into a loaf pan, but you could reduce everything by 25% and bake it in a 9" by 5" pan (slightly larger than the traditional 8 1/2" by 4 1/2" loaf pan). The baking time will likely be shorter in a loaf pan so check for doneness early, and consider using tin foil to tent the loaf and prevent it from getting too dark. Kye@KAF
This recipe is one of our absolute favorites! This time I did two things different. I weighed the flour and I split it into two small le Creuset pots. I noticed a KAF reply that said all instructions would remain the same if you split the loaves into two. But what about cooking time?

We haven't tried using this approach, which is why we generally recommended checking for doneness early. When the loaves look brown and start smelling fragrant, test the temperature. It might take about 35-45 minutes to reach 205°F. Good luck! Kye@KAF
Can this be made in a Dutch oven? Would it help to use parchment? What other vessels can be used for baking this yummy looking bread?

Meg, yes this bread can be made in a Dutch oven if you're looking to make a crispy crust. (Try using a 4 or 4.2 quart size.) There's no need to line the pot with parchment if you season it well first, but you can use it if you want to ensure an easy release and clean up. You can also use a 14" to 15" long lidded stoneware baker, a 9" by 12" oval deep casserole dish with a cover, or a 9" to 10" round lidded baking crock. Happy baking! Kye@KAF