A customized print-friendly version of this recipe is available by clicking the "Print Recipe" button on this page.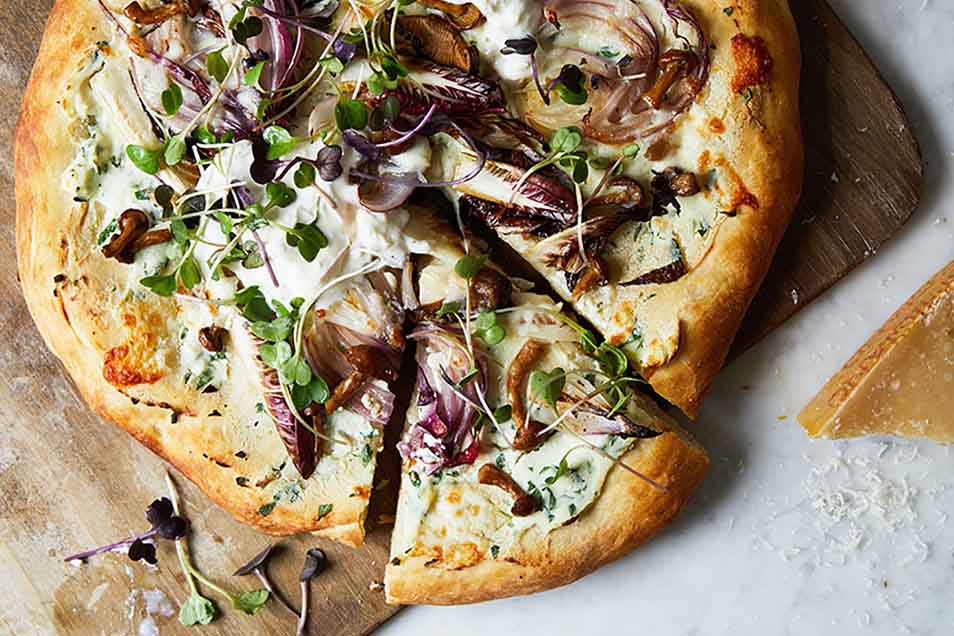 Sourdough bakers are always on the lookout for creative ways to put unfed starter to use. In the case of this pizza crust, the open crumb and distinctive hearty taste of sourdough are well suited to bold toppings and well-aged cheeses.

New to sourdough? Find the help you need for all your sourdough baking at our Sourdough Essentials page.
Instructions
Stir any liquid on top of your refrigerated starter back into it before measuring 1 cup into a large mixing bowl. Note: This is a good opportunity to feed the remainder of your starter, if necessary.

Add the warm water, flour, salt, yeast, and Pizza Dough Flavor (if using). Mix to combine, then knead for about 7 minutes in a mixer with the dough hook, until the dough wraps itself around the hook and cleans the side of the bowl.

Place the dough in a greased container, cover and let rise until almost doubled in bulk. Depending on the vitality of your starter, this will take between 2 and 4 hours. For a faster rise, place the dough in a warm spot, or double the yeast.

For two thin-crust pizzas, divide the dough in half, and shape each into a flattened disk. Drizzle two 12" round pizza pans with olive oil, and brush to coat the bottom. Place the dough in the pans, cover, and let rest for 15 minutes. After this rest, gently press the dough toward the edges of the pans. If it starts to shrink back, cover and let rest for 15 minutes before continuing.

For a thicker, large pizza, oil a 14" round pizza pan (an 18" x 13" half-sheet pan will also work). Place the dough in the selected pan and press it out to the edges, again giving it a 15-minute rest before continuing if it starts to snap back.

Cover the pan(s) and let the dough rise until it's as thick as you like.

Towards the end of the rise time, preheat your oven to 450°F.

Sauce and top as you like, but don't add cheese yet. Bake thin-crust pizzas for 5 minutes before removing from the oven and adding cheese. For thick-crust pizza, bake for 10 minutes before removing from the oven and adding cheese. Return to the oven and bake for 5 to 7 more minutes, until the cheese is melted.

Store leftover pizza covered in the refrigerator for up to 5 days.
Nutrition Information
Serving Size

1/16 of recipe, 38g

Servings Per Batch

16
Amount Per Serving:
Calories

82

Calories from Fat

0

Total Fat

0g

Saturated Fat

0g

Trans Fat

0g

Cholesterol

0mg
Sodium

146mg

Total Carbohydrate

17g

Dietary Fiber

0g

Sugars

1g

Protein

3g
* The nutrition information provided for this recipe is determined by the ESHA Genesis R&D software program. Substituting any ingredients may change the posted nutrition information.
Tips from our bakers
Be aware of some sourdough dynamics here. The less-used your starter, the more liquid on top, the more sour it's likely to be; using a starter that hasn't been fed for weeks will yield a pizza crust that rises slowly, and tastes quite tangy. This type of crust is handy when you want to make dough in the morning, and have pizza ready for dinner. On the other hand, a starter that's fed regularly will yield a less-sour crust, one that will rise more quickly. This is a great "weekend" crust, as you can shape it at 8 a.m., and have pizza for lunch.
Another way to bake: Instead of par-baking the crust, consider leaving off the cheese for the first two-thirds of the bake time. This allows liquid from the sauce and toppings to evaporate, concentrating their flavor. Melted cheese can act like a lid, trapping moisture and making dough soggy instead of crisp. After the edges of the pizza begin to brown, remove from the oven, add cheese, and return to the oven to finish baking.
Reviews
I started my first sourdough starter (King Arthur's recipe) last weekend and used it for this pizza dough. Hands down it - it is the best pizza I've ever had! Instead of baking it on a pizza pan, I baked the crust for about 8 minutes on a preheated pizza stone at 450°, then topped and baked until just right, about 6 minutes and put the oven on broil for 1 minute. Topped with roasted garlic & lemon ricotta, mint, scallions, bacon, peas, and mozzarella. It!
I made this dough yesterday (14" perforated pizza pan). I par-baked it for about 3-4 minutes. Then I sliced it in half (two half moons) and froze it because I wasn't sure when I would be making pizza. Sure enough, we decided to have pizza this evening so I took it out and waited until it was defrosted. I thought for sure that I was going to have trouble and was worried because the crust felt really rubbery. I coated the crust with olive oil and some minced garlic at put it in the oven at 450 degrees. I knew that once the garlic started browning (about 10 minutes) it would be time to take it out and add the cheese, oregano and shrimp. Then I baked it until I athe cheese and the crust started turning golden at the edges. The result was absolutely delicious. The crust was not rubbery at all but bready in the center and crisp on the top and bottom. The pizza I usually bake is done in 5-6 minutes and so I wasn't prepared for such a long bake but doing the par-bake, then the bake with the olive oil and then the final bake really made for a great result. I am looking forward to doing the other half as a Margherita pizza.
Love this recipe. My only complaint is that the crust is chewier and firmer than I like - anyone have tips on making it a little more tender/pillowy?

Hi Laura! You could make a tangzhong if you wanted, out of some of the flour and water. See our blog article "How to convert a bread recipe to a tangzhong" for instructions. You could also introduce more fat and replace some of the water with whole milk. Annabelle@KAF
I have been making pizza for year and this is my favourite dough by far. It is quick, very easy to work with, and tastes delicious. I usually make a 1.5 batch to allow me to get 3 pies out of it.
Re: 3/23/2019 Brian from CT 9. STORE LEFTOVER PIZZA "DOUGH" IN THE FRIDGE FOR UP TO 5 DAYS. King Arthur Flour had a typo, missing the word DOUGH in the sentence. I have made this twice Very yummy pizza dough recipe. I add a teaspoon of miso (instead of pizza flavor) to boost the umami. Yummmy!
Super delicious pizza crust.Thanks for a wonderful recipe.Question .. can I make garlic nuts /breadsticks from the same dough? Thanks

Marla, you could certainly do that, but it's a softer dough and a bit more challenging to manipulate than the dough in our Soft Garlic Knots recipe, for example. If you want to make pizza and breadsticks or knots at the same time, we'd suggest dividing in half, then adding some additional flour to the latter to make the dough easier to work with before shaping. Happy baking! Kat@KAF
Ref Krystal's comment of 1/27/19. After the first rise, I divided in two. Refrigerated one for the next day. Froze the other and made it a couple weeks later. Both turned out great. I let them come close to room temp before forming and baking but were a tad cool. Baked on a pizza stone. Tasted great.
Wonderful way to use up starter. My husband and I love our weekend pizza. I'm going to add the cheese after it cooks for awhile as suggested. This sounds like a great idea when we load it up with toppings.
I also weigh my ingredients. I have more consistent results. I will have to try the pizza dough flavoring but this is good as is without it. What is this leftover pizza thing you talk about storing in the refrigerator?
Wonderful crisp pizza made on a stone. I have made this twice and my family loved it both times. I was wondering is there a way to make the dough and store it to bake in the future? Maybe make 3 or 4 doughs in advance for the future?

Hi Ovy! We have a blog all about this called "Pizza prep" which you can find by entering the title into the search bar above. In short, you want to make and partially bake the crusts, then freeze them for up to about three months. Annabelle@KAF