A customized print-friendly version of this recipe is available by clicking the "Print Recipe" button on this page.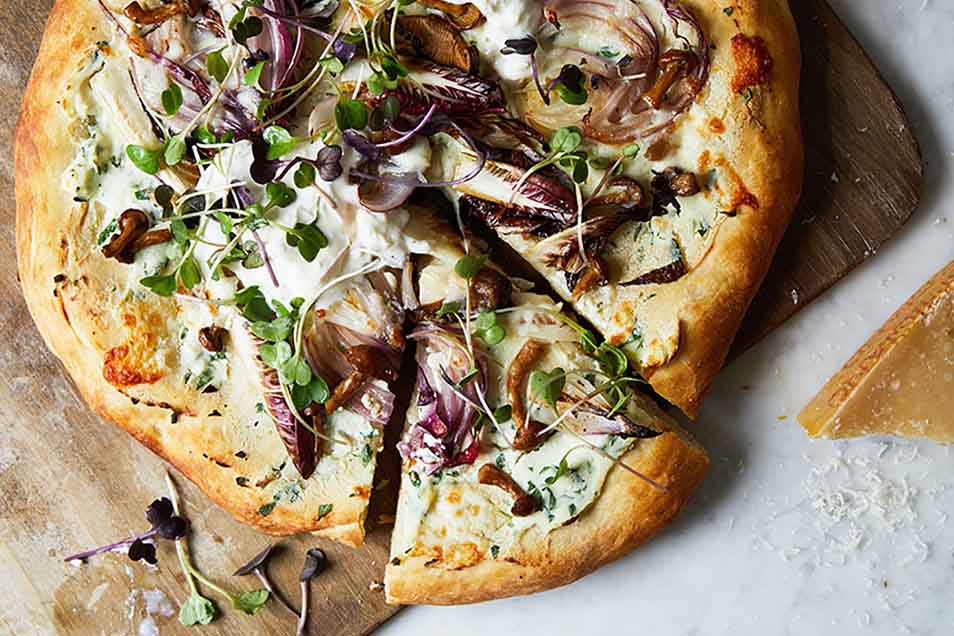 Sourdough pizza crust? Well, why not? For one thing, this crust can go from quite sour to "can't even tell it's sourdough," depending on how recently you've fed your starter. Even the merest hint of tang comes across as rich flavor, which marries beautifully with the usual pizza toppings of tomato, cheese, veggies, and meat.

We've been looking for ways to use the "extra" cup of starter, the one you're directed to discard with each feeding; this is another good solution for you thrifty bakers who hate to throw anything away.

New to sourdough? Find the help you need for all your sourdough baking at our Sourdough Essentials page.
Instructions
If any liquid has collected on top of your refrigerated starter, stir it back in. Spoon 1 cup starter into a mixing bowl. Note: This is a good opportunity to feed the remainder of your starter, if necessary.

Add the hot water, flour, salt, yeast, and Pizza Dough Flavor. Mix to combine, then knead until smooth and slightly sticky, about 7 minutes at medium speed using a stand mixer with dough hook. Place the kneaded dough in a lightly greased container, and allow it to rise until it's just about doubled in bulk. This might take 2 to 4 hours; it might take more. A lot depends on how recently you'd fed your starter; a starter that's been fed rather recently will react to the addition of flour and water more quickly than one that's been neglected for awhile. For a faster rise, place the dough somewhere warm (or increase the yeast). To slow it down, put it somewhere cool.

For two thinner-crust pizzas, divide the dough in half, shaping each half into a flattened disk. Drizzle two 12" round pizza pans with olive oil, tilting the pans to coat the bottom. Place half the dough in each pan. Cover, and let rest for 15 minutes. Gently press the dough towards the edges of the pans; when it starts to shrink back, cover it, and let it rest again, for about 15 minutes. Finish pressing the dough to the edges of the pans.

For a thicker-crust pizza, drizzle olive oil into a jelly roll pan (10" x 15") or half-sheet pan (18" x 13"), or similar sized pan; or a 14" round pizza pan, tilting the pan to coat with the oil. Shape the dough into a flattened disk or oval. Place it in the pan, cover it, and let it rest for 15 minutes. Push the dough towards the edges of the pan; when it starts to fight back, cover it and let it rest for 15 minutes. Finish pushing it to the edges of the pan.

Cover the pan, and let the dough rise until it's as thick as you like. For thin-crust pizza made from fairly fresh starter, this may only be an hour or so. For thick-crust, using an old, little-used starter, this may take most of the day. There are no hard-and-fast rules here; it all depends on the inherent vigor of your starter, and how you like your crust. Once you make it a couple of times, you'll figure out what time frame works for you.

Towards the end of the rising time, preheat your oven to 450°F.

For a thicker crust, pre-bake the crust for about 8 minutes before topping. Top, then bake until toppings are hot and cheese is melted and bubbly, about 10 minutes. For thin crusts, bake for 4 to 5 minutes, then top and bake for an additional 8 to 10 minutes, or until toppings are as done as you like.

Remove from the oven, and loosen the edges of the pizza with a table knife or heatproof spatula. Carefully lift it onto a cooling rack; you can serve it right from the pan, if desired, but a cooling rack helps keep its bottom crisp. Serve hot.
Nutrition Information
Serving Size

1/12th

Servings Per Batch

12
Amount Per Serving:
Calories

130

Calories from Fat

5

Total Fat

0.5g

Saturated Fat

0g

Trans Fat

0g

Cholesterol

0mg
Sodium

290mg

Total Carbohydrate

26g

Dietary Fiber

1g

Sugars

1g

Protein

5g
* The nutrition information provided for this recipe is determined by the ESHA Genesis R&D software program. Substituting any ingredients may change the posted nutrition information.
Tips from our bakers
Be aware of some sourdough dynamics here. The less-used your starter, the more liquid on top, the more sour it's likely to be; using a starter that hasn't been fed for weeks will yield a pizza crust that rises slowly, and tastes quite tangy. This type of crust is handy when you want to make dough in the morning, and have pizza ready for dinner. On the other hand, a starter that's fed regularly will yield a less-sour crust, one that will rise more quickly. This is a great "weekend" crust, as you can shape it at 8 a.m., and have pizza for lunch.
Reviews
What if any difference would it make if I cold fermented my dough for a couple of days? I have always been told that is the best way to get those awesome thin crust bubbles.

That's an interesting idea, Emma! It would definitely improve the flavor of your crust, but it might not brown as much. It certainly sounds like something that might be worth experimenting with. Happy baking! Kat@KAF
I have used this recipe several times and my crust always comes out hard and crunchy. I would prefer a fluffier, softer crust. I'm probably not kneading the dough enough; I'm not sure what effect more kneading would have.

Hi, GJ. It sounds like your dough needs a little bit more liquid. Kneading the dough more than necessary will make it tough, so we would suggest trying to add a little bit of additional water first. Also, one of the most common reasons why baked goods turn out dry is because too much flour is used. To ensure you're using the right amount, we recommend checking out the "Recipe Success Guide," link next to the ingredients header above. You'll see that either measuring your flour by weight using a scale, or fluffing and sprinkling the flour into your measuring cup are the best ways to ensure your recipe turns out perfectly. We hope this helps for your next pizza making adventure! Morgan@KAF
I use a pizza stone and do not pre bake the dough. Pizza tuns out great! I prefer to load it all up and then put in oven. Baked at 425' convection gas oven, 20 minutes, perfect! I do use the pizza dough flavor and pizza spices from KA and the whole house smells so awesome while it is baking.... and tastes even better than it smells!
This is the best pizza dough I've ever made. Been making various recipes for years, and I've finally found "The One". I ordered the KA sourdough starter and used the first "discard" for this recipe. No extra yeast needed! Baked one pizza right away, wrapped and froze the second after the 8 minute prebake. Fabulous recipe! Thanks King Arthur!
This dough was great! I made it in my bread maker. I did not use the last ingredient, as we don't have that readily available in Canada and it was still perfect. I rolls out so easily. There was more than enough dough for a large pizza, so I made a small cheesy garlic bread round with the remainder. Saved to my favorites!!
Help!!! I tried this recipe twice. Once with all purpose flour and once with bread flour. I followed the recipe amounts exactly and the dough did rise perfectly but ugh- I couldn't handle it. I usually stretch my pizza dough but when I tried that using this recipe the dough would tear. I ended up rolling it but it was still very hard to handle. When making the dough I used my kitchen aid stand mixer. The first time I mixed for 2 minutes followed by 5 minutes kneading with the dough hook. The second time I mixed for 2 minutes followed by 7 minutes with the dough hook and then 5 minutes kneading by hand. Given all the rave reviews for the recipe I think I must be doing something wrong. I repeat- - -Help!!

It sounds like you're on track, Barbara. We can't help but wonder if you're perhaps using another kind of flour other than King Arthur Flour. The reason we ask is because what you're describing is characteristic of flour with a low protein content; it doesn't have the strength to make the dough elastic and resilient to stretching. King Arthur Flour is known for being high in protein content and strength, so we recommend using it for best results. If you are, in fact, using King Arthur Flour and still experiencing this trouble, consider giving our Baker's Hotline a call at 855-371-BAKE (2253) so we can troubleshoot with you further. Kindly, Kye@KAF
I certainly enjoy this crust, it is the only one I make these days. Question: I like to have pizza on a Friday evening, but by the time I get home from work, it is too late to make this dough. Could I make it on Thursday night, and refrigerate it until Friday afternoon? If so, should I put the dough straight into the fridge, or let it rise some first? Thanks, any suggestions would be appreciated.

Yes and yes, Phil. It'll be great! Once it's all kneaded together on Thursday, pop it right in the fridge. By Friday night you can pull it out and shape your pizzas. Happy baking! Annabelle@KAF
I have made this recipe several times and typically double it for our family. I have found this dough very easy to shape. I think it has a wonderful flavor, not overly sourdough taste. I think the amount of chew to the dough is very good. We typically cook the pizzas on the grill with a stone raised with some bricks. We prefer thinner pizzas and doubling I can make 5 pizzas.
This recipe makes a nice, serviceable crust for pizza. I omit the yeast and it rises perfectly fine without it.
I made this exactly as directed, except that my very active starter and warm kitchen meant shorter rising times. I found it very easy to work wit - supple and pliant. I made one thin crust and one slightly thicker. Bacon, garlic, red onion, feta and Parmesan with only a thin smear of sauce. They were both good.