A customized print-friendly version of this recipe is available by clicking the "Print Recipe" button on this page.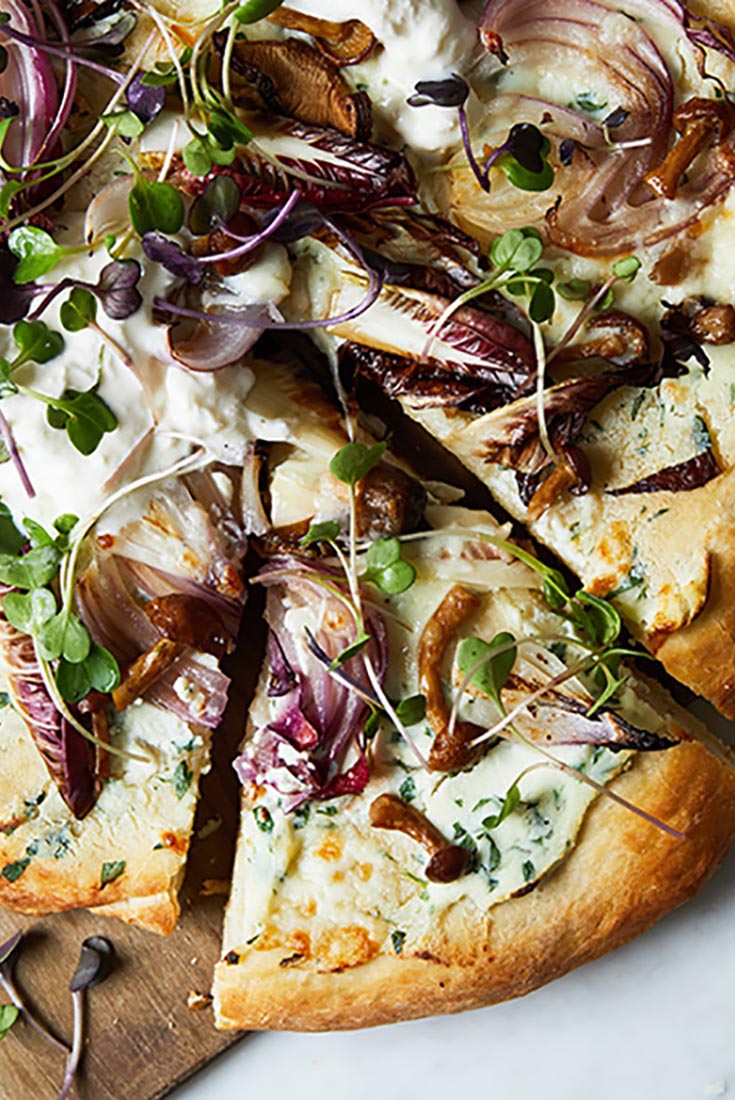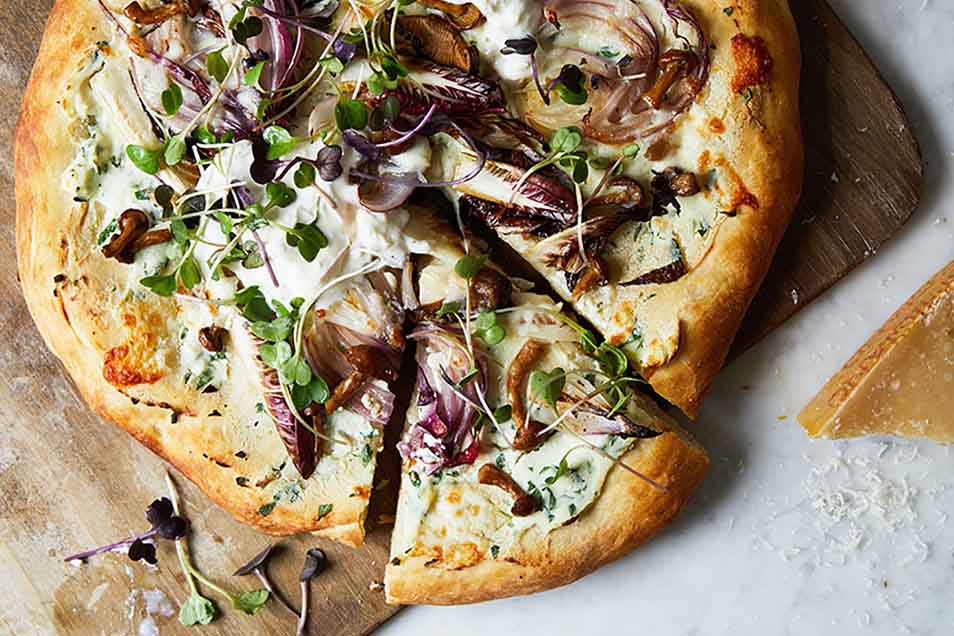 Sourdough pizza crust? Well, why not? For one thing, this crust can go from quite sour to "can't even tell it's sourdough," depending on how recently you've fed your starter. Even the merest hint of tang comes across as rich flavor, which marries beautifully with the usual pizza toppings of tomato, cheese, veggies, and meat.

We've been looking for ways to use the "extra" cup of starter, the one you're directed to discard with each feeding; this is another good solution for you thrifty bakers who hate to throw anything away.

New to sourdough? Find the help you need for all your sourdough baking at our Sourdough Essentials page.
Instructions
If any liquid has collected on top of your refrigerated starter, stir it back in. Spoon 1 cup starter into a mixing bowl. Note: This is a good opportunity to feed the remainder of your starter, if necessary.

Add the hot water, flour, salt, yeast, and Pizza Dough Flavor. Mix to combine, then knead until smooth and slightly sticky, about 7 minutes at medium speed using a stand mixer with dough hook. Place the kneaded dough in a lightly greased container, and allow it to rise until it's just about doubled in bulk. This might take 2 to 4 hours; it might take more. A lot depends on how recently you'd fed your starter; a starter that's been fed rather recently will react to the addition of flour and water more quickly than one that's been neglected for awhile. For a faster rise, place the dough somewhere warm (or increase the yeast). To slow it down, put it somewhere cool.

For two thinner-crust pizzas, divide the dough in half, shaping each half into a flattened disk. Drizzle two 12" round pizza pans with olive oil, tilting the pans to coat the bottom. Place half the dough in each pan. Cover, and let rest for 15 minutes. Gently press the dough towards the edges of the pans; when it starts to shrink back, cover it, and let it rest again, for about 15 minutes. Finish pressing the dough to the edges of the pans.

For a thicker-crust pizza, drizzle olive oil into a jelly roll pan (10" x 15") or half-sheet pan (18" x 13"), or similar sized pan; or a 14" round pizza pan, tilting the pan to coat with the oil. Shape the dough into a flattened disk or oval. Place it in the pan, cover it, and let it rest for 15 minutes. Push the dough towards the edges of the pan; when it starts to fight back, cover it and let it rest for 15 minutes. Finish pushing it to the edges of the pan.

Cover the pan, and let the dough rise until it's as thick as you like. For thin-crust pizza made from fairly fresh starter, this may only be an hour or so. For thick-crust, using an old, little-used starter, this may take most of the day. There are no hard-and-fast rules here; it all depends on the inherent vigor of your starter, and how you like your crust. Once you make it a couple of times, you'll figure out what time frame works for you.

Towards the end of the rising time, preheat your oven to 450°F.

For a thicker crust, pre-bake the crust for about 8 minutes before topping. Top, then bake until toppings are hot and cheese is melted and bubbly, about 10 minutes. For thin crusts, bake for 4 to 5 minutes, then top and bake for an additional 8 to 10 minutes, or until toppings are as done as you like.

Remove from the oven, and loosen the edges of the pizza with a table knife or heatproof spatula. Carefully lift it onto a cooling rack; you can serve it right from the pan, if desired, but a cooling rack helps keep its bottom crisp. Serve hot.
Nutrition Information
Serving Size

1/12th

Servings Per Batch

12
Amount Per Serving:
Calories

130

Calories from Fat

5

Total Fat

0.5g

Saturated Fat

0g

Trans Fat

0g

Cholesterol

0mg
Sodium

290mg

Total Carbohydrate

26g

Dietary Fiber

1g

Sugars

1g

Protein

5g
* The nutrition information provided for this recipe is determined by the ESHA Genesis R&D software program. Substituting any ingredients may change the posted nutrition information.
Tips from our bakers
Be aware of some sourdough dynamics here. The less-used your starter, the more liquid on top, the more sour it's likely to be; using a starter that hasn't been fed for weeks will yield a pizza crust that rises slowly, and tastes quite tangy. This type of crust is handy when you want to make dough in the morning, and have pizza ready for dinner. On the other hand, a starter that's fed regularly will yield a less-sour crust, one that will rise more quickly. This is a great "weekend" crust, as you can shape it at 8 a.m., and have pizza for lunch.
Reviews
I made this exactly as directed, except that my very active starter and warm kitchen meant shorter rising times. I found it very easy to work wit - supple and pliant. I made one thin crust and one slightly thicker. Bacon, garlic, red onion, feta and Parmesan with only a thin smear of sauce. They were both good.
I made this with my 'throw off' from my very first starter 'Herbert' ,absolutely brilliant, ragu base spicy minced steak, mozzarella. home grown cherry tomatoes ,jalapenos, herbs. my kids said 'best pizza they have ever had' and one lived in Italy for 3 years, great boost for confidence with using sourdough, Thank you.
if i was to freeze some at what point would i do this and how???

Hi Callie. We'd recommend baking the crust for about 7 minutes — you want it to be set, but not have any color yet. Once cooled, you can wrap and freeze the crusts for up to three months. You can pull it from the freezer, add toppings, and bake while it's still frozen. Happy baking! Annabelle@KAF
After trying the Chicago pizza recipe and falling in love, I wanted to find a traditional pizza recipe and since I always have unfed starter leftover, I wanted to try this recipe. I made the thin crust style this time. I had no problems with crust. I hand mixed the dough rather then use a machine. The crust was tasty and had only a hint of sour flavor to it. This was using a fairly vibrant starter. This however was not a pizzeria style crust, more like the preformed crusts you buy at the market, however with better taste and texture. I want to try this recipe again in the thick crust style and see if it yields a more pizzeria style crust. I think the baking style will have to be fiddled with to get the crust I am searching for.
This recipe exceeded my expectations! I fed my discard with some 00 flour last night, then followed the recipe using 00 (instead of AP), making the dough in my "Zo" bread machine. Following the dough cycle, I deflated the dough, let it rise again in an oiled bowl, divided the dough and made 1 thin crust -- 1 thin delicious crust margarita. The last recipe I made with the 00 flour was tough, this was much better. The dough is a little sticky, but that is not unusual for pizza dough. I dust my hands with flour to shape the dough, and it comes together very well. I froze the other half of the dough for next week. Will certainly make this dough again.
I found this hard to work with. I'm an experienced baker and was surprised after 5 hrs the crust didn't rise very much. Even after shaping, resting, re-shaping and waiting the extra hour before baking it still didn't rise much. Starter was pretty well fed... Maybe 2 tsp of yeast are needed as in the rustic sourdough bread recipe?

We're surprised to hear your dough didn't rise much, as typically with this amount of yeast plus the wild yeast in the sourdough starter, the dough should rise nicely. We'd be curious to hear about the consistency of the dough. If it was stiff and dry, it may have been the culprit of the less-than-impressive rise. It's important to use the right amount of flour and not add too much. For best results, try using a scale to measure the flour by weight. The dough should feel soft and springy to the touch. You can also try using 2 teaspoons of yeast to see if that gives you the results you're looking for. Good luck and happy baking! Kye@KAF
This crust has great flavor, but that is where it ends. I find it a very dry dough and hard to work with. I let it rise in a warm oven for 5 hours and it nowhere near doubled. This is a well fed starter that has been used weekly.

Sounds like there might be a bit too much flour added to the pizza crust, Sarah, causing it to be dry, heavy, and not rise very well. To ensure you're using the right amount, we recommend checking out the "Measuring Standards," link next to the ingredients header above. You'll see that either measuring your flour by weight using a scale, or fluffing and sprinkling the flour into your measuring cup are the best ways to ensure your recipe turns out perfectly. We hope this helps and happy baking! Kye@KAF
The weight measurements are completely off. It says: 241g sourdough starter, unfed/discard 113g hot tap water 298g King Arthur Unbleached All-Purpose Flour You need to roughly double the water here to get a workable dough; following these weights will only make you playdough. The exact amount of water needed will depend on starter hydration, flour type, and environmental humidity, so it's always best to add less water and then top it up to the right consistency (soft and slightly tacky). Other than that, the method described here for rising/shaping/baking is excellent.
My dough didn't rise and seemed drier than mentioned. Only thing I could think of would be that I added the dry, instant yeast directly.. but the directions don't specify to active it in water and sugar first. Starter was relatively well-fed and active. Seemed like others added a bit more water, which would maybe have helped with texture but I doubt with the rise. Pizza still turned out good, albeit a bit more like a pizza cracker.

Hi Gary, there's no need to activate instant yeast (or active dry yeast) by mixing it with water first. It'll become active once all the other dough ingredients are added. You're welcome to take this step if you want to verify that your yeast is still fresh, but it's not required for a good rise. Next time, try using slightly less flour to make your dough a softer, more tender consistency; this will help with the rise. We recommend measuring your flour by weight using a scale for best results, or you can click on the "Measuring standards," link above to see how to most accurately measure by volume. We hope this makes your next pizza pie perfect! Kye@KAF
I've made this recipe as stated in the kitchen aid mixer and I've als made it in the food processor. It's fabulous both ways (my decision is based on whether I want to wash the mixing bowl or just be lazy and put the food processor bowl on the top shelf of the dishwasher. IMO the food processor is faster and produces a very slightly denser crumb, but there is really not much difference. In the food processor, I stop when it becomes soft supple pebbles that i can easily press it into a ball. In the summer, I prefer not to preheat a baking stone in my oven, s i use the Breville large toaster oven, conventional setting. The amount of liquid also varies depending on the look of my starter and whether my flour seems more dry or compacted (sometimes I weigh, so,etimes I use volume measurements). Great way to use discard! Thanks