A customized print-friendly version of this recipe is available by clicking the "Print Recipe" button on this page.
Deluxe Chocolate Truffles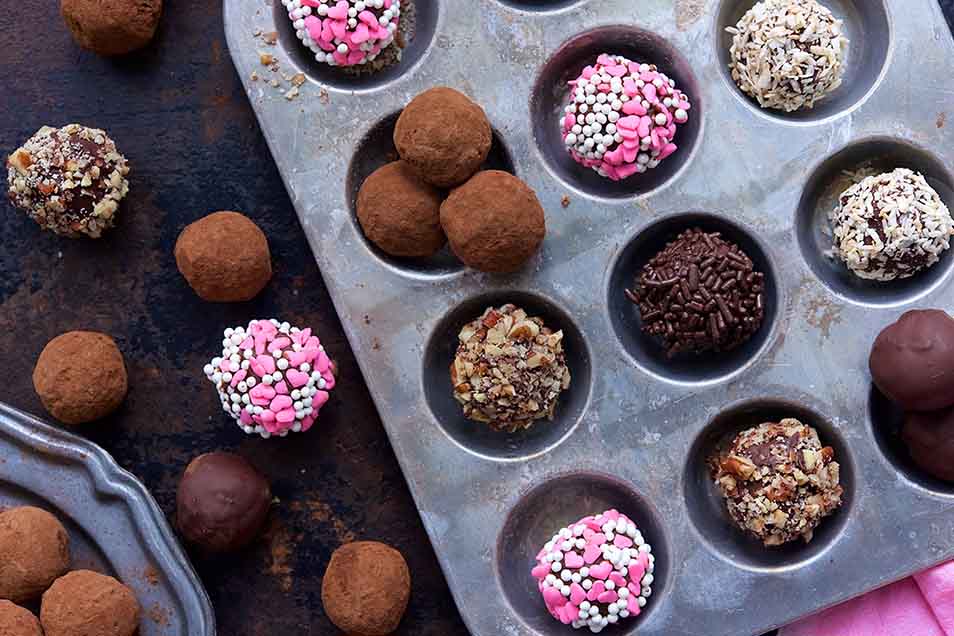 All truffles start with a rich chocolate ganache center, flavored or plain. To finish, dip truffles in melted chocolate and sprinkle with sugar decorations or chopped nuts. Or, more simply, just roll the ganache centers in cocoa. Be aware that you're going to get your hands full of chocolate as you make these, but it's SO worth it!
Ingredients
Centers
2 cups finely chopped bittersweet or semisweet chocolate or chocolate chips
1 cup heavy cream
Flavorings (optional)
2 teaspoons vanilla extract
1/2 teaspoon raspberry flavor combined with 1/4 cup melted raspberry jam
1 tablespoon espresso powder + 1 1/2 tablespoons coffee liqueur
1/2 teaspoon hazelnut flavor + toasted chopped hazelnuts
1/8 teaspoon orange oil + 1 to 2 tablespoons orange liqueur
1/2 cup finely chopped toffee or praline candy bar
Garnish
Chopped nuts, sprinkles, sugar decorations, nonpareils, cocoa nibs, and/or toasted coconut
Instructions
To make the centers: Place the chocolate in a heatproof bowl. Heat the cream to a simmer, and pour it over the chocolate. Let the mixture sit for 3 minutes, then stir until smooth. If the chocolate doesn't melt completely rewarm briefly in the microwave in 15-second intervals, stirring in between, until the mixture is smooth.

Add the flavors or flavor combinations of your choice. Stir until everything is well-combined.

Line a 9" x 13" baking sheet with parchment or plastic wrap, and pour the chocolate over it; don't spread it out. Cover the pan, and refrigerate for 60 to 90 minutes, until the mixture is thick and "scoopable."

To assemble the truffles: When the mixture is cool enough to hold its shape, scoop small balls of the chocolate onto a baking sheet that's been lightly dusted with cocoa. For perfectly round truffles, quickly roll each one between the palms of your hands. You have to do this quickly, or the chocolate will become too soft.

Refrigerate the centers, rolled or just scooped, for about 30 minutes, covered, until they've firmed up a bit.

To take the simplest route, coat the shaped centers in unsweetened cocoa powder (Dutch-process preferred, as it's smoother in flavor than natural).

Put the cocoa in a shallow pan and roll the centers around in it; or place cocoa and 4 or 5 centers at a time in a plastic bag, and shake gently to thoroughly coat.

To coat with melted chocolate, heat 2 cups of the chopped chocolate (reserving some to add later) in the microwave until it's melted.

Add the remaining chopped (unmelted) chocolate to the melted chocolate. Stir constantly until the chocolate is thick and shiny.

If you have a chocolate dipping tool, use it to dip each center in the melted chocolate, setting the dipped truffles on a piece of parchment or on a plastic-lined wire rack.

Immediately, as you make them, sprinkle each truffle with the garnish of your choice.

Truffles will keep, well covered, for a day in a cool dry place, or refrigerated for up to 2 weeks.
Nutrition Information
Serving Size

28g

Servings Per Batch

36
Amount Per Serving:
Calories

130

Calories from Fat

80

Total Fat

9g

Saturated Fat

6g

Trans Fat

0g

Cholesterol

5mg
Sodium

0mg

Total Carbohydrate

10g

Dietary Fiber

2g

Sugars

7g

Protein

2g
* The nutrition information provided for this recipe is determined by the ESHA Genesis R&D software program. Substituting any ingredients may change the posted nutrition information.
Tips from our bakers
Choose one of the flavoring ingredients, if desired; you can also choose to leave your truffles just plain chocolate.
Be aware that if you don't cover the chocolate coating with a garnish, you'll probably see dull patches on its lovely sheen after a day or so; this is because you didn't temper the chocolate, to keep it shiny. Learning to temper and preserve that beautiful chocolate snap and sheen is not difficult, and it merely requires chocolate — and patience. Read a basic guide to tempering chocolate for some advice from a pro. If you have a Precise Heat Mixing Bowl and want to temper your coating chocolate before dipping the centers, go for it!
A teaspoon cookie scoop is exactly the right size for scooping out the centers; you want balls that are about the size of a small chestnut, or a small melon ball.
Reviews
I loved this recipe. I made 3 batches(2 milk chocolate and 1 dark chocolate). It did take me 12.5 hours but that made it even more magical. The other day I tried this recipe(milk chocolate) side by side with Lindt Lindor milk chocolate truffles; this recipe is sooo much better than the Lindt Lindor chocolates. When I first gave my friend one, she said, "Lindt Lindor better watch out for these." She was right.
I made these for Valentines Day. They were easy to make and came out relatively ok. I woiuld prefer to have the truffles a bit firmer. I think I will try them again and reduce the cream a bit. I used my smallest cookie scoop and scooped them out as round as possible. I rolled them in several different coatings and perfected their round shape at the same time so this helped with the stickiness of them. I kept them simple and just flavored with a good quality vanilla. Very tasty.
I actually cut the recipie in half, so I could experiment with out using all of my good chocolate or creame. I parced out my half batch into 3 containers. First container I added some orange oil and zest. The second I added a half a drop of raspberry candy flavoring and the third I added a few drops of Disaronno. All three got a separate coading. The orange was dipped in vanilla candy melt. The raspberry got a confectioners sugar (icing sugar) and cocoa mix (2-1). And the Disaronno a plain cocoa dusting. All are fabulous!
Amazing! These are super good! I made half mint (1/4 teaspoon mint extract), and half vanilla. I rolled the mint ones in cocoa, and dipped the vanilla ones in melted chocolate and sprinkled with coconut and some sparkly sprinkles. Very tasty! My ganache came together beautifully. Left in fridge overnight. Will serve tomorrow at a high tea. Really fabulous, I would recommend,
I'm not a baker or a very average cook. This recipe was easy to follow and it came out richly delicious and gorgeous. I followed the recipe near exact. I used vanilla for flavoring and used semisweet chocolate instead of milk chocolate for the coating. I also did this with a friend so as she dipped, I sprinkled crystal sugar over the top. This helped quicken the time to coat without it cooling too fast by the last truffle. It also helped us coat the truffle with the sugar before the chocolate coating cooled too fast for the sugar to stick. I was lazy and coated the truffles loosely. This does not take away the taste. I hardly ever get things right the first time but this was an absolute success. I will definitely make this again.
Tried this recipe with limited success. I've been making truffles for a while, using a different recipe that does not use a coating--it's from a noblewoman who eschews footwear-- and have always had good luck. I wanted to try this one because I found the idea of the milk chocolate coating over the bittersweet chocolate. The ganache came together well, but I ran into trouble with the coating. The coating congealed after dipping only about a dozen truffles. I tried re-melting but it just made things worse. I also tried adding some heavy cream and reheating, but again, this just made things worse. I used a combination of Guittard chocolate bars and Nestle's milk chocolate bits--could that be the issue, the latter being lesser quality?

It sounds like the chocolate used in the coating was heated too much and/or too quickly. In order for the chocolate to have a shiny, snappy texture when it cools, it needs to be heated slowly and to just the right temperature. When this happens properly, the chocolate is considered to be tempered. (We don't typically recommend measuring the temperature of the chocolate unless you're having trouble.) Next time you can try measuring your chocolate out by weight, making sure you're melting 12 ounces of chocolate slowly and reserving 4 ounces to add back in. Bittersweet or semisweet chocolate should reach 122°F before the rest of the chocolate is added; milk or white chocolate only needs to reach 105°F. If you want to be precise about this, use an instant-read thermometer to take the temperature. If the chocolate starts to set, heat it in the microwave for another 5-10 seconds and stir. Try to work quickly so the chocolate stays "in temper" while dipping all of the truffles. We hope this helps, and good luck! Kye@KAF
These are delicious! Very easy to make - followed all the directions exactly, and the ganache firmed up very well in the fridge after 90 minutes. Used 52% cocoa and added 1 tsp Bailey's and 1 tsp vanilla extract. Coated some in cocoa powder and some in chopped walnuts. Will definitely make again!
I'm not sure why I followed the directions for making the ganache when I knew it was wrong, but I did. It is much better to bring the cream to a simmer separately and then pour over the chocolate to melt, stirring gently from the center outward. The method as described in the recipe will burn your chocolate as the temperature chocolate melts at is much lower than that required to get the cream very hot. If you like your truffles very boozy, you can reduce the amount of cream by the amount of additional liquor you'd like to add (within reason, maybe an additional few tablespoons).

Thanks for reaching out to us, Amy. We did a little reworking in our test kitchen and have come to the conclusion that not all microwaves are created equal. We've changed the recipe to heat the cream only and pour it over the chocolate. Happy baking! Annabelle@KAF
I followed the recipe exactly, but the ganache didn't firm up at all, even after I stuck it in the freezer for two hours. It was just a big goopy mess. Not sure if I accidentally messed up somewhere or if my ingredients were weird, but I did was just get chocolate everywhere. However, I did save the goop and was able to use it to top some brownies and ice cream, so I guess it wasn't a total loss...even though I was looking forward to truffles :(

RS, it sounds like something went awry and caused your truffles not to set up. It could have been a measuring error or result of the specific ingredients--consider giving our friendly bakers on the hotline a call at 855-371-BAKE(2253) so we can help troubleshoot. We look forward to your call! Kye@KAF
A decadent treat to make for the holidays! I made these with my ten year old daughter and we thought they were wonderful!! Next time, we will branch out with some flavorings. Definitely a bit messy, but so much better than any store brand truffle.