A customized print-friendly version of this recipe is available by clicking the "Print Recipe" button on this page.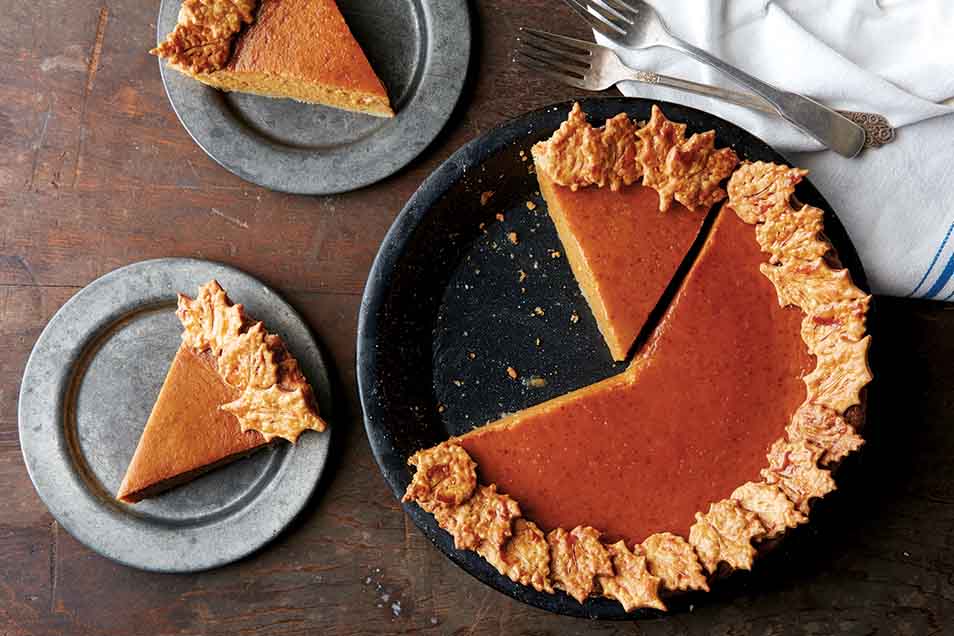 This is a rich, spicy pie that slices well and has a bright pumpkin flavor. Two hints for a better result: mix the filling together a day in advance to give the spices a chance to blend, and be sure to remove the pie from the oven while the center is still wobbly; overcooking it will cause the filling to crack. Light Spice Cookie cutouts are an easy way to dress up the top of the pie for company.

Our guarantee: This pie will be spicy and rich, and slice well once chilled.


Ingredients
Filling
1/2 cup granulated sugar
1/2 cup brown sugar
1 tablespoon King Arthur Unbleached All-Purpose Flour
1/2 teaspoon salt
1 teaspoon ground ginger
1 teaspoon ground cinnamon
1/2 teaspoon nutmeg
1/8 teaspoon ground cloves
1/8 teaspoon freshly ground black pepper (optional)
3 large eggs, beaten
2 cups (or one 15-ounce can) pumpkin
1 1/4 cups light cream or evaporated milk
Instructions
In a large mixing bowl, whisk together the sugars, flour, salt, and spices.

In a large measuring cup, beat together the eggs, pumpkin, and cream or evaporated milk. Whisk into the dry ingredients. For best flavor, cover and refrigerate the filling overnight before baking.

Lightly grease a 9" pie pan that's at least 1 1/2" deep. Roll the pie dough out to a 13" circle, and transfer to the pan. Crimp the edges above the rim; this will give you a little extra headroom to hold the filling when it expands in the oven. Refrigerate the crust while the oven preheats to 400°F.

When the oven is hot, place the pie pan on a baking sheet to catch any drips. Pour the filling into the unbaked pie shell.

Bake for 45 to 50 minutes, until the filling is set 2" in from the edge. The center should still be wobbly. Remove the pie from the oven and cool on a rack; the center will finish cooking through as the pie sits.
Nutrition Information
Serving Size

1 slice, 172g

Servings Per Batch

8
Amount Per Serving:
Calories

327

Calories from Fat

108

Total Fat

12g

Saturated Fat

5

Trans Fat

0g

Cholesterol

96mg
Sodium

329mg

Total Carbohydrate

48

Dietary Fiber

2g

Sugars

31

Protein

8g
* The nutrition information provided for this recipe is determined by the ESHA Genesis R&D software program. Substituting any ingredients may change the posted nutrition information.
Tips from our bakers
This recipe makes enough filling to generously fill a 9" pan that's at least 1 1/2" deep. If your pan isn't quite that big, you can bake any leftover filling in custard cups; it will take 25 to 30 minutes to cook.
Pumpkin pie filling is basically a custard; the eggs in the filling will continue cooking as the heat from the edge of the pie moves toward the center, which is why it's important to remove the pie from the oven before the center is completely set. Leaving it in the oven too long will cause the eggs to overcook, tightening the proteins and causing the pie to crack in the center.
Mixing the filling a day in advance (refrigerate until using) will improve the flavor of this pie by giving the spices' flavors a chance to blend.
For a Masala Pumpkin Pie, make these changes to the spice mixture for the filling: decrease cinnamon to 1/2 teaspoon, increase ground cloves to 1/4 teaspoon and black pepper to 1/2 teaspoon. Add 1/2 teaspoon each ground coriander and turmeric, and 1/4 teaspoon each ground cardamom and cumin.
Try replacing 1/4 cup of the all-purpose flour in your pie crust recipe with 1/4-cup cornmeal. The texture of the cornmeal is a nice counterpoint to the smooth pumpkin filling.
Substitute a generous 2 1/2 teaspoons Pumpkin Pie Spice for the spices listed, if desired.
To dress up this pie with our Light Spice Holiday Cookies, cut out and bake the cookies according to the recipe instructions. Cool the baked cookies and place them around the perimeter of the cooled pie.
Reviews
This is the best pumpkin pie I've ever made. I used fresh spices bought from my favorite spice store and let the filling sit overnight in the fridge. I couldn't find light whipping cream, so I used about 3/4 cup heavy whipping cream and 1/2 cup milk. It set up perfectly, and everyone raved about how good it was.
I wanted to love this pie based on all the rave reviews, but for me it wasn't a wow. As a test I made 3 pumpkin pies to compare fillings, and while this pie was on a par for flavor, it wasn't as creamy as the other 2 pies. The custard fillings for the other pies were made with heavy cream, and I think this may be why they were smoother and creamier. I made the filling the night before but I'm not sure that it made much of a difference since all the pies tasted the same. The filling set perfectly and didn't crack or shrink as it cooled. I baked the pie at a lower temperature until it felt set in the center, and let it cool in the oven with the door open for 20 minutes before removing to a wire rack to cool completely. I've found this to be helpful in eliminating cracks as a custard cools. There was enough filling for a deep dish 8 1/2" pie crust and 2 custard cups.
This really did produce the best pumpkin pie that I, or my husband, ever had. And I'm actually really good at making pumpkin pie using all different recipes for the past 20+ years from real pumpkin, canned pumpkin, vegan, all varieties. This pie took the cake though. :) I am puzzled by the reviews that indicate the flavor as lacking. I can only assume that these bakers may have been using old spices that were exposed to light and weakened, or maybe they really just don't like pumpkin pie and fall spice tastes. The teaspoon FRESH GROUND pepper was an amazing add and felt like a mischievous secret ingredient as I put it all together. I did let the filling set overnight in the fridge as recommended. I used a ceramic Emile Henry pie plate, the no roll pie crust recipe, reduced the cooking temp to 375 and extended baking time as suggested in a KAF reply to another comment to adjust for the ceramic pie plate. I did 65 minutes at 375 & 10 @ 400. It was hotter than it was supposed to be (195 vs 175) but did not crack. Worked very well with an Aquafaba whipped "cream." Presentation was amazing! Thank you KAF team, you are so amazing.
I made this recipe with 2 cups of fresh 'Cinderella' pumpkin. I'd had the pumpkin sitting out for decoration since last November, and noticed it had a tiny rotten spot! Oh no, time to cut that out and cook the rest. I baked it in the oven for 2 hours to reduce its watery texture (it is definitely not a pie pumpkin without this step). I used the Pampered Chef 'Perfect Pie Crust' recipe (the one that includes egg and vinegar) and used the extra crust to make some mini tarts. It turned out fantastic- the filling was very soft and creamy but still sliceable, and the spices were perfect. I made the filling in my blender to make sure the pumpkin wouldn't be stringy, and let it sit overnight in the fridge. Would definitely recommend this recipe to anyone cooking pumpkin pie from scratch.
Love pumpkin pie, have baked other recipes before with delicious results. Didn't like recipe. Didn't think it was anything special or even terribly delicious. Never set up. The 2in from the edge cooked perfectly, middle totally soupy even after sitting for a long time. Took another 50 minute cook time and still a little soupy in the middle. Mind you, I have baked pies before and in the same oven and have not had this problem. Will not be making again, I have other pie recipes that I love and will stick to those.

As we mentioned to the previous reviewer, it's possible that the enzymes in the egg yolks consumed the starches in the filling after it was removed from the oven, causing it to become liquidy as it cooled. It sounds like you've got other recipes that you're excited to make, but if you ever want to try this recipe again, try baking it for about 5 minutes longer next time so the filling fully sets. Kye@KAF
I must be doing something wrong. I followed the recipe to a T, including making the filling the day before. I baked it in a deep dish ceramic pie plate (pampered chef from years ago) and took it out according to the directions. However, a day later the pie is positively runny in a 2 inch radius from the center. Only the outer 2 inches are set and done. A day after the initial baking of the full baking time, I put it back in the oven for 50 more minutes and only then did the filling set. The flavor is great, but why will it not set up? I know it is supposed to be custard-y according to other reviews, but this is like creamy soup, not a pie.

Hi Staci, there's an interesting cause of "leaky" custard pies. When custard pies are thickened both with egg yolks and starch (which comes in the from of flour in this recipe), it's important for the filling to reach almost a boiling point. There's an enzyme in egg yolks, alpha amylase, that loves to "eat" starch. If the enzyme isn't deactivated (if it isn't heated enough), it will consume the remaining starch in the filling, breaking it down into a liquid and making a soupy pie. Your pie might have looked almost set and then the next day, it turned quite thin. To prevent this from happening, be sure you cook the pie enough initially, measuring with an instant read thermometer if you have one. The temperature should read about 175°F when done. Happy baking! Kye@KAF
I found this recipe while searching the internet for something a little different and I found this. What caught my eye was mixing the filling the day before and letting it set so the spices can meld together. I remember my Grandmother saying spices need to sit for a bit to get the best flavor so I knew this had to be good. I made this for Thanksgiving and it was a huge hit so I am making it again for Christmas. This is now my go to pumpkin pie. I recommend this to everyone.
Excellent recipe! The best pumpkin pie ever! :) I made this the first time for Thanksgiving (here in Hungary) this year and we all loved it! Thank you for posting it!
I made this for Thanksgiving. One guest said it was the best pumpkin pie she's ever had. I've already made it again, and it's a great recipe. I followed it exactly, and it turned out perfectly.
Excellent! Made this pie for Thanksgiving, and have two more in the oven this morning for a church event. Followed the recipe exactly both times, other than doubling the ingredients this time for two pies. Can't find "light cream" anymore, so I used half heavy whipping cream and half half and half - like using fresh ingredients rather than canned milk! I do struggle a little with the "take it out of the oven when it's only firm 2" in" part. First time I made it, I cooked till it was only jiggly for about the center two inches, and still felt like the filling was a little "loose" and custardy overall. I honestly think that's because I've been eating my pumpkin pie over cooked for 50+ years, and the "right" texture was just different. Having my pies more custardy than firm may take some getting used to! (For folks having trouble with a soggy crust, investing in metal pie pans is well worth it ... thanks to the KAF folks, I've learned that they bake much better than the glass pans I've always used!)